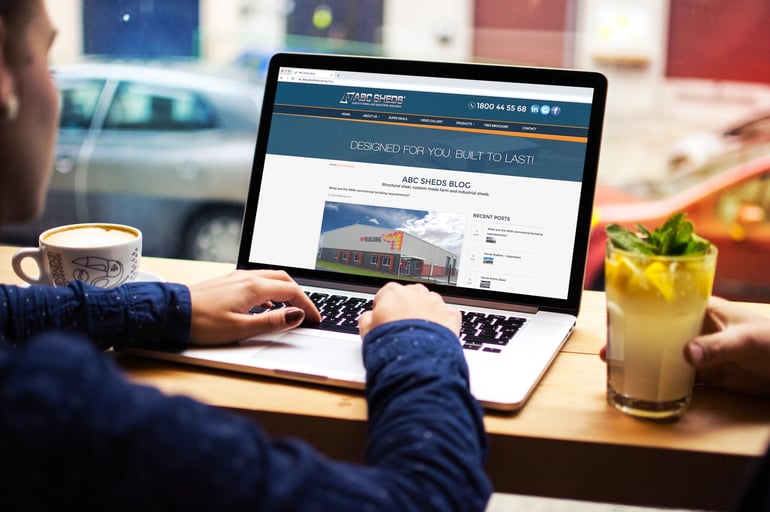 With the end of the year fast approaching (hasn't this year gone quickly!) we thought we'd look back over our most popular blogs for 2019. From drought management to horse stable inspiration, we've covered a range of different topics to do with structural steel sheds. Grab a cuppa and catch-up on our most popular blogs for the year.
10. A bath without a plug
You wouldn't start filling up the bath without first checking to see whether the plug is in, would you? The same can be said for not following up with your prospects or leads. For anyone that operates a business, sales are essential in making a profit and if you don't have leads coming in, generating sales can be tricky. That's why it's essential to follow up with leads that are coming in.

Studies have shown that most people buy after the 8th contact point so make the most of the leads that you have and check in to see how they're going – can you help with current business requirements? If they don't need anything right now, it's still important to build a relationship as people that have a good experience with a business will remember, and return down the track.

Read the blog 'A bath without a plug'.
9. Learning to self-care
Self-care is the practice of taking action to preserve or improve one's health. We often think of self-care as taking a break every now and then and enjoying something like a holiday, however, self-care is something that can be practised every day. With approximately 65,000 recorded suicide attempts each year in Australia it's important for us to consider how we can reduce this rate and support those who may be going through a tough time whether that may be at work, or in another area of their life.

After a long day at work, take time to relax and de-stress. Allowing yourself a bit of time each day to unwind can go a long way in supporting yourself and ensuring a healthy mentality.

Read the blog 'Learning To Self-Care'.
8. Is winter coming?
Looking back at the 2018 Winter, there was a lot of room for improvement with the 2018 drought having traumatic effects across the country. It was hoped that the 2019 winter months would bring some much needed rain to drought stricken areas of Australia, however it turned out to be one of the country's warmest and driest on record.

It's because of this that it's important to prepare for different weather conditions, and whatever may come. How will you drought-proof for the future?

Read the blog 'Is winter coming?'
7. To live like kings
For those of you that own a horse, you will know that all horses require the same things – food, shelter and a place to run around! When considering the horse's needs and your own, you want convenience, practicality, and possibly a touch of style and sophistication!

Our steel sheds are the perfect fit for horse owners looking for a sound structure than can easily be enhanced and added to, to suit both yours and your horse's needs.

Read the blog 'To live like Kings'.
6. The farm of the future
Agriculture remains a top industry across the world, whether it be farming traditional crops or breeding livestock.

As technology becomes even more advanced, the longevity of any business or industry falls on the ability to adapt and evolve with these new technologies. What once used to be quite labour intensive and strenuous days for farmers, can now be aided with things like air conditioned tractors for ploughing, quad bikes for easy surveying or drones for the farmer not wanting to step off the back veranda.

Read the blog 'The farm of the future'.
5. Choosing your base
Horse arenas come in many different shapes and sizes. Whether it's an indoor arena, roof only, or indoor/outdoor arena, the material you choose to use for the base of your arena is important to consider. To create the perfect riding and training environment it's essential that you have the right base material for your horses.

The base for a standard horse arena is often clay, compacted gravel and sand with lime added later and compacted. Once a solid base is established, a top layer of your choice or whichever best suits the environment can be added.
Read the blog 'Choosing your base'.
4. How to build a dressage arena
Filling the dreams of many an avid horse rider is the ownership, one day, of a horse arena. And while the fundamentals of building a dressage arena are the same as any horse arena there are a few extra considerations to consider. Things like horse arena use, location and budget are all important factors to consider before you get started building your arena.

Read the blog 'How to build a dressage arena'.
3. Horse stables - Inspiration
Horse stables or sheds are a great way to keep your horses safe when they need rest, and also offer complete shelter from the elements. When deciding which horse stable you need, there are many things to consider like how many horses will be housed in the stable, if you want to store hay or other feed in your stable, and any special features you'd like to add. It's also important to consider how a horse stable will work with any existing structures, such as a dressage arena.

We've covered the common types of horse stables to provide you with some inspiration for your current or future horse stable.

Read the blog 'Horse Stables – Inspiration'.
2. Building a dressage arena for all weather conditions
Being based in New South Wales we're no strangers to the heat and understand that quality sheds need to be built for all weather conditions. Dressage arenas are no different! One of the most common things we hear from clients that require dressage arenas is that they need to be able to train all year round, so they need something that will be suitable on a hot summer's day as well as the middle of winter.

When Virginia Russell and Peter Asimus approached us they were in need of a dressage arena that would allow them to train their horses no matter what the weather conditions were.

Read the blog 'Building a dressage arena for all weather conditions'.
1. The key to drought management
Our most read blog for 2019 is surrounding the topic of drought management. Aussie farmers all know the daily struggle they face due to drought and low rainfall. This is not only taxing on farmers and their livestock, but it can have big ramifications on running a successful farm. Many farmers are hesitant to spend more money in the fear of not making it back, while other farmers are off-loading livestock and assets to cover the devastating effects of ongoing drought.

To help farmers out over this tough time, the NSW Government has expanded the RAA Farm Innovation Fund which allows farmers to apply for low interest loans to create infrastructure in an effort to lessen the blow of drought. If you live in an area with minimal annual rainfall, having something like a 12m x 18m Hay shed can be a saving grace for any farmer looking to keep water up for livestock as well as keeping feed fresh, safe and dry.

Read the blog 'The key to drought management'.

There you have it – our most popular blogs for 2019! If you're looking for a steel shed for your farm or property, then talk to us about an ABC Sheds structural shed. If you're a farmer in NSW you can also ask about the RAA Farm Innovation Fund, to see what's involved and how much you're eligible for.

To view the full range of ABC Sheds structural steel sheds, you can download our product brochure by clicking the button below.