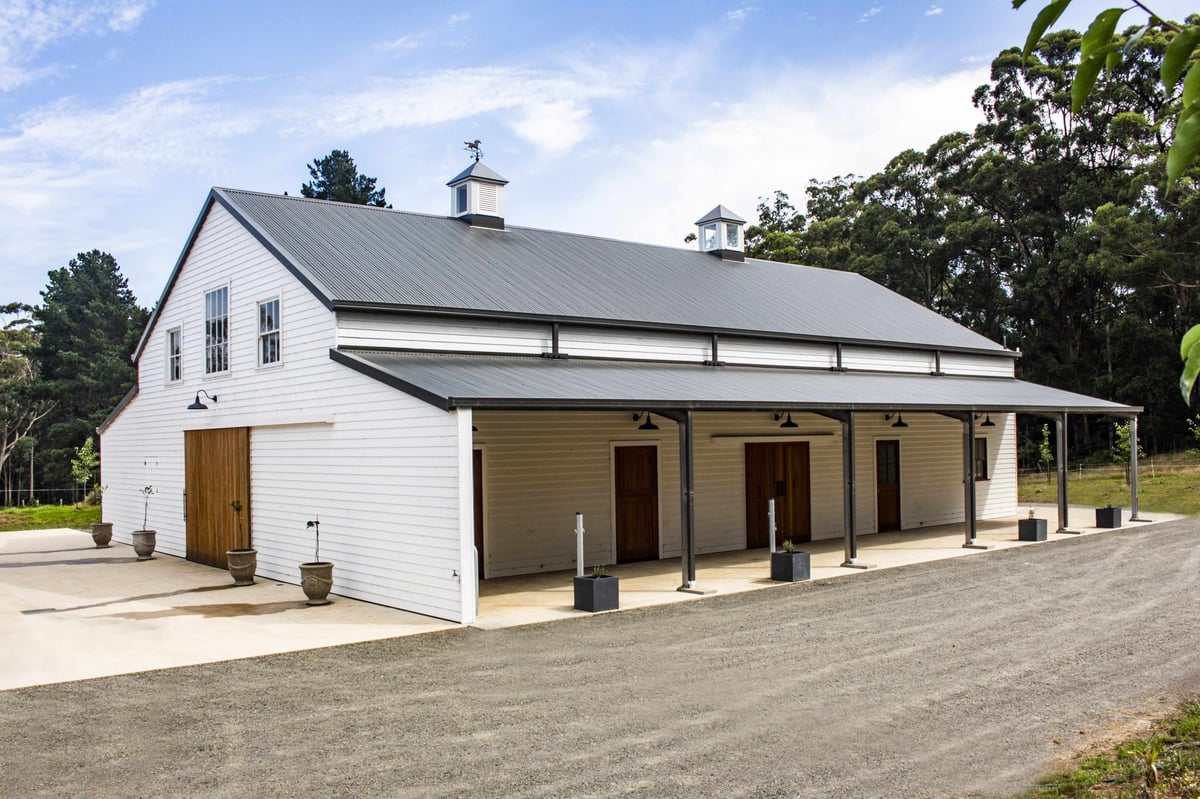 So you've decided to invest in a horse stable – good choice! Horse stables or sheds are a great way to keep your horses safe when they need rest, and also offer complete shelter from the elements. As they say – a healthy horse is a happy horse!

When deciding which horse stable you need, there are many things to consider like how many horses will be housed in the stable, if you want to store hay or other feed in your stable, and any special features you'd like to add. It's also important to consider how a horse stable will work with any existing structures, such as a dressage arena.

In this blog we cover some common types of horse stables and provide a little inspiration so you can decide what will work best for you, and your horses.
Traditional Stables
The most common types of horse stables we see are the traditional kind. This type of horse stable is comprised of individual boxes or units, that will house one horse each. They are a great way to make sure each horse has their own space to relax, free of distractions.
The benefits of traditional horse stables include:
Each stable has its own individual external access.
Traditional stables can be used for any number of horses with the benefit that you can add more stables on, if you get more horses, and have the space.
In many cases, unused stables can be easily converted into tack, feed and rug drying rooms.
Often traditional stables will utilise a roof overhang over the stable door. This offers the horses protection against the rain and in the summer can offer some shade.
You can tend to individual horses in the night without having to wake up the entire yard.
Loose boxes offer better isolation facilities. If a horse needs to be kept apart, for health or behavioural reasons, then it will be easier to manage in a loose box with its own outlook rather than in a box within a barn set-up.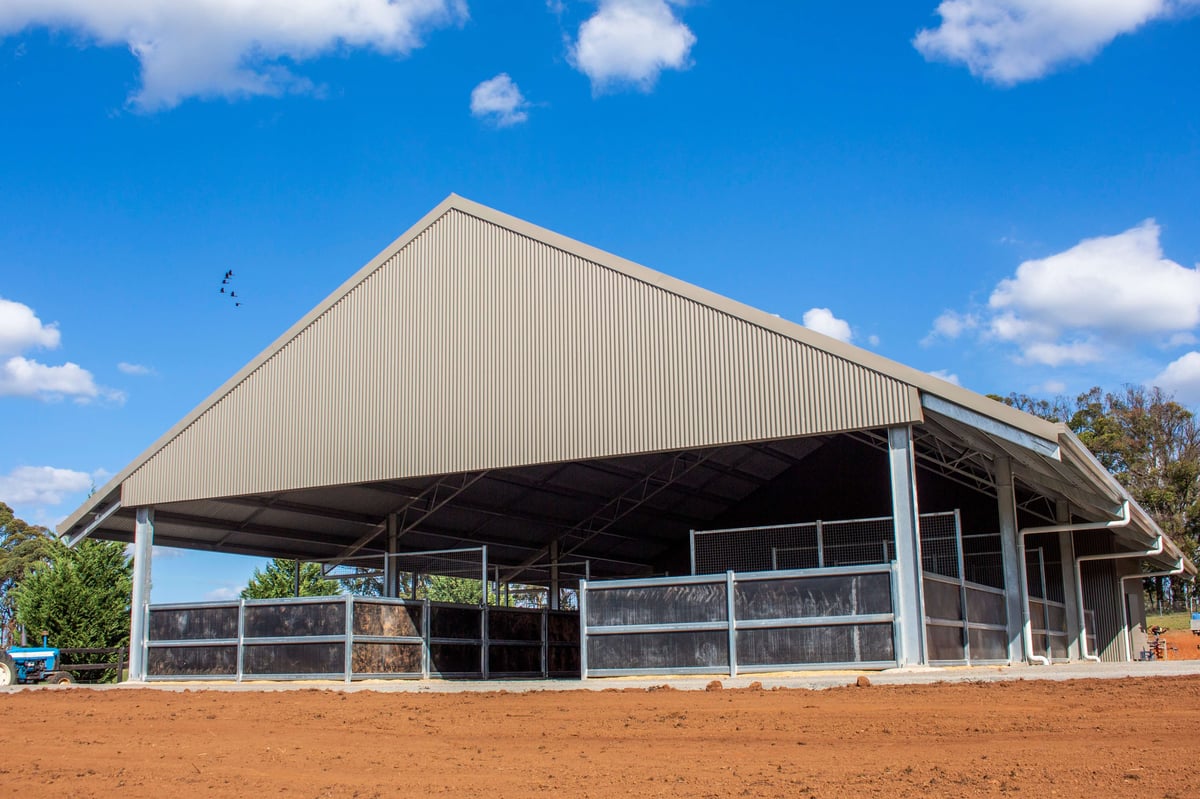 Barn Stables
Barn-style stables are still very popular and we often get requests for these to be built alongside a more contemporary horse arena complex. Many people like the rustic look of a barn and the traditional style it brings to an equestrian facility.

Generally, with barn-style horse stables, several horses are housed under one roof, in individual units. There are many benefits to this style of horse stable which include:
Barn stables often have bars in between each stable unit which allow horses to see each other.
Internal channel for manoeuvring horses, cleaning and prepping or vet check-ups.
The entire stabling section is undercover.
All the horses can see each other and what is going on.
Many stables have windows to the rear of the stable allowing the horse access to fresh air.
High roofs allow for good ventilation.
Large numbers of horses can be housed all under one roof.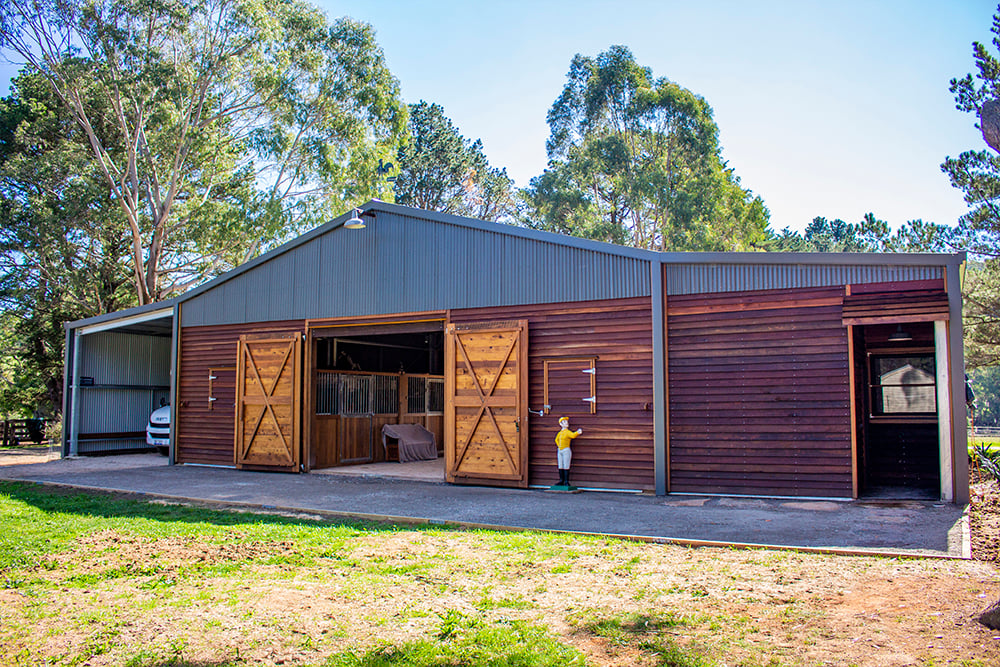 Important details in Horse Stable design
Now that you know a bit more about the different types of horse stables available, it's time to start thinking about the extra details like which stall doors will work for your stable, ceiling height and lighting.
Stall Doors
You have a couple of options when it comes to deciding which stall doors to use on your horse stable. Stall doors can be either be swinging or sliding. Swinging doors should open out into the alley or central barn area, and be kept shut at all other times. They should fasten securely shut. Sliding doors should slide smoothly.

No matter which option you choose there should be a latch attached to secure the door so that it closes easily, and one that horses cannot easily tamper with.
Ceilings
Some horse stables, especially those originally used for storing cattle, have low ceilings that are not high enough for horses. Although ceiling heights can always be altered, this tends to be a costly procedure so worth avoiding in the first place.

The ideal height for horse stable ceilings should be enough so that when standing, a horse can comfortably lift its head without hitting the roof. In many cases, higher is better as this also provides additional ventilation and temperature control. Extra height can provide a measure of safety for the horse should it decide to rear or jump.
Lighting
How exposed your horse stable is to the elements will decide which type of lighting is the most appropriate to use for your stable. For instance, fluorescent bulbs may not work well in very cold weather and won't be as pleasant for the horses as natural light. LED will be bright and provide excellent illumination in colder weather but these should be carefully placed so as to not dazzle the horses. Make sure that any lighting or switches are safely out of harm's way from horses, and that any exposed lights cannot be easily reached.
It's important to note that while the appearance of your horse stable and the features it contains are important, the most vital thing is that you build a stable that will not only safely house your horses, but is something that they will feel as comfortable as possible in.

Want to know more about our dressage arenas, especially ones with stables attached? Click here for more information and to see our work.