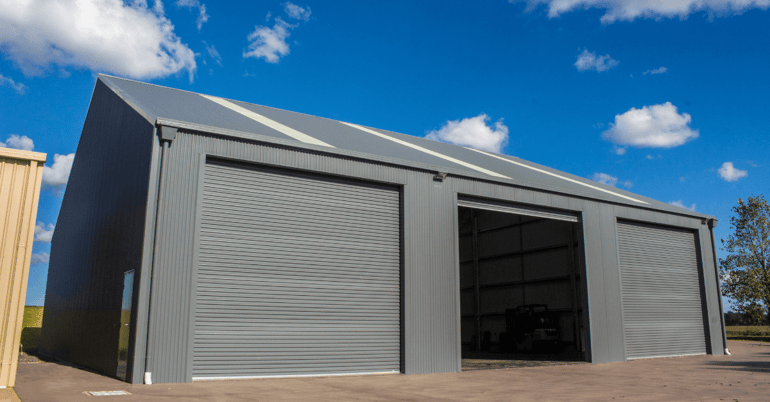 Any savvy farmer or business owner knows that they shouldn't appoint just any shed manufacturer or contractor until they're supplied with a written quote. After all, a verbal agreement is only worth the paper it isn't written on! But even when you get written quotes, it's still wise to check the items listed, and the fine-print, to make sure that you don't end up with a surprise when the bill arrives.
If you're looking to invest in a new shed for your property then it's important to check your quote carefully before you sign on the dotted line. Things like the type of shed you will be constructing and your location will all play a part in how much you should be paying for a shed and sometimes the cheapest, doesn't always work out to be best. You want to know that you're paying for a quality shed whether that be a farm shed, dressage arena, or industrial building.

As Australian shed manufacturers, we've outlined the most important things that you should be considering when you get a shed quote. Read on to find out more about understanding a shed quote.
The cheapest quote isn't always the best
Cheap and cheerful – that's how the saying goes, right? While this may apply to something like the clothing you buy or your weekly grocery shop this shouldn't be applied to big investments like a shed, that you need to last for years to come.

The problem: Your shed quote has come back a lot lower than you were expecting however, purchasing a shed constructed with cheap materials will only end up costing you in the long run – maintenance, repair bills and replacement materials can all start to add up quickly. If your shed manufacturer is using cheap materials then your shed simply won't last as long as it should. Tougher and more durable materials will naturally cost you more but paying for something that's quality right at the outset will ensure that you get years of use out of a shed.

The solution: Take the time to find out more about the materials your shed manufacturer is using. Here at ABC Sheds when we go through a quote with a client, we're always ready to explain why we use this or that material. 'It's cheaper' is only a good reason when the material chosen is tough and suitable for local conditions.

One thing to keep an eye on is the thickness of your sheeting. While using a thinner grade sheeting may reduce costs it is simply not going to last as long, and will damage and tear very easily. You will also want to make sure you check the coating on your columns – powder-coated or painted columns will leave your shed vulnerable to rust over time, especially if the column happens to get bumped by machinery. Hot-dip galvanising will ensure your shed is protected.
Check on guarantees
You wouldn't buy expensive appliances for your home that come without a guarantee so the same should apply for your new shed.

The problem: A shed purchased without the right guarantees in place will cause more than a bit of a headache in the long-run. If you experience problems with your shed after you've paid the bill, you could end up without a leg to stand on – and costly repairs could leave you without a feather to fly with!

The solution: Ensure that you're dealing with an established company that can't just disappear overnight, and see if they're willing to back up the quality of their structure with a guarantee.

For example, we're willing to back up our structural frames with a 25-year guarantee. Why? Because we know that the chances of you having problems are practically zero. Other shed manufacturers may not be as confident in the quality of their sheds.
Need a quote for a new shed? Request one from us here >>
Check your quote for grey areas
Many people buying a new shed will only have a certain amount of money that they're willing to invest. It's important to know from the outset what you're paying for, and how much you will end up spending.

The problem: Not all shed manufacturers are willing to pin themselves down to a fixed price. Some manufacturers will include a quote clause that allows for a certain percentage of variance, and others may not even want to go that far.

There can be cases where shed manufacturers will only list materials and labour in their quotes – but what if they need to hire earthmoving equipment or a crane? What if the construction crew needs accommodation during construction? All of these things can add up quickly. The result? When you sign off your quote, you actually have no idea of what price you're letting yourself in for.

The solution: Check that you are getting an all-inclusive quote for the whole project, and that it includes any necessary extras that may be involved in the construction process. No matter what people may tell you, it's possible to be provided with a final price for a shed and it's construction. For example, all of our quotes include absolutely every cost you'll have to cover in order to get your shed.
Approval and certification
Sheds that are built without the proper approvals and certifications in place are sure to cause you problems in the long run. Certifications and council approvals are in place for a reason and will ensure that you end up with a quality shed that's appropriate for your location.

The problem: Just about anyone can knock together a shed, but will it be in line with building codes? You will need council approval, and if you break the rules, it's 'goodbye shed' – lock stock and smoking gun!

The solution: Ensure that you can get proper plans from your shed manufacturer and that certifications will be in place. Better yet, ask us to help with your council approval application – it won't cost you a cent.
The bottom line
Quality and reliability are worth paying for. Check your quote carefully and ask questions before reaching a decision. You want to make sure that your shed will last for the long haul – you don't want any costly surprises when it's time to pay your bill.

Here at ABC Sheds we've been in the shed manufacturing game for decades and know that our rural and industrial sheds are built to last. You'll have no surprises either when you get your shed quote – what you see is what you get! And with our team of expert Project Coordinators on deck to guide you through the process, getting your new shed will be as simple as possible.

If you're interested in a new shed and would like to talk to our team about your options, you can contact us here anytime. Our request a quote form also makes it easy to get the ball rolling, just let us know the type of shed you're interested in and we'll send a no-obligation quote your way.