Are you considering a new steel shed for your farm or business? With a wide range of options available, it can be confusing to determine exactly what you need. From structural steel to purlin, wide-span or something more compact, it can seem like the options are endless when it comes to choosing your perfect shed!

In this blog, we wanted to take a closer look at the differences between purlin and structural steel. Just which is better for your new shed?
What is a purlin?
A purlin is a roll-formed structural support system. You will primarily find purlins used in framed steel structures to provide roofing and cladding support. A purlin is created out of flat sheet steel and roll-formed into the specific purlin shape.

There are two types of purlins available, each has a different shape – C purlins and Z purlins. C purlins are in the shape of a C and Z purlins are formed in the shape of a Z. A combination of both types of purlin can be used to provide a support structure for a roof.
C purlins
C-shaped purlins have equal flanges so these can be used in either single spans or un-lapped continuous spans, in multi-bay buildings and sheds.
Z purlins
Z-shaped purlins feature one broad and one narrow flange, which allows the two flanges to fit together snugly, making them suitable for overlapping. Z sections of the same depth and different thicknesses can be overlapped in any combination.
What are the benefits of purlins?
The main benefit of choosing a purlin frame would be if you're needing a small shed (less than 12 metres). Purlins are strong enough to support a structure of this size and will suit most requirements. Purlins are generally screwed rather than bolted which can lead to lower manufacturing costs.
What are the disadvantages of purlins?
There are strength and structural limitations to using purlin frame sheds. Although the frames are built with extra bracings they're still not built to hold a lot of weight, so wouldn't be suitable for a large shed (over 12 metres). These structural limitations also mean that purlin sheds shouldn't be used to store heavy machinery – if you were moving a tractor or forklift and this knocked the top of the roof, or a structural support, this could end up causing quite a lot of damage.

It's also important to note that purlin frame sheds cannot withstand extreme weather conditions. Due to purlin structural limitations, purlin frame sheds can be susceptible to damage, particularly during harsh weather conditions like storms.
What is structural steel?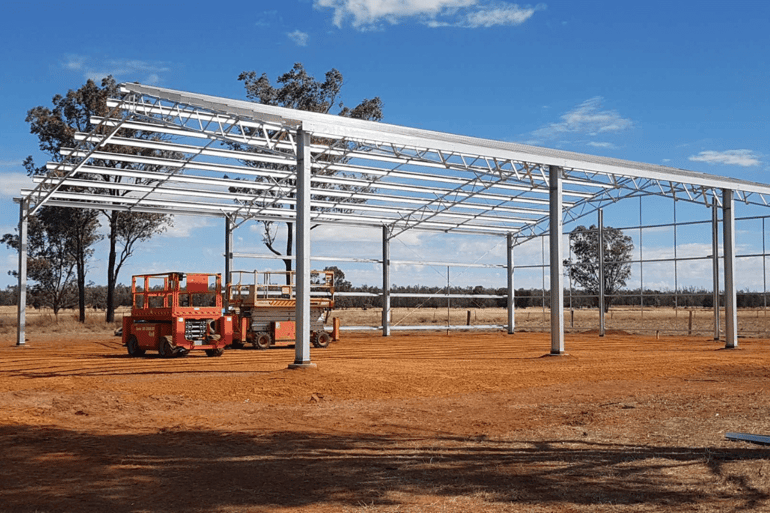 Structural steel is a special type of hot-formed steel – steel that has been roll-pressed at very high temperatures. This type of steel is thicker and fed through rollers – the thickness of structural steel can be anywhere from 5mm to 20mm.

In a shed that's constructed from structural steel, the main frames and roof rafters are constructed from strong steel sections which are welded together, and then later, bolted together. Purlins and girts can be used in addition to the structural steel, to support the roof sheeting. This design is a much stronger, and more robust way of building a steel shed.

Structural steel sheds are also composed of structural steel beams. These beams include:
Universal beam (UB): Also known as an I-Beam, H-Beam or RSJ, universal beams are formed in the shape of an I. These beams come in various shapes, sizes, and thicknesses.

Welded web truss: These rafters provide a rigid skeleton to span your shed area. They are designed and engineered to provide the perfect balance between weight, and strength.
What are the benefits of structural steel?
There are many benefits to using structural steel for a large shed or commercial building. As we have previously mentioned, structural steel is a thick durable material – sheds constructed from structural steel are also approximately six times heavier than a purlin frame in fact! Structural steel is also a lot more weather-resistant so it's better suited to the harsh weather climate we often experience here in Australia.

A structural steel shed frame is also cut and welded to meet your design requirements which makes these sheds completely customisable. You have lots of choice when it comes to the design, shape and size of a structural steel shed with the sheds being strong enough should you wish to add extra additions like, hanging a block and tackle inside a workshop. You don't face the same limitations, particularly around size and strength, that you do with purlin sheds.

Another big benefit with structural sheds, particularly very large sheds and commercial buildings, is that all of the structural steel pieces are welded into large prefabricated sections. This makes it that much quicker when it comes time to erect the shed on-site.

All of these benefits are why we recommend structural steel for anyone looking to build a large rural or industrial shed in Australia. It's also the reason why we only manufacture our sheds here at ABC Sheds, from quality structural steel.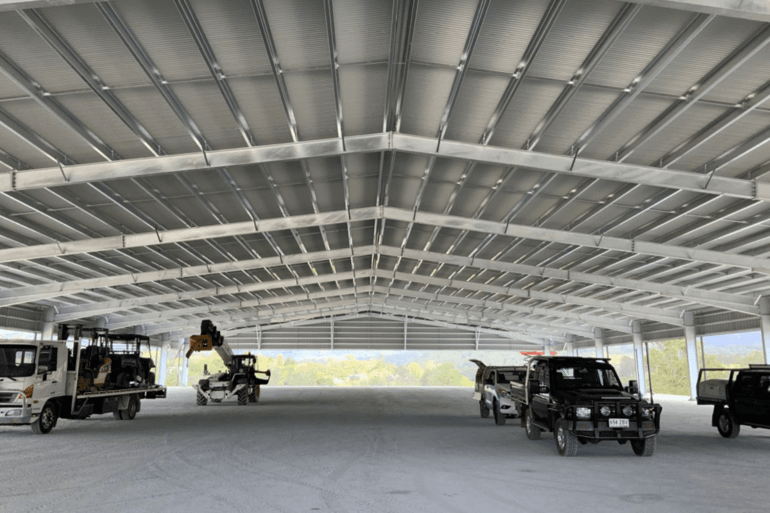 ABC Sheds are built to last and manufactured from the most quality structural steel.
Choose an ABC Sheds, structural steel shed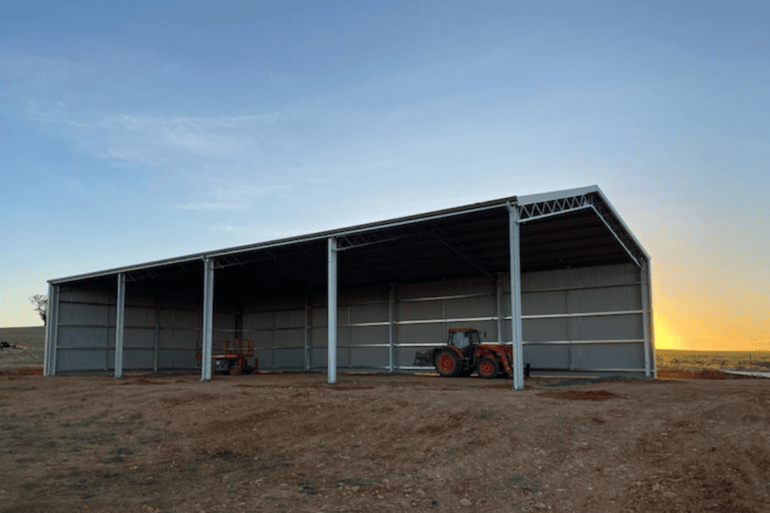 Here at ABC Sheds, we're experts in large-scale structural steel sheds. So whether you're looking for a shed for the farm, a shed for your commercial or industrial business, a dressage arena, or even an aircraft hangar, we're here to ensure you get a quality structure that's here to stay!

Our sheds feature universal beams – have you ever tried to bend one? It's impossible! This means our columns won't bend, buckle or bow if you happen to knock it with one of your machines. Hot-dip galvanising also ensures our columns can withstand even the harshest weather conditions. You can learn more benefits of an ABC shed when compared to a purlin shed including the difference in wall thicknesses, by clicking here.
If you have a shed already in mind and you'd like to see what this will look like before you buy, you can try out our free shed builder here. Customise your own structural steel shed right down to the colours!

For more information on the complete range of ABC sheds, download our free brochure here.