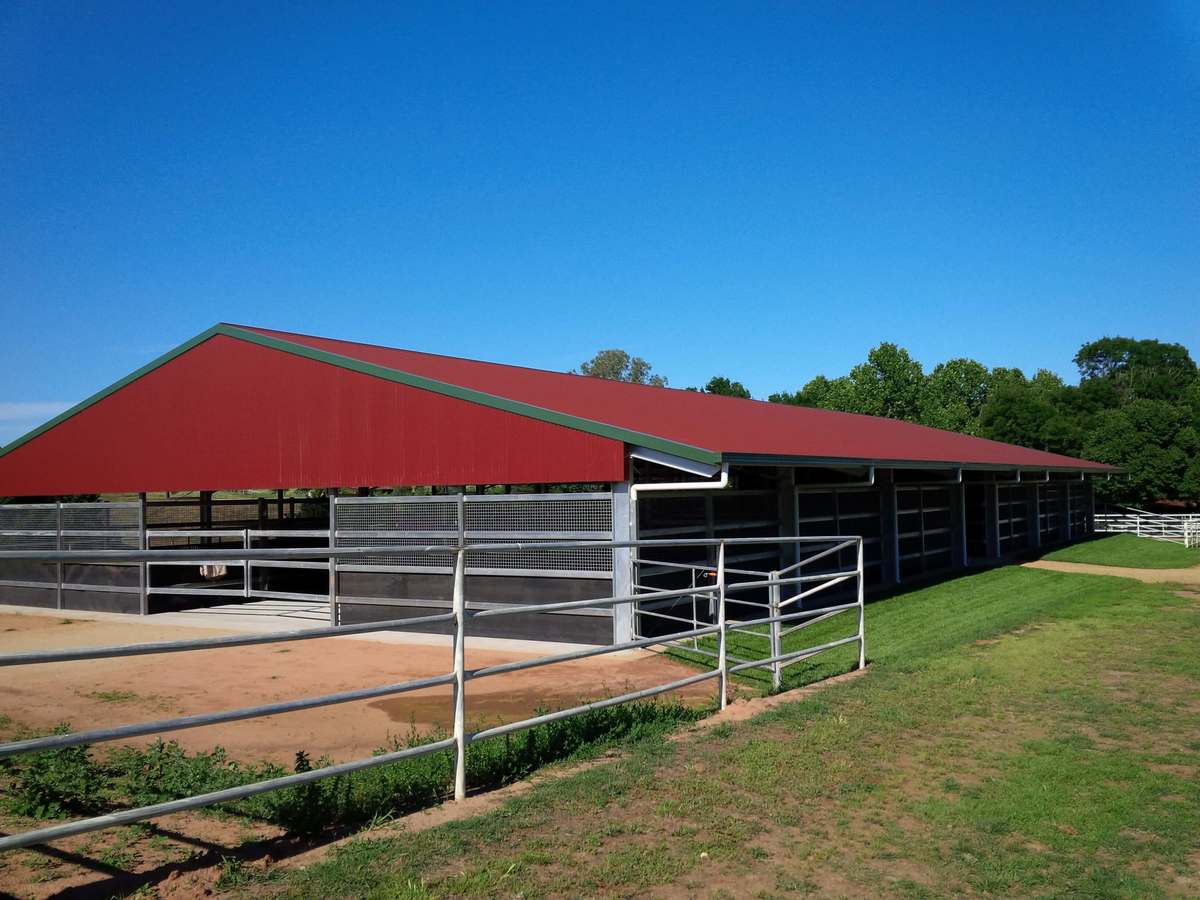 If you're building an equestrian shed or horse stables for the first time, then you'll have lots of decisions to make so that you end up with a facility that's just right for you, your horses, and your riders. A quality horse stable can be a big investment so it's important to make sure you get all of the details just right so that you're happy with the end result, and so you don't need to make any major adjustments down the track.
You have plenty of options available nowadays when it comes to the design of your new equestrian shed and even things like whether you add additional storage spaces for your tack, feed and horse floats. Many horse stables and stalls are custom built to meet your needs so almost nothing is off-limits, as long as the design is functional (especially for your horses).

We've covered the basics of what you need to consider when building a new equestrian shed, so that you're ready to go when it comes time to plan your new equestrian building.
1. The size of the shed
The first thing to consider when building an equestrian shed or horse stables is how big the shed will need to be. The size will depend on how many horses there are – the more you have, the bigger the shed or stables needs to be. There are minimum standards set in place by the New South Wales Government to help ensure the welfare of horses and to make sure that they're kept in comfortable conditions. The Department of Primary Industries recommends that stables should be at least 3.7m wide and 3.7m deep. A size of 3.7m x 4.9m is preferable with a height of at least 2.75m. These specifications will ensure that when inside the stables, horses have enough room. Stables that are too small can quickly cause horses to become distressed and panic which could lead to kicking, and subsequent injury.

When thinking about the size of the shed it's also important to factor in how many individual stables you may need (if you have multiple horses). While you may only have four horses currently you may wish to expand in the future. Factoring this in when you're first planning your equestrian shed will ensure that you not only have enough stables now, but for years to come.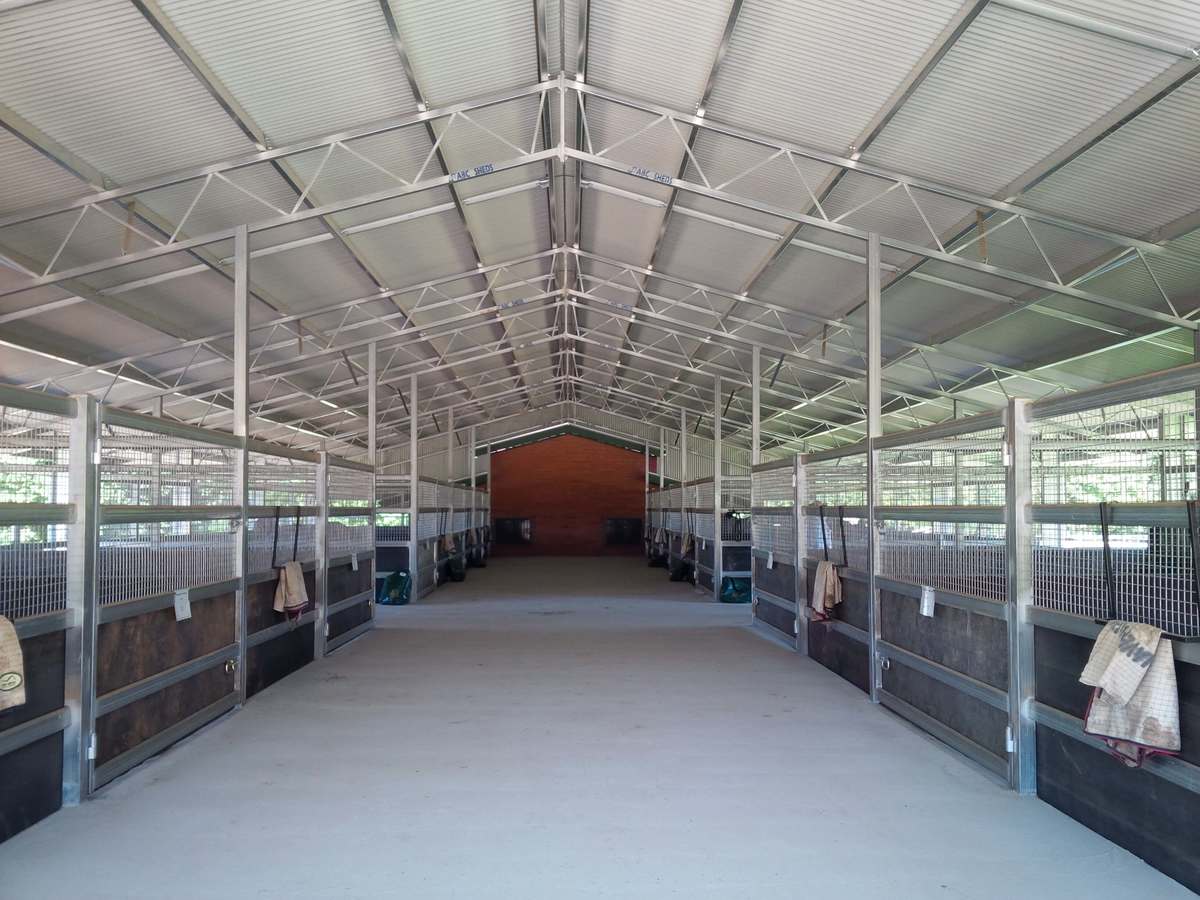 This equestrian shed features spacious individual stables to give horses plenty of room.
2. The location of the shed
The next important consideration is the location of the shed. You want to avoid building this in a location that could be prone to severe wind gusts or flooding. Take your time to investigate different locations on your property to see what's most suitable. Many people opt to build their shed or horse stables on a slope or rise to avoid any potential flooding due to heavy rain.

Another important consideration regarding location is making sure it's not too far away from important amenities. If you have a dressage arena or covered horse arena then you'll want to make sure that the shed is in close proximity, so you don't have to spend too much time going from one location to another and that the shed is on even ground that drains easily to reduce earthwork requirements.
3. Design of the shed
With the build of a new shed comes many important design choices so that the shed is built not just to benefit the needs of your horses, but the needs of yourself and anyone else that may be using the facility.

First consider how many walls your shed will have – prevailing winds may make horses uncomfortable then you'll want a more enclosed shed or at the very least, to have enclosed walls built on the sides of the shed that may get the worst of the weather.

With horses comes a lot of equipment so many people add a storage or 'tack shed' onto their shed or horse stables. This is a place where you can store any of your essential equipment that you need to care for your horses – things like feed, cleaning and grooming equipment, and riding equipment can all be stored here. Having all of this helpful equipment on hand will make it that much easier to care for your horses, it will also mean that you won't have to make multiple trips back to the car!

You may also want to include even more storage space in your equestrian shed, if you will need to store big vehicles like horse floats. Adding on essentially another shed to the design will ensure that you have enough space for these items. A secure roller door will also ensure that you can 'lock and leave' any expensive vehicles – no need to worry while no one is there.

While making sure that you have enough storage is important, you shouldn't overlook the fact that your shed will still need to have enough airflow or 'ventilation' to make the space comfortable for horses to reside in. As we all know, it can get very hot here in Australia so any new stables built must have good airflow.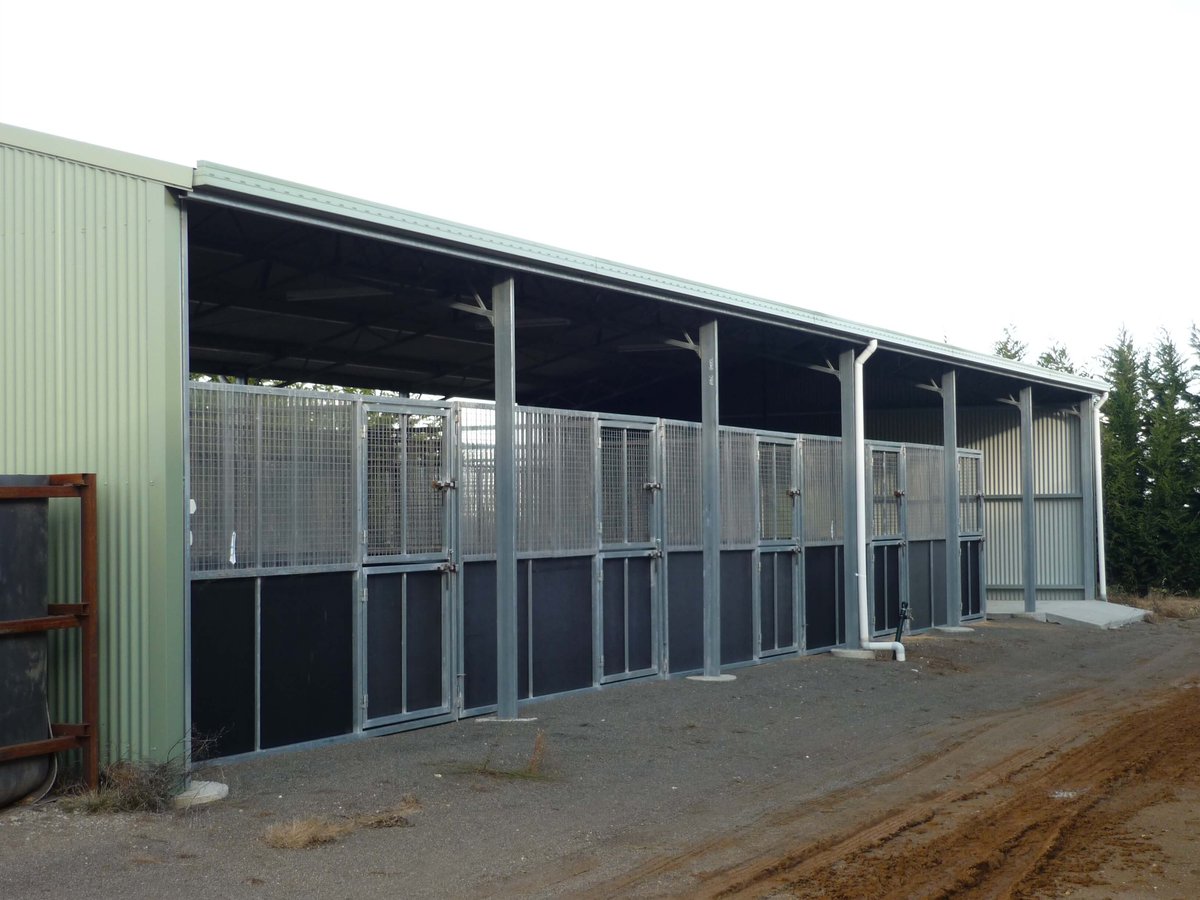 The equestrian shed features a drive-in space to the side and individual stable doors that can be accessed externally.
4. Power and water
Power and water are two utilities that are an essential, even in a horse stable or shed!

Say your riders will be at the stables before sunrise – they will need adequate lighting so they can see what they're doing. If you have access to power at your shed then that's an easy solution. If locating a power source is proving difficult, then you may want to consider investing in solar panels so that you can harness solar power on your shed.

Horses are big animals and they drink a lot of water, especially on a hot day. Additional tasks, like washing your animals and cleaning out stables will also highlight the need for a ready water supply at your equestrian shed. Having regular access to water is essential in keeping horses hydrated and your facilities clean. Connecting a water source to your shed will save you a lot of time and money trucking in water tanks. If you get regular rain you may want to consider adding a stormwater tank and guttering to your shed to make the most of this.

Here at ABC Sheds we have years of experience helping our customers to build their equestrian buildings, whether that be horse stables or covered dressage arenas. We want to make sure you get the shed that's just right!

Talk to us about your ideas and we'll be able to help you through the shed building process from initial consultations to design. All of the sheds we manufacture are custom-builds too, so they're designed and engineered to suit your needs.

To take a look at some of the equestrian sheds we've completed, you can check out our free brochure here.