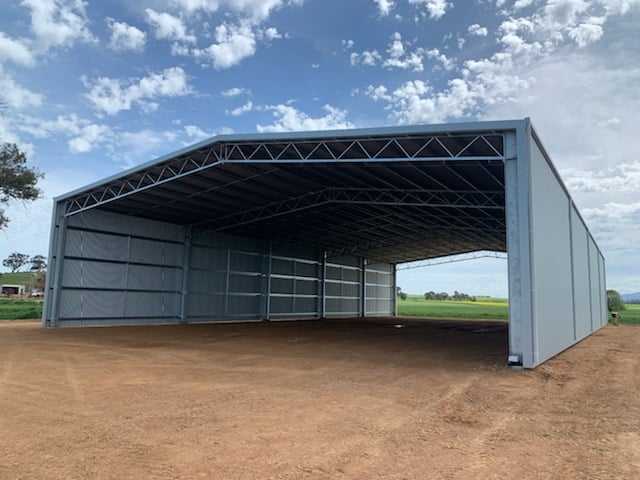 There's a famous saying along the lines of "Rome wasn't built in a day". The Romans were right – great things take time to build. You wouldn't expect Rome, or even a house, to be built in a day and the same goes for a shed! Between initial consultations to find out what you need to the approvals stage, there are actually quite a few steps involved in building a quality shed.

If you've been considering a new shed for your farm or property but have been putting it off as you're not sure what's involved then look no further! With over 25-years of experience in the shed industry here in Australia, we'd say we've got the shed building process down to a fine art!
We've outlined the steps we take when building a new ABC shed below, so you know what to expect from us, and the process involved when building a new shed.
1. Initial shed consultation
The first step involved in building a shed is the initial consultation. While some people will know exactly what they want in a new shed, others will have very little idea! There are many different elements that make up a shed so it's important that we know exactly what you need, and how you will be using the shed, before we start. That's where this initial consultation stage is so important.

At the start we'll discuss exactly what you'll be using the shed for and your potential requirements for the future. This makes sure that we can then develop the shed that's right for you and your property. Things like how many bays your shed will have, how wide the bays will be, and how many enclosed walls your shed will have are all important factors that should be discussed at the outset. There's nothing worse than investing in a big-ticket item that doesn't turn out to be what you expected – proper planning and discussing the finer details at the start will ensure you get the shed that's just right.
2. Site inspection
You may have a good idea of where your new shed will go, however, it can be a good idea to get the site inspected before any work gets underway, so we can determine if the site is appropriate for a shed.

Potential issues like site access and drainage can be avoided if a thorough inspection is carried out. If your chosen site isn't going to work for a shed, then we'll work with you to determine a different location that's more suitable to stop any potential headaches down the line.
3. Design
Once your site's been visited and checked, we can then get on with the fun stuff – designing your new shed! Our team of expert draftsmen will work their magic to make your shed a reality – they continue to amaze us with the sheds (big or small) that they design.

They'll work away creating technical drawings of your shed, until they're sure they've got every detail just right.
4. Building & council permits
A big deterrent for many people who've been putting off building a new shed is the hassle of having to check and apply for any building and council permits that may be required. Here at ABC Sheds we like to make things hassle-free for our customers which is why we'll handle this for you.

Just leave it with our team who will contact local councils to see what permits may be required for your new shed. They will even make any necessary applications too!
5. Engineering
Once any required permits are in place we can then get onto the final details of the design and engineering phase. This is where the design of your new shed is finalised, drawn up and all parts are plasma-cut in house.
6. Fabrication & manufacture
This phase of the shed building process is where things really start taking shape, and the final step before the construction phase.

During the fabrication stage, our team of welders will be busy manufacturing and welding the steel parts required for your new shed. It really is a hive of activity in our workshop during this stage and it's all hands on deck to get your shed ready for construction. Take a look behind the scenes of our workshop in the video below.
7. Shed construction
We're nearing the end now and your shed is almost ready. Construction is the last step in the process of building your new shed, and the most exciting part in our opinion!

Whether you've organised your own contractors to come in and erect the shed or you'd like us to organise this for you, we're there for the final step as well. It's so important that your shed is constructed properly and safely which is why we'll still liaise with you at this stage (even if you're happy to erect the shed yourself).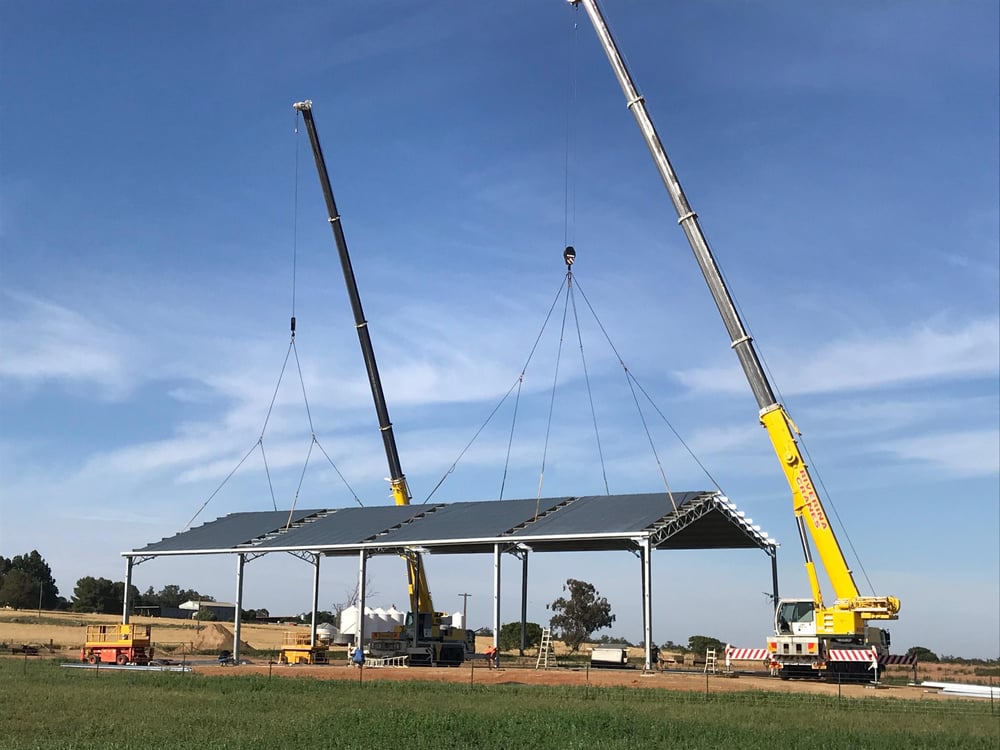 An ABC shed can be quickly erected with the right machinery and equipment.
The ABC Sheds difference
Wondering why ABC Sheds for your new rural or industrial shed? There are quite a few benefits to working with us (if we do say so ourselves)!
25-year "you're covered" guarantee
We really believe in the quality of our sheds and are happy to stand by them, so much so that every shed we manufacture comes with a 25-year guarantee. This gives you peace of mind going into the future, knowing you're covered.
Designated project coordinators
All of our customers receive a designated project coordinator that will guide them through the process of building a new shed. They're there with you every step of the way and will ensure that the process goes as smoothly as possible. They're only ever a phone call or email away and are happy to answer any questions that you may have. If you're local your project coordinator may even stop in once the shed is under construction to check how things are going, and see the shed take shape.

To discuss your future shed project or if you have any questions around our processes, we would love to hear from you! Simply send our team a message here and we'll be back in touch.

For more information on our range of sheds from custom dressage arenas and hay storage, to aircraft hangars and farm machinery sheds, you can check out our free brochure here.