While assembling a new farm shed or horse arena is no small feat, many people are unaware that most structural steel sheds come ready to be erected, and are easy enough to construct yourself. Erecting your own shed is also a great way to save a bit of money if you're needing to stick below a certain budget, as long as you have some time to spare and a bit of patience!

So, you may be wondering just how easy is a steel kit shed to assemble? While a kit shed is simple enough to erect there are some considerations to be made before you get underway with digging your first hole, and putting your frames up!

As structural steel shed manufacturers we've highlighted the most important things that you'll need to think about before you start lifting your brand new shed into place, and how our team can help make the process as easy as possible.

Read on to find out more and to learn some tips to construct a steel kit shed yourself.
Make a plan before you get started
No matter how big or how small your new shed is, careful planning from the outset is crucial in making sure that your kit shed is constructed properly. Take care to read through the instructions that come with a kit shed and ensure that you have:
Enough time to complete the build.

You have all the necessary equipment and machinery to construct the shed and lift it into place.

You have enough people to get the job done – maybe you'll rope in a few mates to help out or perhaps you'll engage some local contractors for a few days to lend a hand!

It's the simple things that really make a difference to ensure that you're well prepared before you start and so that you don't end up wasting valuable time, when you go to construct your new shed.
Check in with your local council
While this may seem like a bit of no-brainer, it's quite surprising the number of sheds that end up being constructed, without going through the necessary approval processes.

While you may have done some research and are sure that you don't need to gain consents for your rural shed, you can never be too careful! It's always best to give your local council a call to confirm what you need, and what you don't so that no costly mistakes are made. Sheds that are erected without the right consents in place can cause quite a headache for all involved. This can easily be avoided with a simple phone call at the start to check the shed consent requirements and your obligations.
Get your foundations right
Erecting your kit shed on ground that's uneven or sloping won't help you achieve the best results so it's important that you get your foundation right – no one wants to end up with a shed that's on a lean or not stable!

Depending on the type of shed you'll be erecting and whether it's open or fully enclosed will likely determine the type of ground you use as a base for your shed. A workshop or aircraft hangar for example is generally a fully enclosed space that will require concrete flooring. When pouring a concrete slab you'll still need to do some prep work to ensure that the ground is even.

Open sheds like hay sheds and horse arenas won't have a concrete floor as it's impractical however the flooring must still be even. If you have your own Dingo digger then this is a great piece of machinery that you can utilise to help flatten the base that you'll use for your shed.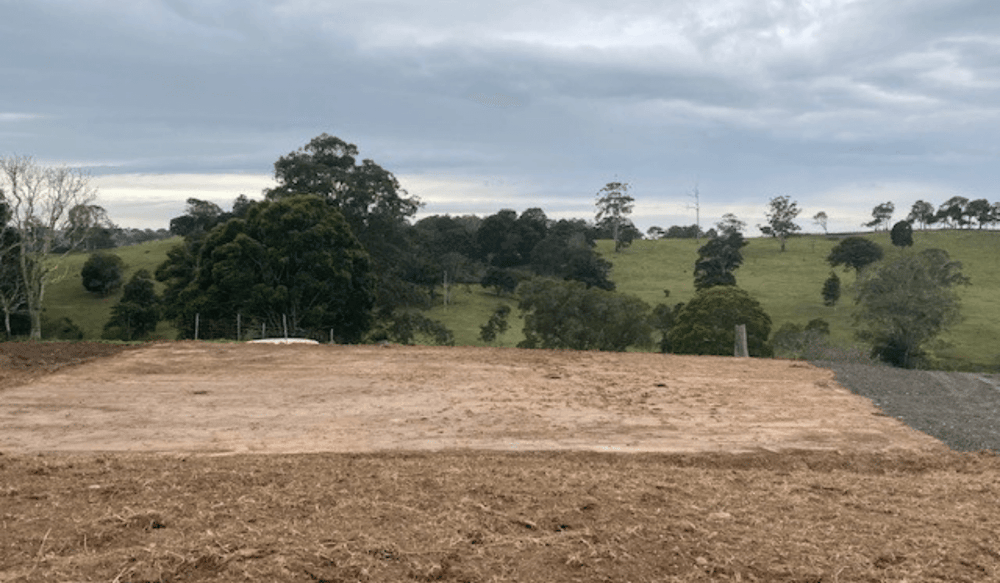 Flat, even ground, is the perfect surface to construct a kit shed on.

Erecting a kit shed
Now that you've done all of the necessary preparation work, you're ready to get underway and erect your steel kit shed!

Once your kit shed arrives you'll want to first ensure that you have everything you need. Most shed manufacturing companies will leave a detailed receipt outlining all of the shed parts that they're dropping off – read through this carefully and double check what's been delivered to ensure that you have all of the parts that you need. There's nothing worse than getting halfway through your build, and realising you're missing a crucial part of your shed!

It goes without saying that while erecting your shed both yourself and any contractor or friend that may be helping you, must be wearing the right personal protective equipment (PPE). PPE refers to anything used or worn that can minimise risk to workers' health and safety and can include things like work boots, gloves and hard hats. Care should be taken to ensure that you and your team are wearing the right gear while constructing a shed – the risk of injuries occurring can be minimised with the use of the right PPE.

One last consideration that must be made when erecting any kit shed yourself is the weather. If it's forecast for rain or a storm then you should hold off on erecting your shed until the weather is fine. A clear and calm day will make all the difference!
Erecting a kit shed is easy with ABC Sheds
See just how easy an ABC shed can be lifted into place in this video!
If you're looking for a structural steel shed and want to erect it yourself, then you've come to the right place! If you remember the classic Meccano sets, you would also remember how all of the pieces are designed to fit together perfectly. ABC Sheds applies the same principle to shed design and our kit sheds.
Pre-drilled and pre-cut, our steel shed frames will arrive ready to be lifted into place, so there's no wasting time or mucking around! And if you're worried about following instructions and potentially missing a step then you'll be pleased to know that all of our sheds also come with an instructional DVD. The comprehensive instruction manual and DVD will guide you through 'doing it yourself' and will make constructing your new shed as simple as possible.

Leave the guesswork at home with ABC Sheds. Our instructional guides are backed up by our knowledgeable, and experienced team of Project Coordinators, who can answer any questions and offer technical support at every step of the process.

The only concern that would be left is "is the shed big enough?" All of our custom-designed sheds are created to allow for future extensions and modifications so if you ever need to expand your shed and add an extra bay, you won't have any trouble with an ABC shed.

If you would like to enquire with our team about a kit shed for your farm or property then we encourage you to give us a call or enquire with us here. For more information on our range of farm sheds and rural buildings you can download our free brochure that's packed full of information on our entire range.