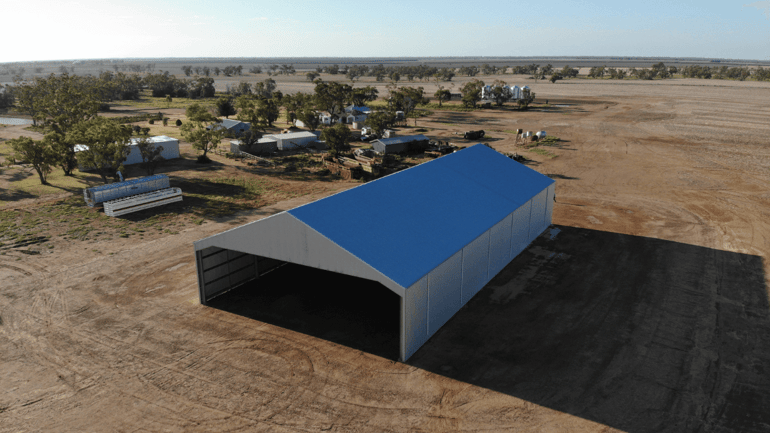 While there's no magic formula for building a shed, there are a few core principles to follow that will impact how your design comes together.

A shed is a major undertaking, but if you do it well, it will provide benefits both now, and into the future. To ensure your new shed is a success, here are 6 things that we think every shed owner or future shed owner should know.
1. The best shed size
We often have customers ask what the best shed size is and while the answer depends on the purpose of the shed, we always recommend sizing up.

If you build a shed to your current requirements with no room for expansion or additional needs, you'll likely regret it. To avoid disappointment and costly upgrades, later on, plan ahead and build your shed bigger than you need. This way, you can easily store new items as you acquire them and you won't have to spend thousands on an extension project.

There's no standard size for a steel shed which means you have a lot of control over how yours turns out. In saying that, there are a couple of factors that will influence your decision.
Carefully measure everything
To determine the minimum size of your shed, take the time to measure everything you intend to store in it. You need to know the height, width, and length of everything that will go inside your shed including vehicles, machinery, storage units, or cattle yards.

You should also consider the amount of space needed around each item, for opening doors, accessing cupboards, and manoeuvring vehicles. As a minimum, we recommend adding an extra 1 metre on each side.
Think ahead at least 3-5 years
To future-proof your shed, you need to anticipate and prepare for any new priorities and changes. We recommend you plan ahead to 3-5 years to make room for any new equipment, add machinery, or upgraded vehicles. If you aren't sure how much extra room you'll need, consider adding an extra bay, increasing the sizes of your bays, or adding a mezzanine floor for storage.
2. Shed door clearances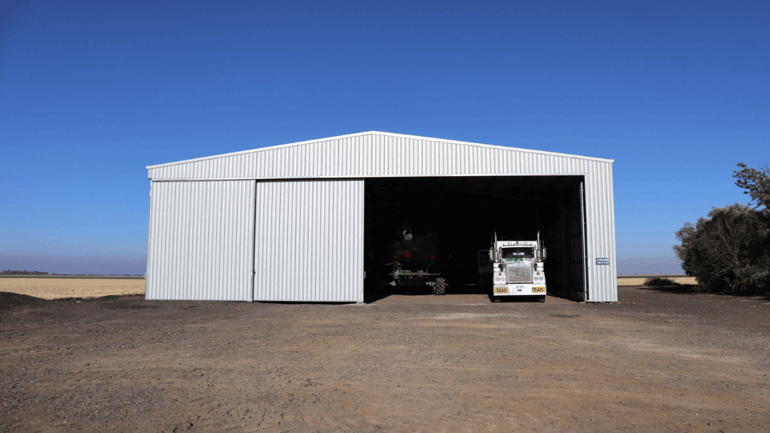 If your shed will have a door, it's essential that you factor in extra room for the door to open. However the extra room that you need, will depend on the type of door you include in your shed. For sheds where safety and security are paramount, either a roller door or a sliding door is a standard edition.

For roller doors, the recommended clearance is at least 1 metre. This additional space allows for the drum to fit above the door which in turn, ensures that the roller door can open. When calculating the height of a shed with a rolling door, you'll want to measure the height of the tallest item that you will store inside first, and then add an additional 1 metre to this measurement.

In comparison to a roller door, a sliding door doesn't have the same height requirements as it can be the full height of the shed. However, it's important that you consider where the door will slide to. Will there be an additional bay or will you need to utilise outriggers to support the beam?
3. How to assess the site for your shed
When you design a shed, you need to think about the site it will be built on. During the design stage, it's crucial to think about the climate, surrounding buildings, and accessways to ensure the shed functions well within its context.
Mark out the dimensions on-site
We suggest visiting the site and marking out the measurements on the ground. This will help to visualise the shed within its setting and show how much room there is to expand if required. Take note of any trees, hedges, nearby buildings, powerlines, or anything else that will interfere with the shed.
The best shed orientation for the prevailing wind
Understanding the local weather patterns and prevailing winds of your site will determine how the shed should be designed. Strong winds can cause significant damage to a shed but if you position it carefully, the risk can be minimised. The best shed orientation for your area will depend on where you are and how exposed the shed site is, so talk with the experts who can provide guidance on wind ratings.

Another thing to consider when deciding the orientation of your shed is if you want to add solar panels to the roof. For maximum solar gain, the best placement is on the North or West of the shed roof.
Considering an ABC Shed for your next farm shed or industrial building? Check out our full range in the free brochure!
4. How to get shed building consent
When building a large steel shed, it's a good idea to work with a team of experienced shed builders who can help you to get consent from your local council. This process involves adhering to legal engineering guidelines and must be confirmed before the building process can go ahead.

The consent process does take time and unfortunately, there's no way to speed it up. However, by taking extra precautions and refining your designs, we can help to streamline the process. At ABC Sheds, all of our sheds are built to meet Australian standards, so you can be confident that your shed will meet expectations.
5. Versatile shed design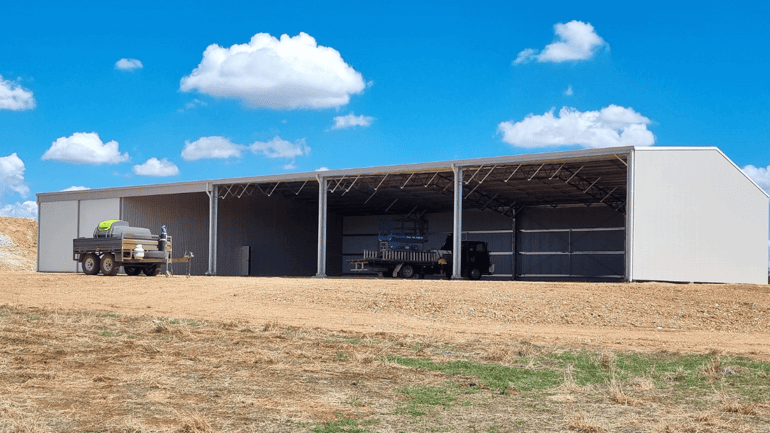 A shed is a massive investment, so it's essential that you build it in a way that maximises its value, both to you and any future owners. A reliable, adaptable shed can provide significant resale value for your property so it's worth designing it in a versatile way. To ensure your shed is well set up for the future, we recommend thinking about the surrounding industries in the area.

For example, if your shed is a commercial shed, don't limit it to a particular industry, instead design the size and facilities of the shed in a way that could be easily adapted. Likewise, if you're investing in a farm shed, it's worth designing it to suit various types of animals or farm uses. Something like a hay shed can be incredibly multi-purpose, with the right design in play.
6. The most suitable shed building materials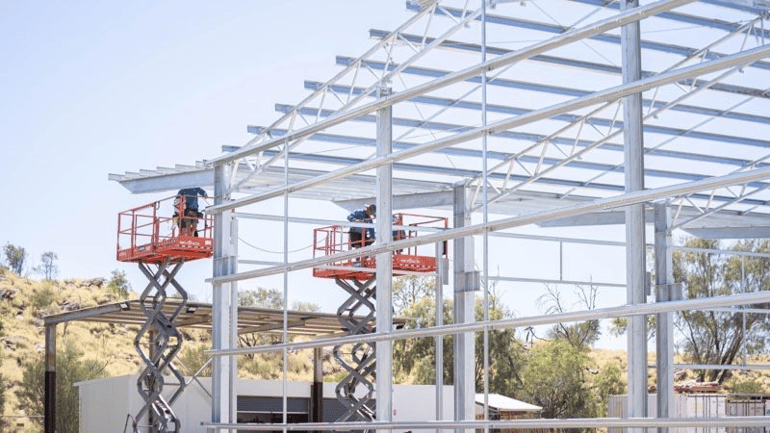 When it comes to building large sheds in Australia, steel is considered the superior building material. In the harsh Australian climate, hot-dipped galvanised steel is strong, weather resistant, and durable, giving you the confidence that your shed will stand the test of time.

However, there are other elements of your shed that could be manufactured from different materials and these are just as crucial. For example, you might like to incorporate translucent sheets for extra light or you may wish to add insulation to the roof.

For advice on the best materials for your shed's purpose and location, speak with our experienced team. We can share useful information about materials, including suggestions tailored to your specific shed needs.

While these are just 6 things that should be considered for any new shed, there is so much more that goes into the design to ensure you get a shed that's right for your needs. Building a new shed can be a daunting task but it can be made all the more simple with a helpful team behind you. Here at ABC Sheds, we have the expertise, know-how, and experience to ensure the process is as easy as possible

Get in touch with us today for more advice or start designing your new shed in our virtual shed builder below.