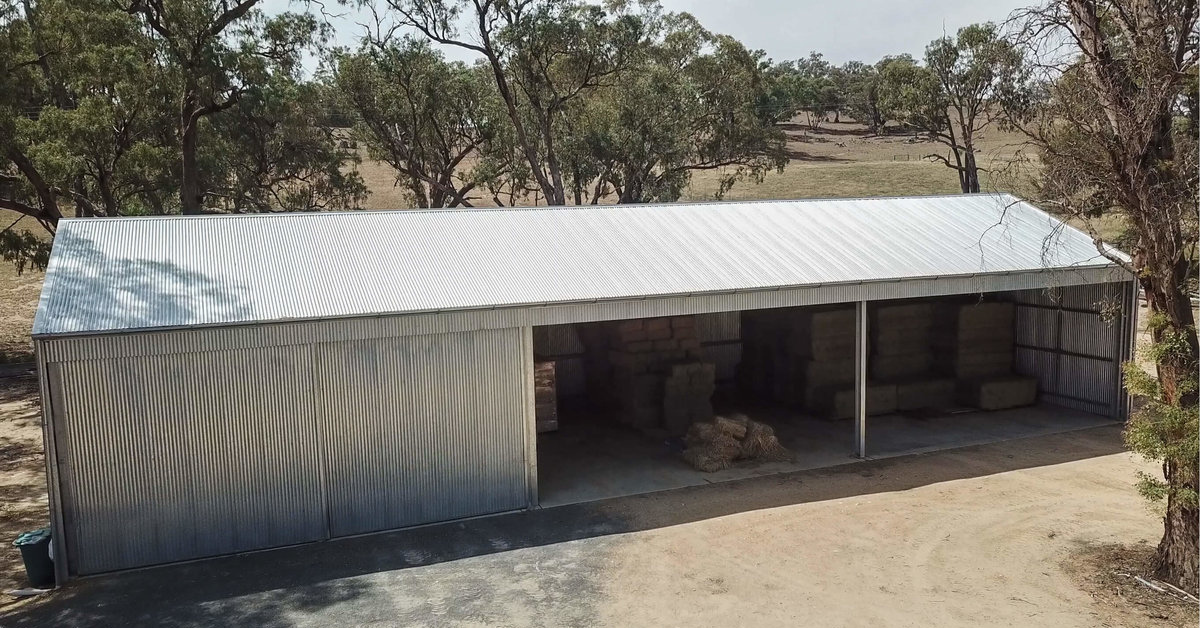 If you're looking to create more hay or harvest storage for your property, then you may be wondering – where do I start? There are some important factors to consider when building any large-scale shed and a hay shed is no different! In fact, even more consideration should go into the construction of a hay shed that's just right as you'll want to make sure that your harvest is protected from harsh weather conditions, and the likelihood of spontaneous combustion.
Over the years the team here at ABC Sheds have worked with farmers to create many different hay sheds, big and small, across New South Wales and Australia. We know that planning and a well thought-out and designed hay shed are key in building a quality hay shed that will last you for many years to come. We also know that there are a few things that you must factor in when planning your perfect hay shed.

From storage and rain considerations to council consents, we've outlined the main considerations so that you can get started designing your hay shed.
Shed size and bale storage
As a hay shed is primarily used to store hay, the first thing that must be considered is the size of your shed and how many hay bales you will need to store. If you get this wrong, you may end up with a shed that's far too small for harvest time which will result in wasted hay, and money.

Start by thinking about how many bales of hay you will need to store in your shed at one time, will the size of your new hay shed be able to store these comfortably? Is there extra room in the instance that you have a bumper harvest season and you need to store even more hay or fodder?

The following estimates can be good guidance to start with:
1,000 bales – 32m x 18m shed

2,500 bales – 48m x 24m shed (most common)

5,000 bales – 96m x 24m shed (will require a fire tank which could add over $20k)

20,000 bales - 160 x 45 shed (export size)

Note that the type of bales you will need to store will also have an influence on the amount of storage you will need in a hay shed. For instance, rectangular bales will require less storage space when compared to round bales; rectangular bales are also easier to stack. Hay bales that are bigger in size could require wider bays for access when compared to smaller hay bales, having extra wide bays may then require more support for the roof.

Once you've determined how big your shed needs to be you can then start to think about how many walls your shed will have. Many farmers opt with three as a more enclosed shed will provide better protection from the elements, and will result in less waste. Having your shed hot-dip galvanised should also be a no brainer. Your shed will be exposed to the elements 24/7 and you need to make sure it has the highest level of protection.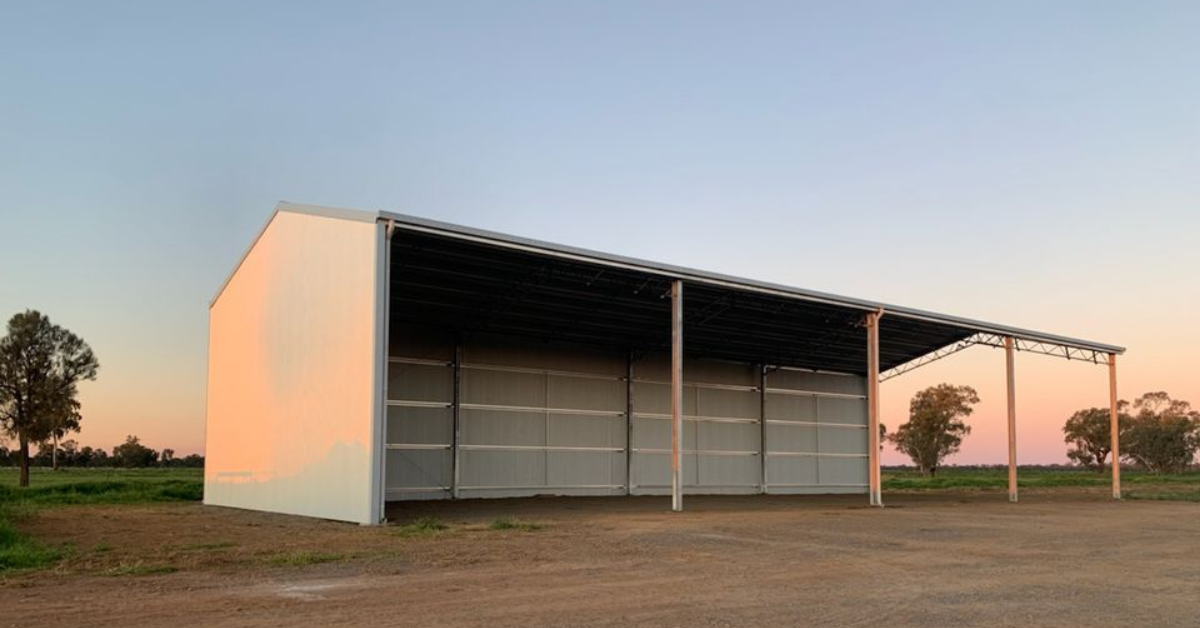 This hot-dip galvanised hay shed features two enclosed walls to help keep hay protected from the elements.
Storage for stormwater
Many areas of Australia are prone to drought and can go months without any rain. Many people overlook that water storage can be built into a hay shed for the capture of stormwater.

Looking at a 15m x 32m hay shed, with a minimal annual rainfall of 500mm, up to 240,000L of water could be potentially caught and stored. This equates to approximately 480 full water troughs (or 500L per year). Having adequate stormwater storage is well worth the investment and should be a certainty for farmers that live in areas with little rainfall.

Stormwater storage is simple enough to work into the design of a hay shed and would involve large gutters that feed directly into the top of a tank to store rainwater. It's always best to talk to shed experts first before getting underway with a storage system like this as they will be able to advise the best place for a tank to be added, and the tank size that you would need.

Loading and unloading your hay
While this may seem like a simple one and something that doesn't require too much thought, you must think about how you will load and unload your hay before you start designing a new hay shed. Things like the machinery you will use to unload your hay and how high you will stack your hay bales are both important considerations.

Generally hay bales are stacked six high when they're unloaded into a hay shed which works well as the general capacity for a truck or tractor to unload is three hay bales at a time. You must also consider getting the hay bales out of the shed. If there isn't enough room between the bales, going to move these could then take you quite a bit of time manoeuvring the truck or tractor in and out. Make sure you don't stack your sets of hay bales too closely together to account for this.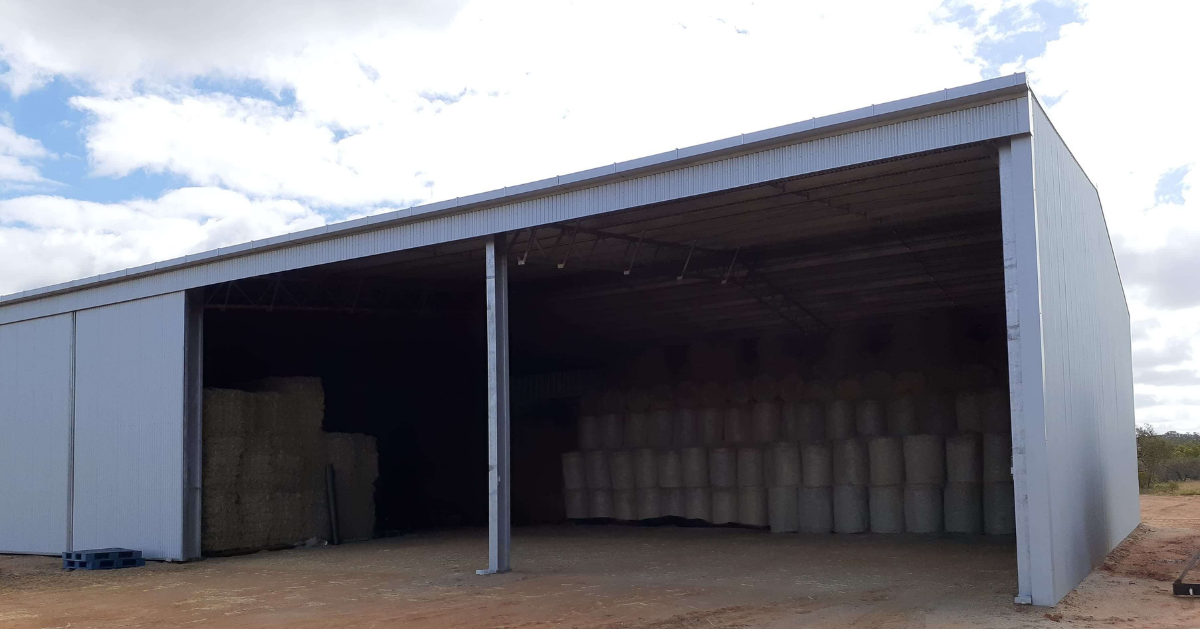 Extra-wide bays provide plenty of room for loading and unloading hay in this shed.
Council consents
The fourth and also the last thing to consider before you get underway with a hay shed is whether you will need council consent for your new hay shed. Gaining council consent can be a long process so it's best to investigate this well in advance of when you will be looking to build a hay shed. There are different rules and regulations when it comes to building sheds in rural-zoned areas, in some instances you may not need to apply for consent at all.

So that you're well prepared it's best to head to your local governments website to determine just what consent you will need for a hay shed, and the consent process that you will need to go through. For information on building a farm shed in rural New South Wales and to see what exemptions apply, you can view the planning policy here. For information on the Queensland development code for farm buildings click here.

As you now know, there are a few important things to consider before you get underway with building a new hay shed for your property. If you're looking to construct a hay shed for the first time or perhaps you'd just like to know the different options available to you when designing a hay shed, then it's always best to talk to an expert first.

Here at ABC Sheds we can help to guide you through the process of designing a hay shed that's just right for your property, and the hay storage that you require. Simply get in touch with our team or start the process now by requesting a shed quote.

Keen to take a look at some of the hay shed projects we've completed? You can download a free copy of our farm sheds brochure here.