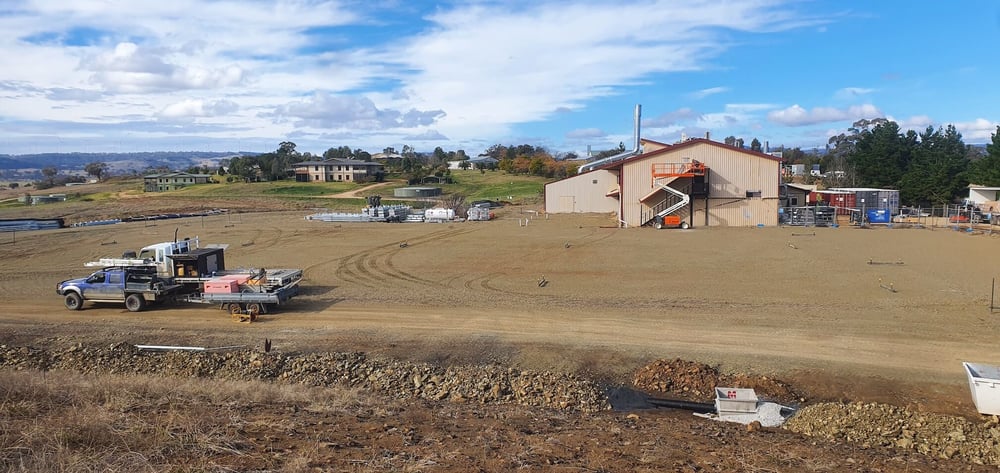 Building a new shed comes with lots of important decisions – and we're not just talking about how big your shed should be! Shed orientation, where your shed will be located on your property and even things like extra storage or a loading bay are all very important considerations that need to be made at the design stages. One design consideration that sometimes gets overlooked and shouldn't be forgotten, is preparing your site appropriately for a shed. But what does this involve and why is it so important?
In this blog, we've pulled together our top tips for site preparation for a shed so that you know what's involved and what you should consider before you start building.
Why is preparing your site so important?
Have you ever built a house? Then you'll know just how much time and effort goes into preparing the foundation before the build even starts! Between surveying the site to make sure that it's stable to potential earthworks that need to be done, and laying a concrete pad, there's lots involved. The same can be said for site preparation for a shed.

Correct shed pad preparation is important so that when it comes time to construct your shed, you know that your shed is on a stable base, and will be able to hold the required load of not just your shed, but what it will store as well. Structural steel sheds can be very heavy, especially if they span wide widths and have extra-large bays so it's important that the site that they're built on is strong enough.

Spending money on a new shed only makes sense if you've done the appropriate preparation work so that your shed stands the test of time.
Shed site preparation tips
There are a few different factors to consider when it comes time to prepare your site for shed construction. We've outlined the most important points below.
1. Clear the site of any debris
No matter where your new shed will be constructed on your property, a good first step is always taking the time to clear away any debris like trees, shrubs and machinery from your site. Many people are quite surprised when they first start this as it can be easy to underestimate how much work needs to be done, especially in areas where there's a lot of foliage that needs to be taken care of. It can be simple enough to clear one or two trees but when there's any more than this, the use of heavy machinery is often required and possibly specialist contractors.

Once all large debris is cleared away you need to inspect the surface of the site a little more closely to check for things like rocks and rubble – this is particularly important if you will be pouring a concrete slab. A clean and even surface is vital for concrete pouring.
2. Make sure your site is level
Just as you would need to with a house, ensuring that your shed pad is flat and level is another important step in preparing a site for a shed. This will make erecting the shed a lot easier as you're building on a flat surface; the end result will be a lot tidier and more stable.

If the site you're preparing is quite uneven then you may need to use excavators to dig up and move the required surface dirt. If you don't have the machinery available to do this yourself then you can bring in experts who can often get this done in a day; they will use special equipment like a laser level to ensure that the site is now level.

Any levelling of your shed pad should be done at least a few weeks before the construction of your shed starts. This will ensure that the site settles and any final adjustments can be made, and any holes or dips in the soil can be filled.
3. Consider drainage & power
The last thing anyone needs after they've built a brand new shed is for it to become flooded with rain! If you live in an area that's prone to flooding or short bursts of torrential rain, then it's always recommended to build your shed pad up by 200mm. Constructing your shed on a rise should keep out any rain, and ensure that what's being stored inside your shed remains nice and dry.

As well as drainage, it's also important to consider whether you will need power for your shed. Most people that build large farm sheds or industrial buildings will need to operate tools and machinery at some stage so having access to a power source is crucial. If this isn't available at the site currently then you will need to think about what arrangements need to be made, so that you can have power to your shed.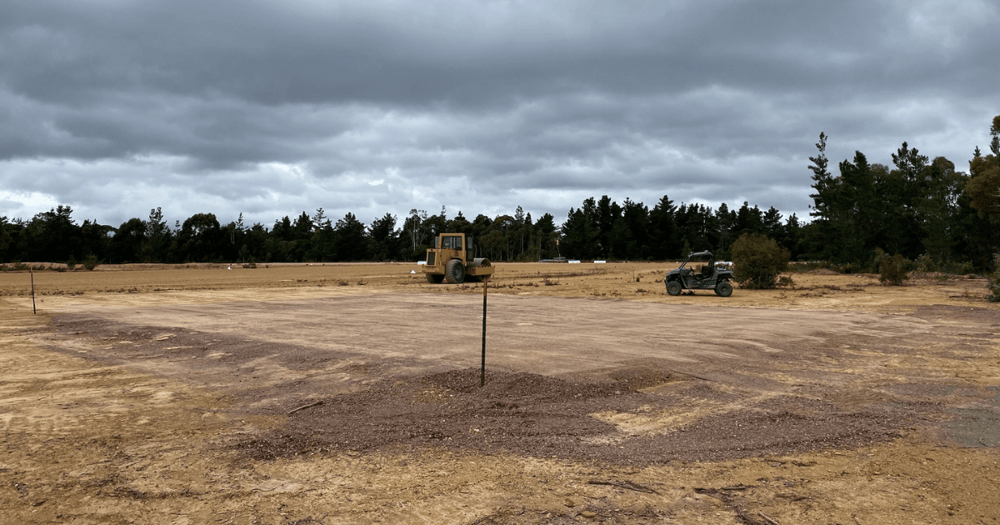 This shed pad has been built up so that it's on a rise for extra drainage, and to avoid flooding.
4. The size of the shed pad
Making sure that your shed pad is the right size is crucial in preparing your site for shed construction. If the pad is too small then you will face big problems when it comes time to erect the shed.

A common rule to follow for the size of any large rural shed is to make the pad approximately 6 metres wider, and 6 metres longer, than the actual shed. This will then allow for a 3-metre clearance around the entire perimeter of the shed. This will not only ensure that your shed pad is big enough to hold the entire shed but it will make erecting the shed a little easier as it enables crane and scissor-lift access for shed erectors. In saying that, a crane needs at least 8 metres of clear space around the shed when lifting a shed into place, so this must also be factored in.

A final consideration for the size of your shed pad is to consider whether you will collect rainwater. If so, how much extra room will you need to store a rainwater tank? This must be considered when deciding the width of your shed pad, and how much extra space you will need to allow for a rainwater tank.
Get prepared with the help of ABC Sheds
Our team of shed experts are well equipped to help you if you're getting a shed constructed for the first time. They'll assess your proposed shed site to ensure that it's suitable for one of our ABC sheds. If you're local to Young NSW, they'll even pop out for a face-to-face visit to see exactly what site work and excavation would need to be done, to prepare a pad for shed construction. Wondering if your property is suitable for a large shed? Simply get in touch with our friendly team here who can talk you through your options.

If you have a shed already in mind you can see what this will look like before you buy, with the help of our free online shed builder tool. Use the tool to design what your shed will look like in real life – from the size to the colours, and the number of walls you have. Give it a go now and request a free quote by clicking below.