Looking after your farm machinery is important, so choosing the right shed to store it in should be a priority, especially heading into winter. Farm machinery is a huge investment, so keeping it running as long as possible is both economical and necessary. Maintaining machinery requires it to be dry, sheltered, serviced and clean, which means it needs to be appropriately stored. Among the popular farm sheds for storing machinery is the drive-through shed; this is because it is designed to meet the practical needs of farmers while offering versatility should their needs change.
We've put together this summary which details all you need to know about drive-through machinery sheds. We've also outlined the possible improvements you could make to customise and enhance your drive-through machinery shed.
Be prepared for growth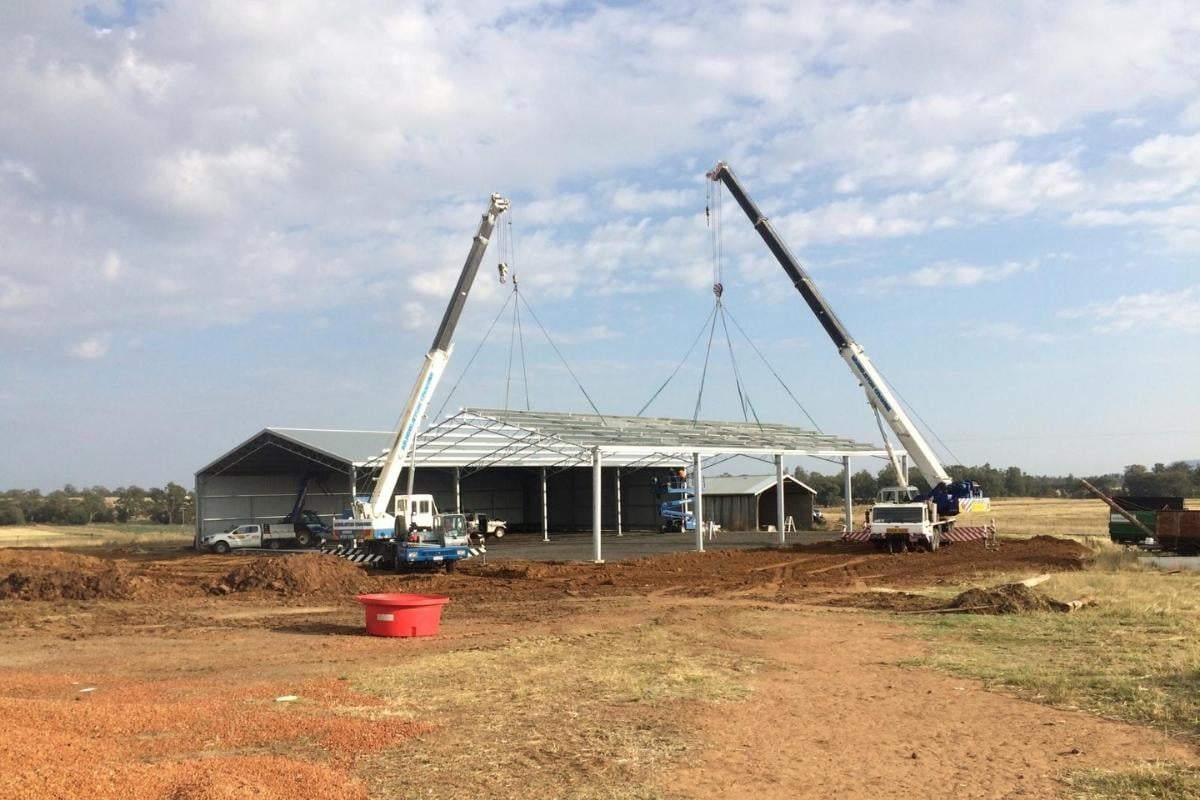 Drive-through farm sheds are versatile and highly adaptable because of the open-ends and frames. A drive-through shed is designed to grow alongside your farm's operations so that you can protect your machinery as you accumulate it. The framing can be replicated on either side to increase the shed's footprint, meaning it's easy to expand when it suits your farm or business.
Maximise the entry width of your farm shed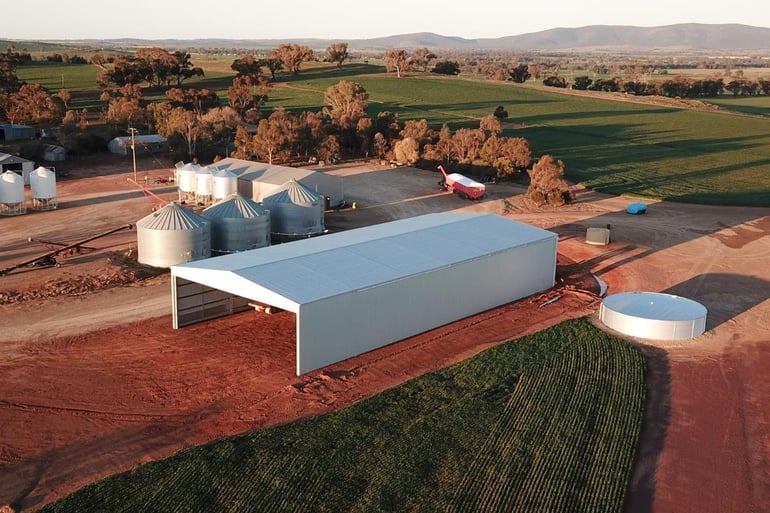 Farm machinery sheds need to be able to house increasingly large machines, and therefore the entryway needs to span a significant width. Farm machinery is growing with the industry, so farmers need to future-proof their sheds as much as possible. Entry widths should ideally start at 15m through to more than 40m. Drive-through sheds are excellent choices to meet this need because they don't need to be closed up with bulky door fixtures that could get in the way.
Drive-through sheds have increased clearance height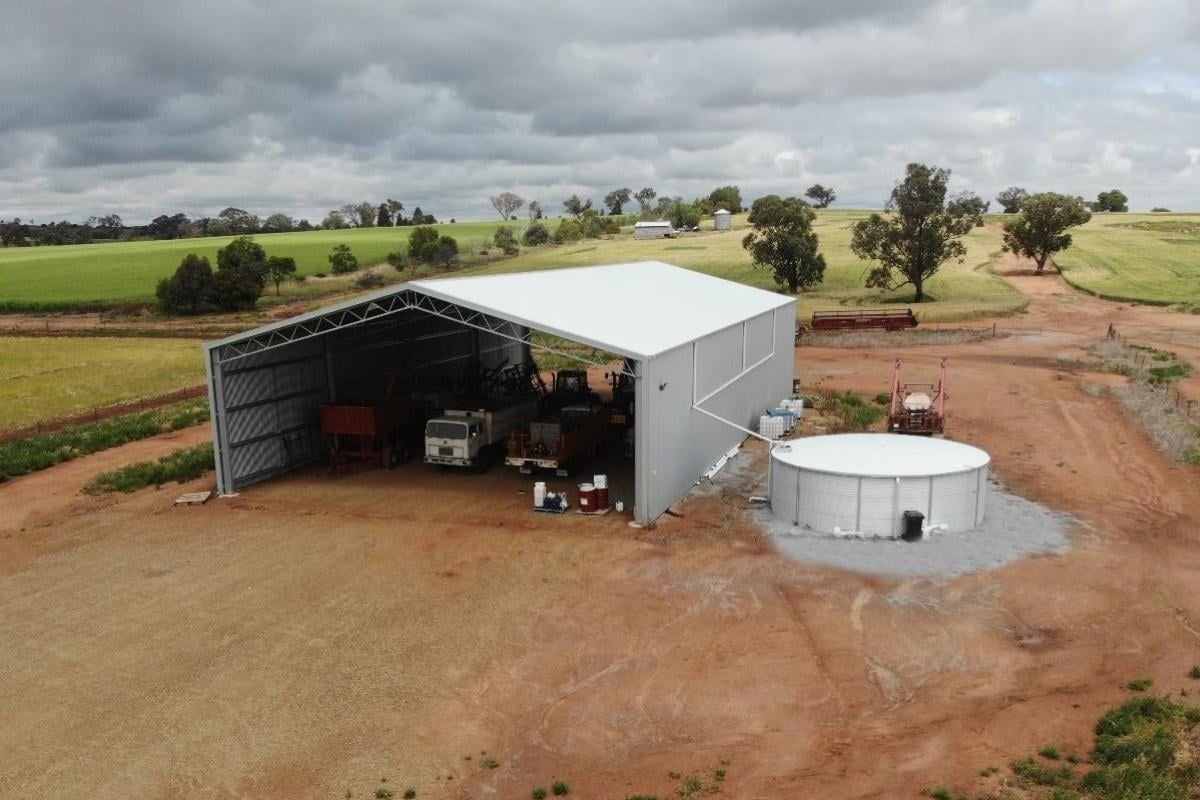 As machinery continues to grow to meet farmers' needs, sheds need to be ready to accommodate larger models and equipment. Due to their pitched roof, drive-through sheds have increased clearance height which means you won't need to increase the column or wall height to fit your taller machinery.
Parking vehicles is easier and faster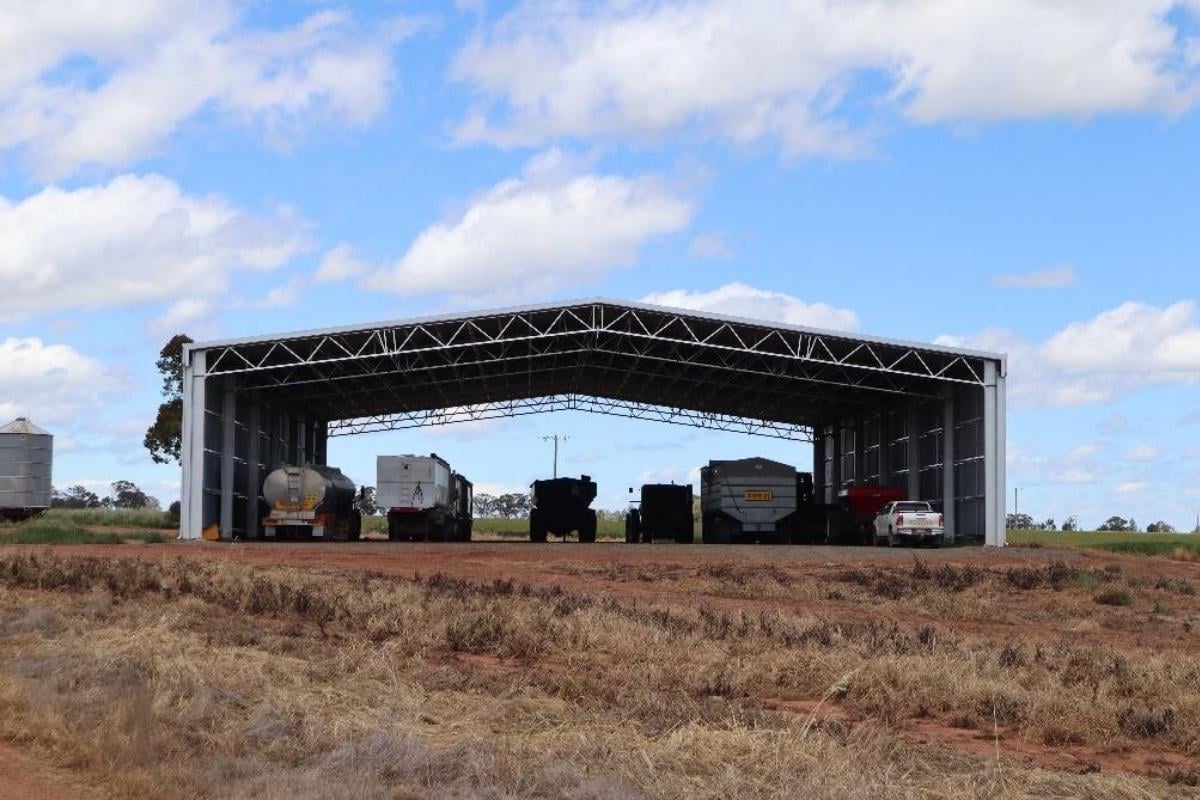 A popular benefit of a drive-through shed is the ability to store machinery without having to back it in or out. Many farm vehicles are burdened with trailers or awkward towed implements, but a drive-through shed eliminates the need to manoeuvre them at the end of each day. The time saved from this can add up significantly, and ultimately keep your business running smoothly.
Drive-through sheds are cost-effective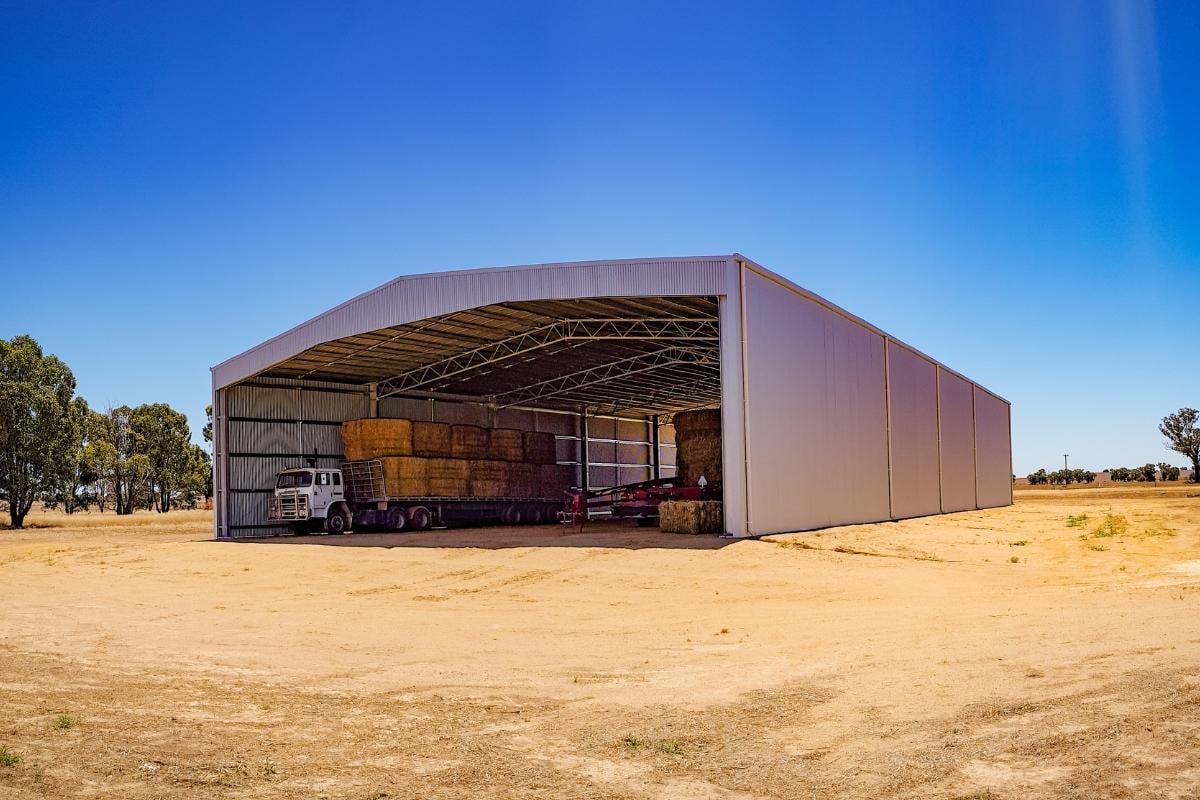 Keeping costs low is a key goal for many farmers, but you still need your shed to meet your needs which is why a drive-through shed could be the answer. Drive-through sheds are one of the most cost-effective machinery shed designs because they use the main columns to support the walls instead of expensive steel throughout the frame. This means the overall steel tonnage is lower and less concrete is required in the footings, so within reason it will cost less.

Not only is the upfront cost lower than the alternative sheds, but it's also cost-effective to add on to a drive-through shed. That means any future additions will be more affordable so your farm will always be ready for any new growth.
Interested in a drive-through machinery shed? Design what your shed could look like using our free shed builder >>
Possible improvements
Farmers know that nothing is ever final, and being adaptable is what keeps a business running. That's why sheds need to be versatile and upgraded as needed – a drive-through machinery shed has several possible improvements to consider should you wish to take your shed to the next level.
Hangar style door system
If you are storing expensive machinery, you might like to add doors to the ends of your drive-through shed to protect it from the elements. Fortunately, with ABC sheds you can add a hangar style door to keep everything safe, and still maintain all of the main design features of the shed.
Lean-tos or awnings
Many farmers and industrial businesses will need additional space to use as workshops or additional storage. That's why it can be worth incorporating a lean-to or awning onto your main shed, without compromising on function. These additional structures can utilise the side walls of the main shed without impacting on the machinery stored inside. You can also have provisional fixing points incorporated into the initial design so that the awning can be added at a later date.
Multiple drive-through spans / M type roof designs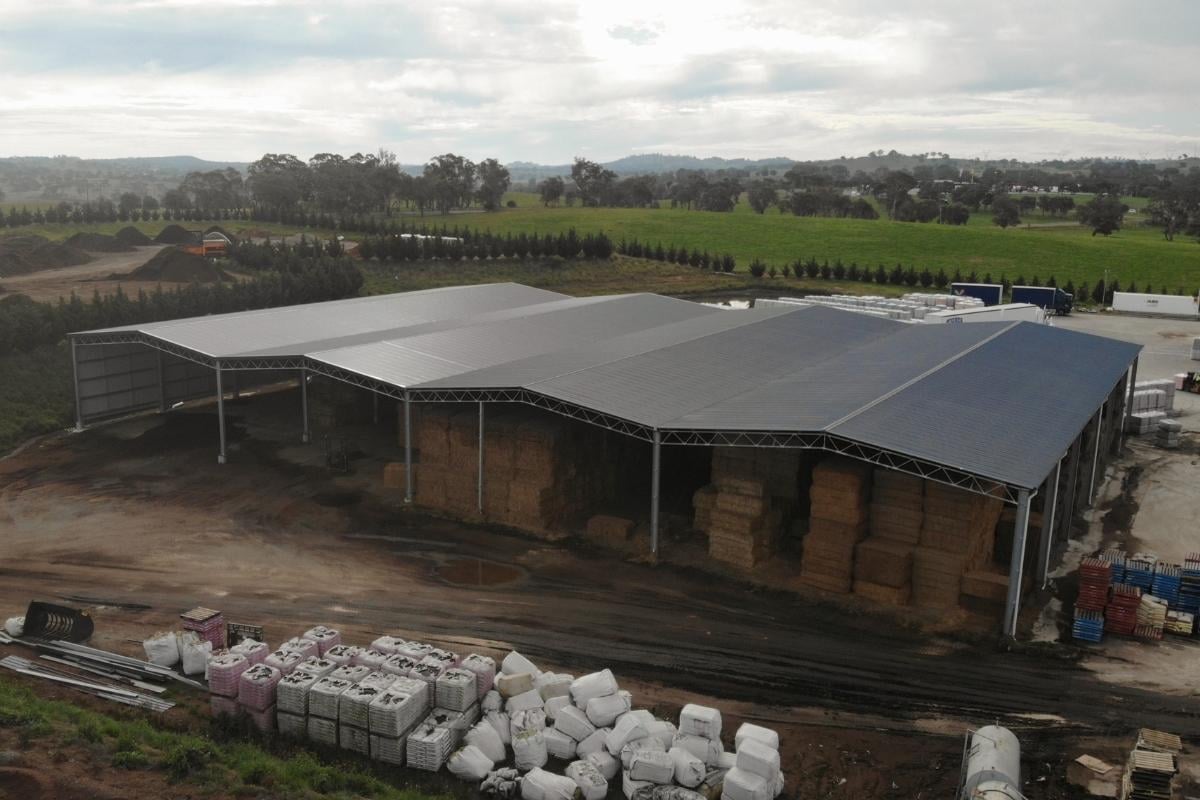 Drive-through sheds have an incredibly flexible design and can be expanded width-wise to create an 'M' type roof. What this means is one or more additional sheds are added to the side of the original shed to increase the square footage. This allows for more storage space to avoid double parking and inconvenient obstructions, without having to start a shed build from scratch.
Gable infills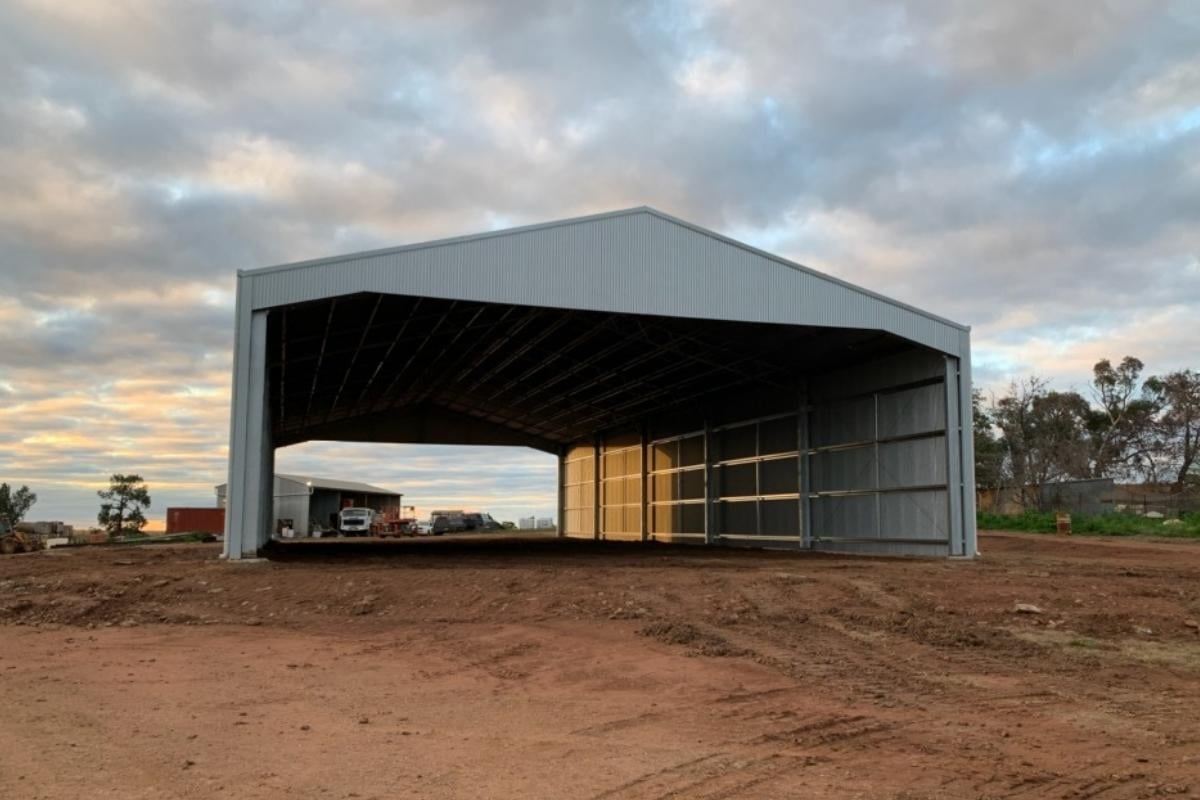 If you're concerned about rain getting into the open ends of your shed, you can consider installing gable infills. These will cover the triangular gables for added protection, but won't compromise the opening width. The infills will protect your machinery from the weather as well as provide a satisfying 'finishing touch' which hides the exposed web trusses in the roof.
Consider your shed orientation
One thing to consider when installing a drive through shed is how it's positioned in the environment. Due to having two open ends, drive-through machinery sheds can be more prone to forming wind tunnels, so you'll need to place them carefully on your land. If you're unsure of the best location for your shed, the team at ABC Sheds has the knowledge and expertise to help you determine the most appropriate place for your new shed. Getting this right will mean your machinery is kept safe and secure no matter the weather conditions.

Storing machinery properly is the best way to guarantee it's protected well into the future, which will keep your farm running smoothly. So if it's machinery you need to store, why not consider a drive-through shed? It will be cost-effective, functional and versatile to suit your changing needs, but it can also be customised to suit your farm or business. Where some shed designs are restricted by their four-walls, drive-through sheds can be easily upgraded and modified to suit your farm.

You can view our full range of farm sheds in the free brochure, to find the best fit for you.