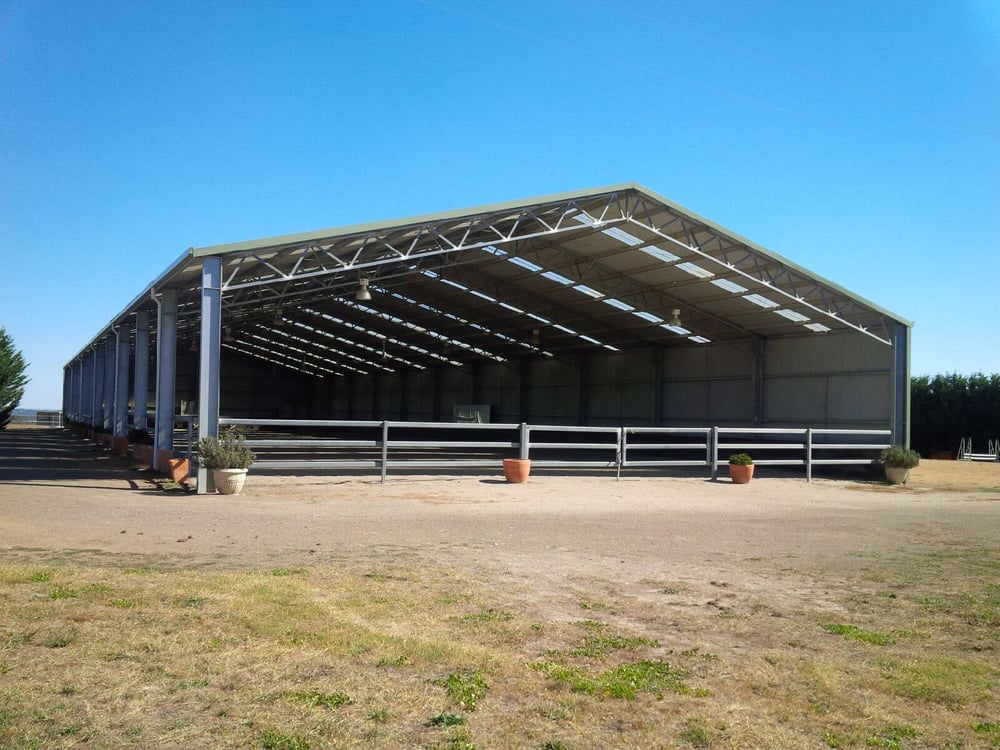 Equestrian sheds and horse arenas are becoming increasingly popular, in fact, a covered riding arena is one of our most popular sheds! Highly versatile, an equestrian shed gives riders and trainers the flexibility to train when they please, and during any season of the year.
With this growth in popularity also comes more questions about these sheds, and their capabilities. An equestrian shed can be a big investment for anyone so people are increasingly wanting to know more and more about the process of building an equestrian shed, and just how customisable they are. Getting the horse shed or covered arena that's perfect for your requirements is essential so it's important that these questions are answered, before that all important shed order is placed.
We have a long standing history of working with horse trainers, professionals and hobby riders alike to help make their equestrian buildings and arenas a reality. Now more than ever we are getting common frequently asked shed questions – people want to know that they will be getting the shed or building that's perfect for their equestrian requirements. We wanted to cover these common questions so you feel adequately prepared for your equestrian shed or horse arena purchase.
From planning permissions to how much does a horse arena cost, read our six most frequently asked equestrian shed questions and their answers below.
1. Can I cover an existing site with an arena, or does it have to be new?
The first equestrian shed question we get commonly asked is whether or not a new arena can be placed on an existing horse training site. This is a very good question!

Many people will already have an existing training area for horses and simply want a covered arena that will sit over top of this. A covered arena will ensure that training is not impacted by harsh weather conditions. It also ensures some comfort for both horses and trainers on hot days as an arena cover provides a cooler, shaded area underneath.

One of the first questions we will ask you if you're thinking of adding a new arena to an existing site is the location. Where will the arena be located on the property? We need to know this as each of the covered arenas we design is engineered specifically for your location and any weather conditions you may experience in your area. If you're prone to a lot of rain for example then we would need to ensure that the arena is in a place where we can ensure adequate drainage and limited bog that could happen as a result of a heavy downfall.

In most instances it is generally ok to retrofit a covered horse arena over an existing site, we just ask that you get in touch first to discuss your project so that we can confirm that the arena will be in a suitable location.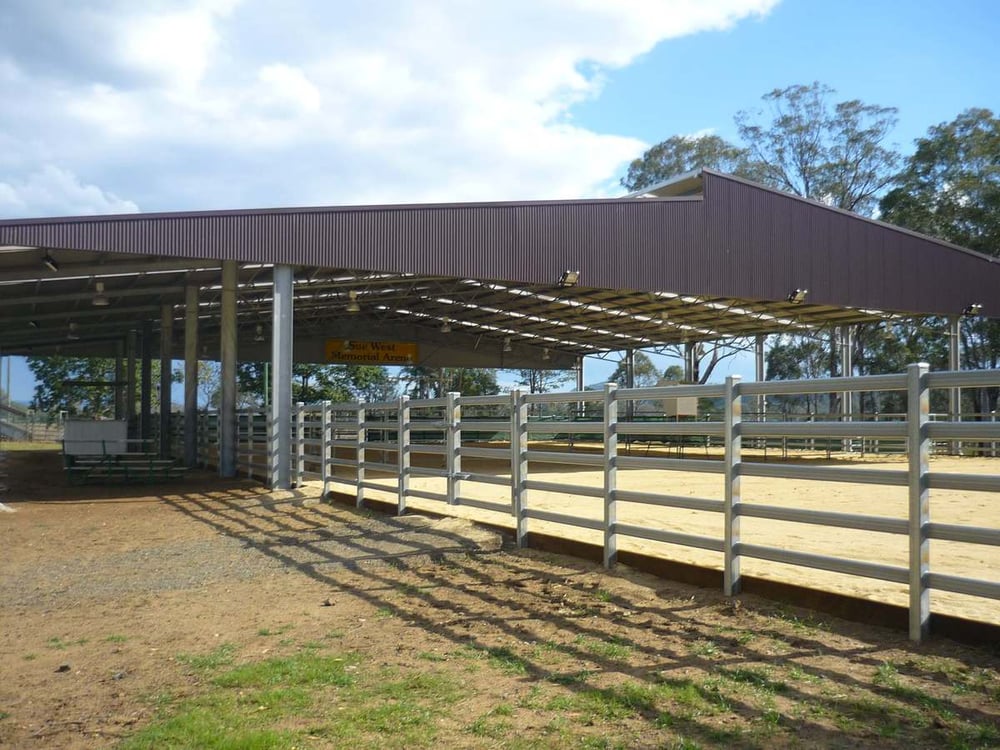 A covered arena can be easily added to an existing site as long as the location is suitable.
2. Should I lay the arena surface before or after the shed is installed?
This is another very good equestrian shed question that we receive commonly, particularly if you plan on erecting the shed yourself! The answer to this question all depends on the type of equestrian shed you will be installing and whether it will be an open space, or fully enclosed.

For sheds like a training arena that may be fully enclosed, you must lay the arena surface before the shed is installed. Think of it a bit like a puzzle – the arena surface or pad is the first piece and must be done before you can add the last piece, the shed itself. You can also compare it to building a new home – you wouldn't install any furniture or fittings before the flooring is laid, would you? This must always be done first and then your enclosed equestrian shed after this.

When it comes to an open equestrian building like an arena, you can choose to lay your flooring surface before or after the shed is constructed. Four open walls means that there are fewer obstructions to get around so the choice is yours. Before erecting a shed, the floor surface must be levelled out. This will ensure that your shed can be erected on a flat surface and that there will be no issues when it comes to construction.
3. Do I need planning permission to install an arena cover (and can ABC Sheds help me get one)?
Depending on your location and the size that your covered arena or equestrian shed will be, you may need to apply for a Development Application and Construction Certificate, before you get underway. Different local councils will have different rules so it's always important to enquire with them, to see what their processes are and if there is any paperwork that they need you to submit so that your shed can go ahead. It's important to note that if you don't obtain the required permits before building a shed then you may be fined later down the track.

To avoid the headaches that can come with applying for building and planning permits when it comes to equestrian shed construction, we would recommend that you deal with a reputable shed manufacturer who can guide you through the process. Here at ABC Sheds, we've had plenty of experience dealing with local authorities and councils to ensure all required permits are obtained before shed construction starts. We like to make things as hassle-free as possible which means we can reach out to local authorities and councils when required to ensure that your equestrian shed has the right permits in place.
4. How much does a horse arena cover cost?
Another question we get asked when it comes to equestrian sheds and arenas is how much do they cost?

This is an interesting question as there's no right or wrong answer – the cost of an equestrian shed will ultimately come down to how big it will be, how many enclosed walls you will need and any additional extras like lighting and access ways. While we can't give you a definitive answer, we can give you a rough guide.*
Small covered horse arena cost: From $80,000 to $120,000.

Medium sized horse arena cost: From $100,000 to $200,000.

Large enclosed arena or equestrian shed cost: From $200,000 upwards.

Equestrian shed with stables cost: From $300,000 upwards.
*It's important to note that the above prices are estimates only and how much you end up paying for an equestrian shed will come down to your requirements. For an accurate quote, please get in touch with us here to request one.
5. How much of the delivery and shed install will ABC Sheds do? Will I need contractors?
If you need your shed to be erected, we are more than happy to organise this for you. From cranes to contractors we will organise whatever is needed to get your new equestrian shed erected. All we require is a level site with clear access. You will also be required to supply the concrete for the piers.

If you're happy to organise the erection yourself, we will still arrange your shed to be delivered to you, at a time of your choice. Our sheds are delivered as a kit and are quite simple to install – you can check out our tips for kit shed assembly here.
6. Can my horse arena be customised with stables or float storage?
Our last frequently asked question when it comes to equestrian sheds is, just how customisable are they?

An equestrian shed or covered arena is as customised as you would like it to be which means the options are almost endless! So whether you would like to tack on horse stables, some storage for feed and equipment or shelter for competition floats, you can design your shed to suit your needs.

If you think you will need a custom horse arena, it's always important to discuss this at the design stage so that all of your requirements are factored in. A quality shed manufacturer will be able to discuss all of your options with you, so you end up with the perfect equestrian shed or covered horse arena.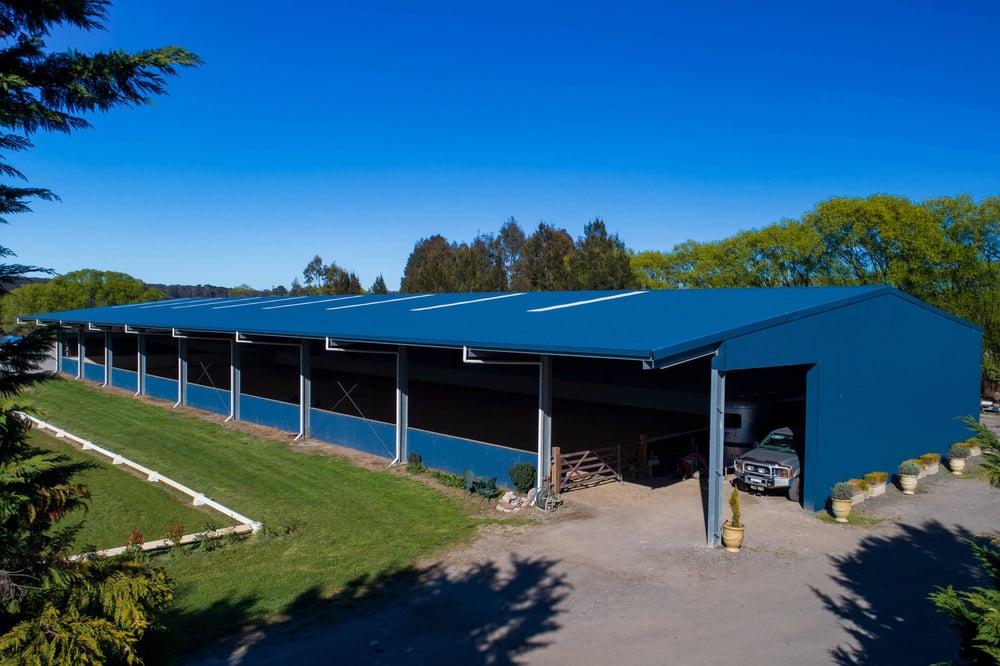 Float bays and additional storage were easily added to this horse arena for Glenhill Sporthorses to maximise the usability of the space.
So there you have it – our 6 most frequently asked shed questions and their answers! Do you have a burning equestrian shed question that we haven't managed to answer? Feel free to get in touch with our team of shed experts who are here to help.

If you're ready to get started with your new equestrian shed, then why not try our online shed builder tool? Free to use, this tool lets you design what your new shed will look like before you order. Completely customise your equestrian shed or arena cover right down to the number of walls, the style of roof, and even the colours!