Sheds – they're now essential for almost any farm or farming business. Whether you use them for hay or grain storage, or to keep important machinery and equipment sheltered from the elements, they serve a number of important uses.

What was once considered a luxury expense for some, has become a necessity that if built well, will last for many years to come while also serving multiple purposes. But just what are the most popular types of farm sheds, and why should you consider investing in one of them?
We've taken a look at the 5 most popular types of farm shed in Australia and their specific uses. From hay sheds to yard covers, learn more about each farm shed, what makes them great, and why you should consider investing in one for your farm or business.
Types of farm shed explained
You may be wondering why there are different types of farm shed – shouldn't a standard farm shed be able to serve any purpose that you need it to? While some types of sheds like a hay shed or farm machinery shed will naturally be able to serve many different purposes due to their design, not all sheds are designed equally and for some farming practices, it's essential to have a shed designed for your requirements.

Here we outline the 5 most popular types of farm shed in Australia, their purposes and why they're found on Australian farms.
1. Hay sheds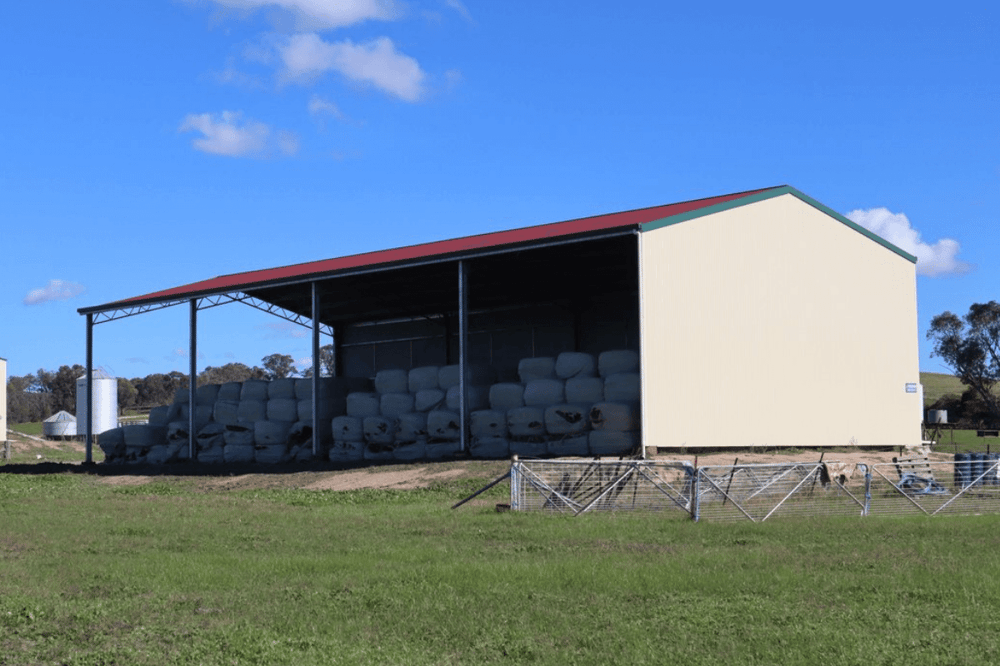 A hay shed is essential for any farmer that produces hay. Hay sheds are some of the most popular types of farm sheds in Australia due to their versatility and the ability to use them for multiple purposes like machinery storage.

A hay shed will make sure that hay bales are protected from the elements and will reduce the potential for spoilage which could impact the value of hay, should you need to on-sell. With droughts common in Australia, hay also becomes a common source of food and nutrients for animals should there be no grass to eat. Keeping hay protected is essential for many farmers' livelihoods so it's vital that this asset is protected under a structure that will ensure it lasts, and holds its quality and value.

Common problems that can arise with hay storage are the potential for spontaneous combustion or hay corrosion, should hay be stored incorrectly. No farmer wants to lose a year's harvest – this can be easily avoided with the right shed, and by following proper hay storage practices.

When storing hay you should ensure that there is enough ventilation and airflow – this will reduce the chance of moisture trap which can lead to hay corrosion and in some cases, spontaneous combustion of hay. Working with an expert shed manufacturer will ensure that your hay shed is designed exactly for your needs and with proper ventilation.

Learn more about hay sheds >>
2. Yard covers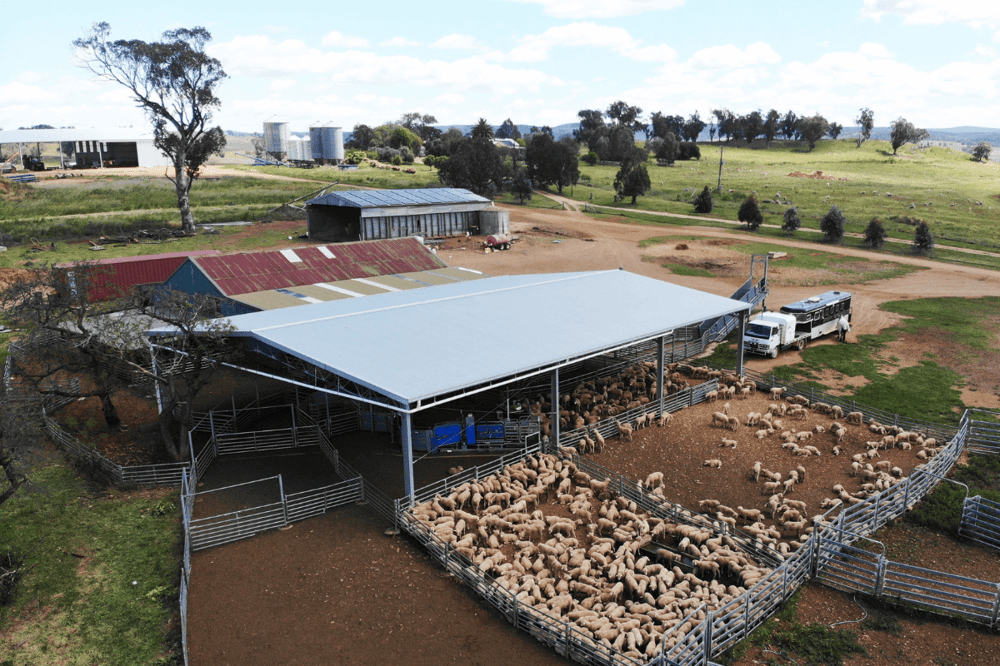 With sometimes extreme temperatures here in Australia, another farm shed or structure that is a popular investment for many farmers is a yard cover.

A yard cover is a large steel structure that sits over an animal yard to provide protection from the elements. Activities like sheep shearing, drafting or even unloading and loading animals to stock trucks are all commonly done within or near yards. Having adequate shelter for these animals on hot days is crucial in keeping animals as calm as possible while you're working.

Yard covers can also prove very beneficial for farmworkers. Farmworkers and contractors can easily spend hours if not the entire working day in the same location, often during the hottest hours of the day. Having a cool shaded area for them to work underneath, especially in the summer months can not only increase staff morale and their wellbeing but could also lead to higher productivity.

Learn more about yard covers >>
3. Farm machinery storage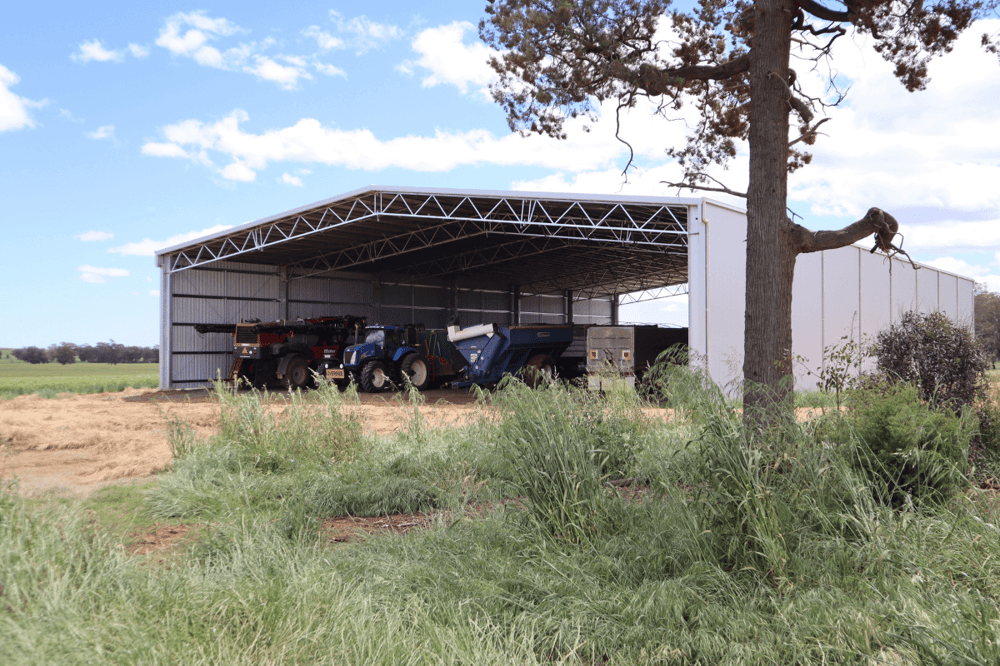 Like hay sheds, farm machinery sheds are also proving to be particularly popular for farmers in Australia due to their versatility.

A farm machinery storage shed is generally custom-designed for each farmer's specific needs. They're commonly used to store farm machinery and equipment that can't be stored outside, and the machinery or equipment needs a certain level of protection from the elements. Some farm machinery sheds will have three enclosed walls while other machinery sheds will be completely closed off – they will have roller doors and personal access doors for ease of access. Some machinery sheds are constructed so that they could also be used for something like hay storage in the future.

Learn more about farm machinery sheds >>
4. Grain sheds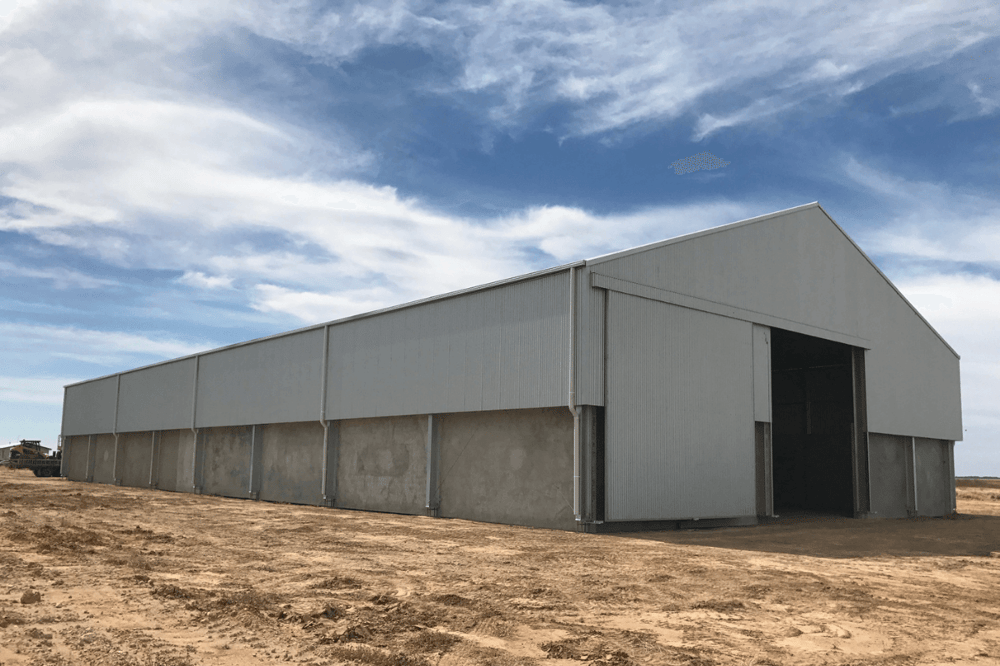 Grain sheds are just that – designed to hold harvested grain. While it may seem like a simple concept, there's a lot of planning that goes into designing and building quality grain sheds.

For large grain sheds in particular, they need to be correctly engineered so that the shed can hold the full weight of the grain. Because of this, all grain sheds need to be custom-designed so that they meet your specific requirements. Some farmers even opt to include sliding lockable doors in their grain sheds for security or awnings for shade should you run a bigger grain harvesting operation. A manufacturer that's an expert in grain shed design will ensure that your grain shed will not only keep harvest safe and secure but will meet any other needs you require.

While a grain shed won't be as popular as a more general-purpose shed, many farmers are now seeing the benefits of investing in a quality grain shed. The popularity of grain sheds is continuing to grow, particularly at an industrial level.

Learn more about grain sheds >>
5. Feedlot shelters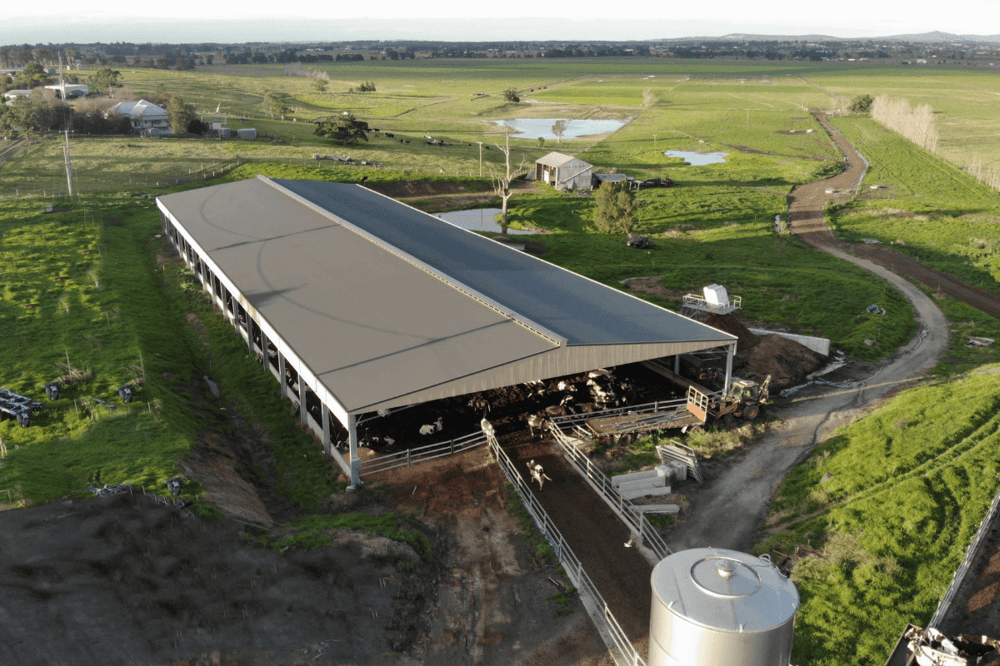 The last farm shed that we think is fairly popular across Australia is a feedlot shelter.

Feedlot shelters are erected on farms that produce cattle – the cattle are held in feedlots until they reach a certain weight. Feedlot shelters are generally steel structures with the aim of providing cattle with shelter and shade from the elements. Having a feedlot shelter on a farm helps to increase operating potential and will ensure that cattle are happy and healthy while they are in a feedlot.

Learn more about feedlot shelters >>
Talk to ABC Sheds about your farm shed needs
Whether you're investing in a farm shed for the first time or you're adding an additional farm shed to your property, there are many benefits to investing in a shed that's specific to your needs.

As we have outlined above, there are many different types of shed that farmers will choose to invest in now, and many are growing more and more in popularity. Having the right shed manufacturer on board to help you plan and design your perfect farm shed is crucial so that you get the shed that's just right for your requirements.

Here at ABC Sheds, we're experts in farm sheds. We've been serving the needs of farmers across New South Wales and Australia for decades to ensure that they get quality, custom-designed structures. All of our farm sheds are engineered to withstand harsh Australian weather conditions and lots of planning is done at the design stages to ensure that you get a shed that is built to serve the needs of your farm not just right now but well into the future.

Are you interested in learning more about our range of farm sheds? Check out our range in the free brochure below.