It's that time again where we take a look back at the year that has been – the highs, the lows and our favourite shed projects!

2021 has been a busy year with many new sheds completed across the country and we had a fair few that stood out. We asked our sales team to come up with their top shed projects of 2021 and they didn't disappoint! From a bespoke aircraft hangar to twin combination sheds, see what their top picks are and get some inspiration for your next shed below.

Favourite project:

Aircraft hangar
Shed size:

16m x 14m x 5m
2021 was by all means a very busy year which gave the team here at ABC Sheds some exciting shed projects to work on. While many projects stood out for me in 2021, this shed right here has to be my favourite!

At 16m by 14m by 5m, this bespoke aircraft hangar has a lot to be admired! A unique design and a curved roof mean that the owner is able to make the most of this great space. Special features include:
A curved roof for extra storage.

A mezzanine floor to make the most of the extra roof space.

Crane beams to allow heavy items like engines to be lifted for maintenance.

Featuring four sliding doors, this shed is also a very secure space that the owner can simply lock-and-leave knowing that the contents and aircraft inside, are safe and secure.
Check out the finished product below!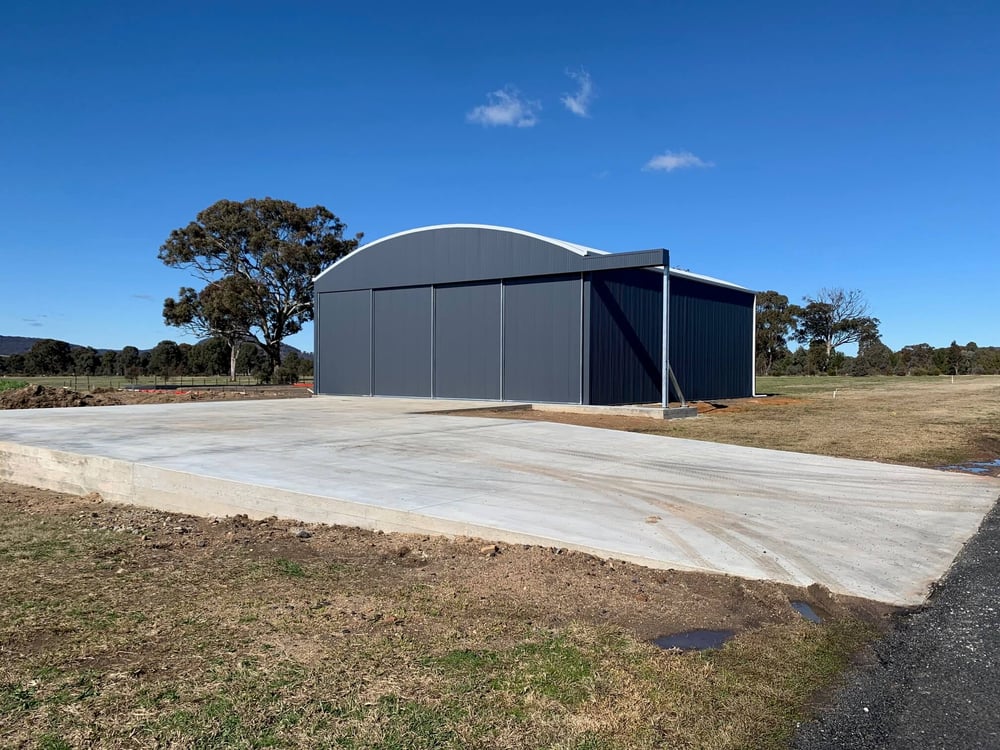 This aircraft hangar is a secure space that the owner can simply lock-and-leave.

Favourite project:

8,000 ton grain storage shed



Shed size:

66m x 30m x 6m
When you need to ensure that your grain is protected, it helps to have the best storage possible!

My favourite shed project for this year has to be a custom grain storage shed currently underway for a client in Billa Billa, Queensland. This isn't just your typical grain storage shed though, this one is a monster!

Measuring up at 66m x 30m by 6m, there's plenty of room for grain harvest and more! Special features of this grain shed include:
3m high concrete panels for efficient loading and unloading of grain with a front end loader.

A 22-degree roof pitch to maximise grain storage capacity.

Box gutters for efficient catchment and storage of stormwater.

Once completed, this shed will have the ability to store approximately 8,000 tons of grain meaning nothing should go to waste in the coming harvest seasons. What's even better is that an enclosed shed like this one can be used for additional farm and equipment storage in off-seasons. A versatile multi-purpose shed like this really will go the distance in providing this farmer with years of value.

Take a sneak-peak at this shed below!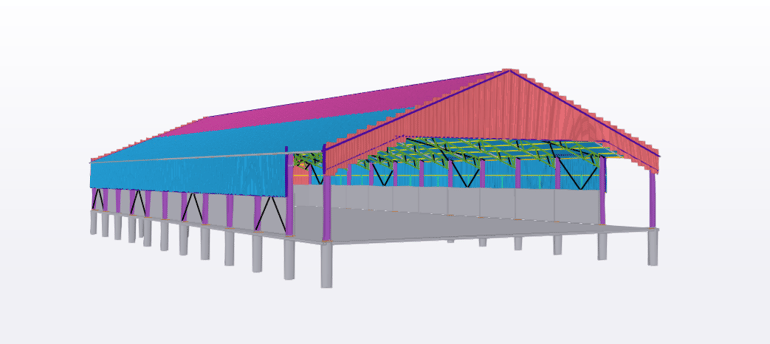 The massive grain shed will be finished very soon and will prove extremely useful come harvest time!

Favourite project:
Twin combination sheds
Shed size:

48m x 18m x 6m
I worked on some great projects this year but my favourite for 2021 would have to be a couple of twin combination sheds supplied for a client in Gunningbland, New South Wales.

A lot of planning went into designing sheds for this customer so that they worked exactly as they needed them to. We supplied two almost identical combination sheds, both measuring up at 48m by 18m by 6m. Both sheds feature a number of special features like:
Multiple roller doors to allow big equipment to be easily transported inside the sheds.

Multiple personal access doors for ease of access.

Awnings for extra shelter.

It was an absolute pleasure to be involved in a project as complex as this one where there were a lot of moving parts that all needed to work together. Seeing the end result was even more worthwhile as the sheds do really look like twins side-by-side.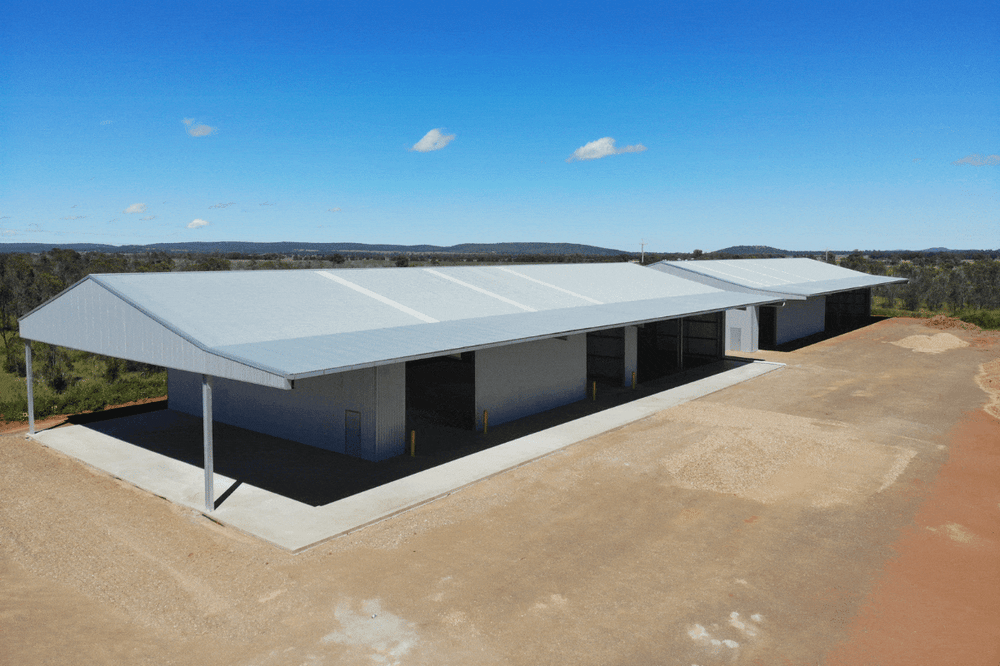 These twin combination sheds have lots of great features like sliding doors, personal access doors and awnings.

Favourite project:
Stable building
Shed size:
40m x 20m x 4.7m
This year was a busy one with lots of sheds completed! My favourite project isn't exactly a shed as such, but a custom stable building.

This stable has been designed completely custom to this client's needs – the building needed a lot of forethought to ensure it worked harmoniously with the stable fit-out design. The stable would also be placed at the front of the client's property so it needed to look sophisticated – certain colorbond colours were required and doors needed to be placed at very specific points.

While we could get a rough idea of what this stable building should look like, what made working on this project quite unique was that the client was able to almost entirely communicate the design that she wanted through our shed builder tool.

There are many special features of this stable building which include:
A drive-through bay for float and truck parking.

Twelve 4m by 5m individual stables with shutter openings.

A large 10m wide alleyway runs through the shed.

Separate areas for feed storage, a tie-up area and tack areas.

Skylights for natural lighting.

While this stable building is still being completed, you can take a look at what this shed will look like once it's finished below. Keep an eye on our Facebook page for photos of the completed project!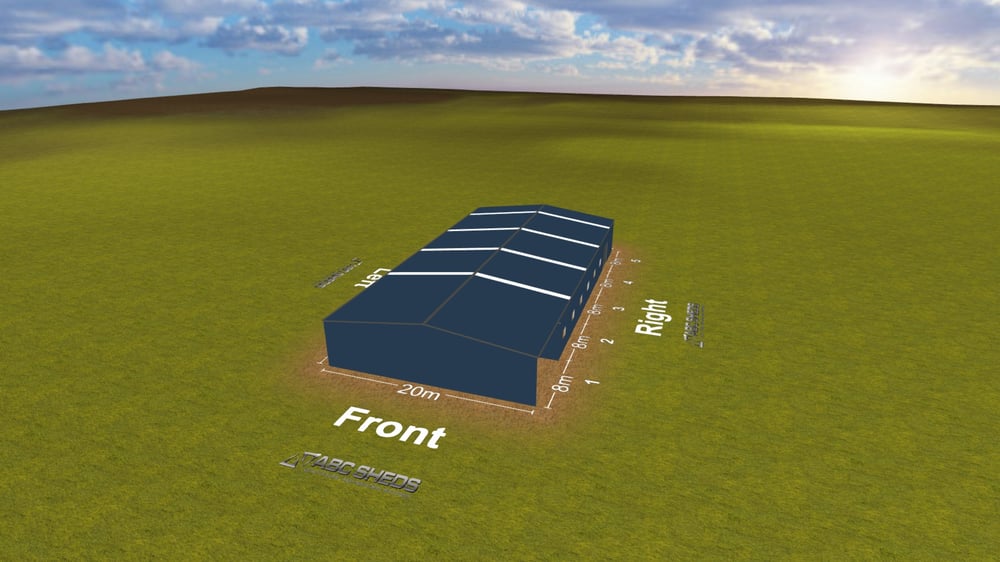 Keep an eye out for project photos of this custom stable building – it's due to be finished soon!
2021 certainly has been a cracker of a year that has kept us busy supplying and building new sheds. While it was hard to narrow down our favourite sheds of 2021 as there were lots of amazing projects, we hope that our top picks have given you some ideas for a shed of your very own! 2022 is just around the corner and we're looking forward to the shed projects that will be taking shape.

For more ABC sheds that have been completed and for further shed inspiration, check out our free downloadable brochure. Get your free copy below!