It's that time again where we take a look back at the year that was and share a few of our favourite projects with you. We've seen some stellar sheds constructed this year – we almost had too many to choose from! From a custom shed home to a drive-through farm machinery shed, we're excited to share some of our favourite sheds with you.
Read on to see which shed projects were our favourites for 2020!



Favourite project:

Farm machinery shed
Shed size: 40m x 18m x 6m


My favourite project would have to be the 40m x 18m x 6m drive-through farm machinery shed completed for John, a local farmer in Barmedman NSW.

John opted to build a brand new ABC shed against his initial plan which was to re-erect an old shed he'd pulled down from elsewhere. He needed a quality shed to take on his rapidly growing stock of machinery and farm gear which was spewing out of his existing 40 year old, 3-sided machinery shed.

I really enjoyed working with John and refining the design of the shed until we got a shed that was just right. A bit of time was spent making sure the height and length was bigger than his neighbour's ABC shed – we also managed to add some sleek gable infills!

Another cool part of this shed project was heading on site to watch the roof lift which was superbly done by Mitch Nicholls and crew. The shed went up perfectly without a hitch – a very impressive sight seeing a fully clad 40m x 18m roof with gutters and all lifted at once with the columns slowly sliding into place. All of the guys knew exactly what to do, and the specific tasks they had to complete. Within 30 minutes the shed was up, haunches and hold downs bolted, and wind bracing fixed off. The end result was a nice and sleek symmetrical shed.

This project was also particularly special to me as it was the second shed I'd ever sold, and the 23rd day of working at ABC Sheds. More than double the value of the first shed I sold at $84,008.00!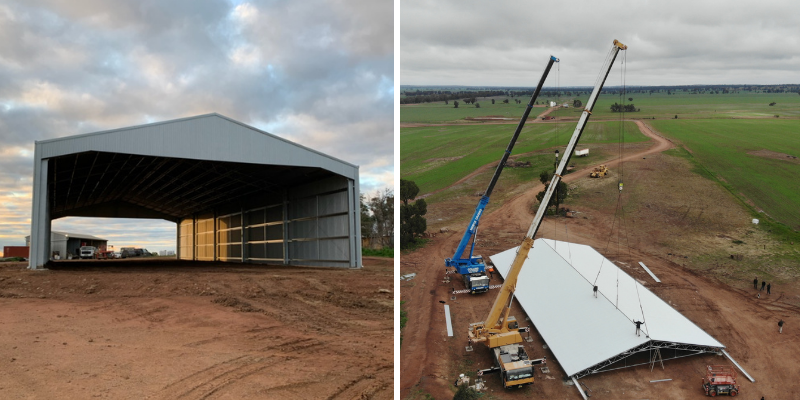 Drive-through farm machinery shed completed in Barmedman NSW.

Favourite project:

Fertiliser shed
Shed size:
80m x 40m x 9m

My favourite project of 2020 has to be the fertiliser shed we supplied for FKG Group in Grassdale.

The purpose of the shed is to process manure – manure contains corrosion-inducing materials so it was important that the shed can handle large amounts of manure, and still maintain its quality. It felt like our fully galvanised frame was exactly the right product for this application. FKG also needed a large 40m clear span which we were able to do easily with our structural steel frame.

We had already built a big hay shed on the Grassdale feedlot so it was great to be able to supply a new fertiliser shed for the team as well. The end result is very impressive!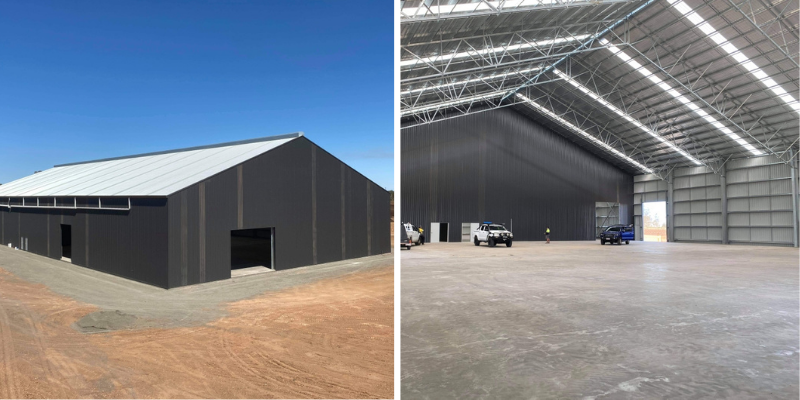 Fertiliser shed completed in Grassdale.




Favourite project:

Roof-only hay sheds
Shed size: 32m x 21m x 6m


This year my favourite project has to be the two roof-only hay sheds that we supplied for Stafford in Moree, NSW.

Not only do the finished sheds look amazing (check out the awesome picture that we received from Stafford below!), but having two hay sheds instead of one is very practical. Harvesting time will become a breeze for Stafford and the team who now have two sheds to store their hay in, instead of only one.

We love the end result and we're sure that the hay bales will too!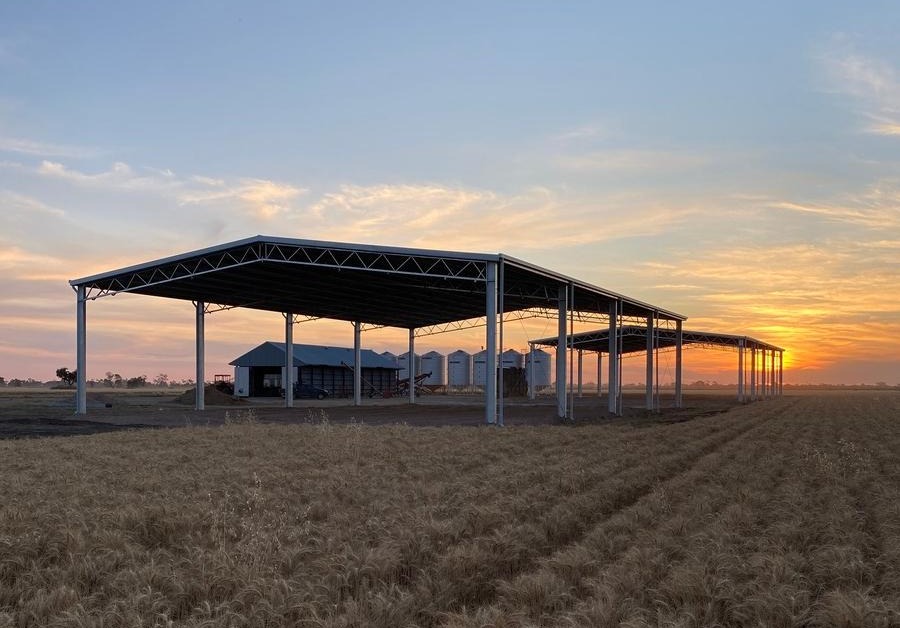 Roof-only hay sheds completed in Moree NSW.

Favourite project:

Custom shed home
Shed size:
8m x 16.556m x 7.5m

The project that was a stand out for me in 2020 was the custom shed home we manufactured for Rob in Laura Bay, SA. This project in particular was a really interesting one to work on as Rob didn't need your typical shed, his shed would also need to act as a house. To make things even more interesting, he's based in Laura Bay so the shed had to be constructed on sand. This is no easy task when you're dealing with any type of heavy framing.

Both Rob and the team here at ABC are really pleased with how the shed has turned out. Not only is it practical but it really does stand out too! It shows that just about anything is possible with a shed designs these days – the sky's the limit!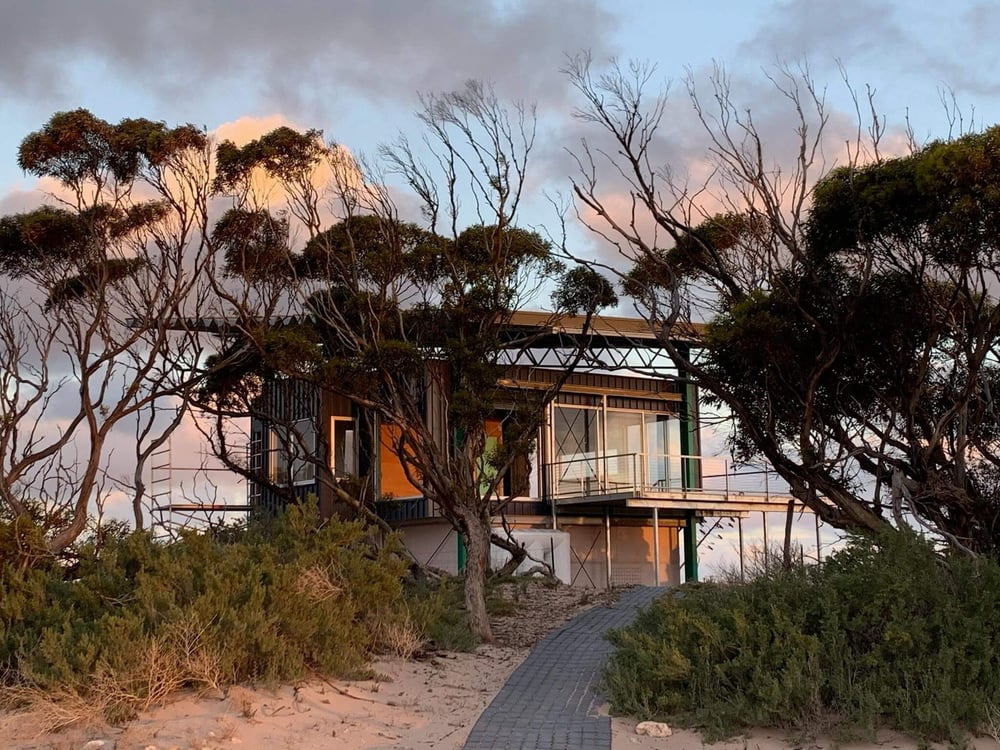 Shed home project completed in Laura Bay.

While it was hard to narrow down our favourite sheds of 2020, we're sure that these projects have given you a great idea of some of the sheds that we supplied to our customers this year – and perhaps a bit of inspiration for a new shed of your own! We're pretty excited for what 2021 holds and we're looking forward to even more ABC sheds taking shape!

If you'd like to take a look at some of the other shed projects we've completed over the years, feel free to take a look at our projects page here.