Whether you need an aircraft hangar for a new aviation park or you have a hobby plane that needs a home, it always helps to have some inspiration!
Here at ABC Sheds, we construct custom structural steel aircraft hangars for the secure storage of planes, both big and small. So whether you're running a plane charter service or you need extra space to store the private jet, our aircraft hangars are designed with your specific requirements in mind.
If you're looking to upgrade to a new hangar shed or if you're building an aircraft hangar for the first time, it can help to see other sheds to get some initial ideas. We've handpicked four of our most impressive aircraft hangar projects to give you the ultimate inspiration! From a no-fuss, no-frills aircraft hangar in Hillston to one of the largest aircraft hangars we've ever manufactured, check out some of our most inspiring aircraft hangar sheds below.
1. A simple no-fuss aircraft hangar in Hillston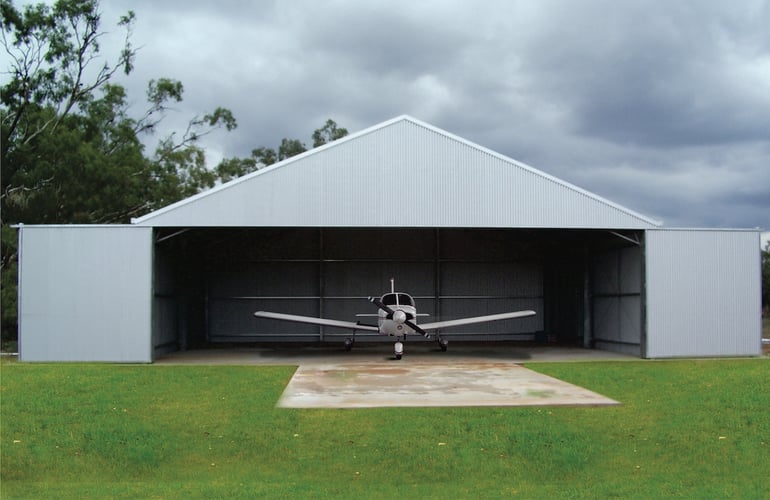 Location: Hillston, New South Wales

Shed size: 12m x 15m x 4m
The first aircraft hangar that we wanted to put the spotlight on is this simple, no-fuss aircraft hangar supplied for a farmer in Hillston, New South Wales.

Hillston is located on the banks of the Lachlan River in the picturesque western Riverina. Featuring many tranquil parks and heritage buildings, Hillston is home to many farmers with the township known for its rural charm.

For farmers located in many rural areas of Australia, it's important to have access to a small plane or helicopter to complete routine activities like monitoring crops and herds of cattle. Farms tend to be anything but small so the ability to use a plane to survey the land and complete additional tasks such as crop spraying to spray pesticides, ensures that valuable time is used wisely, and tasks can be completed efficiently.

The aircraft hangar that we supplied for this farmer is proving to be very useful! Measuring up at 12 metres by 15 metres and with a steep 22-degree roof pitch, this aircraft hangar makes great storage for a small plane or helicopter.
2. A unique aircraft hangar in Rylstone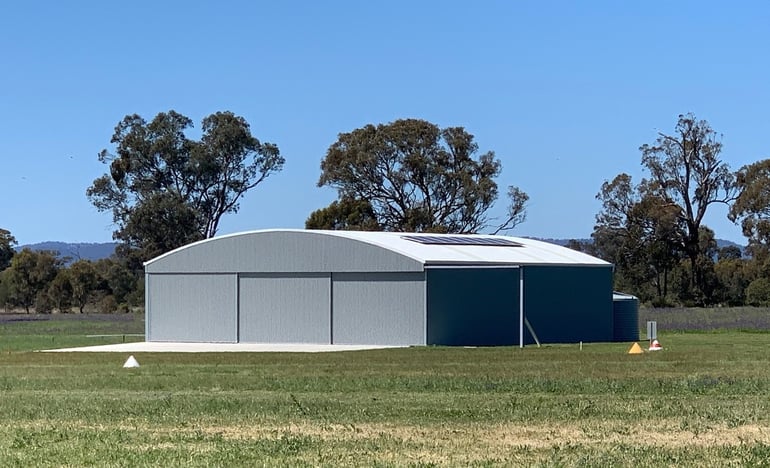 Location: Rylstone, New South Wales

Shed size: 16m x 18m x 4m
Who said aircraft hangars have to be boring? As design and technology have evolved, so too have the types of sheds that are being built. People are now able to see beyond four walls and a gable roof. We're seeing many more unique designs emerge just like this charming aircraft hangar located in Rylstone.

Located in the Mudgee region of New South Wales, Rylstone is home to rustic sandstone houses and cottages along with 1920s era stores. Rylstone is also home to many avid aviation enthusiasts!

Completed for a local customer, this 16 metre by 18 metre aircraft hangar is simple and stylish. And at 4 metres high to the gutter, this hangar also boasts a curved roof and solar panels for energy efficient electricity. A win-win all round!
3. Mighty in Moree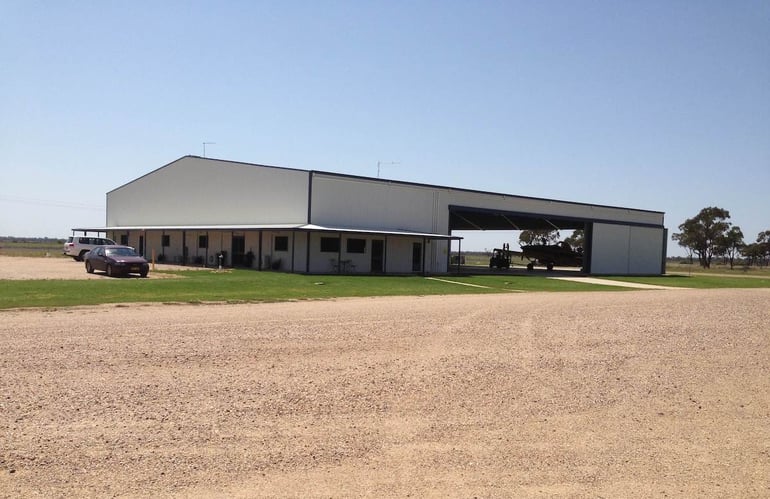 Location: Moree, New South Wales

Shed size: 35m x 42m x 6m
Quite possibly one of the coolest and most grand aircraft hangars we've had the pleasure of working on, this hangar shed in Moree is one to be admired!

Moree is located in the charming Gwydir Valley in northwest New South Wales. Known for its delicious local produce, the Moree community celebrates its thriving agricultural community at the annual Moree Show.

This large aircraft hangar was completed for a commercial client that required the option to house multiple planes at any given time. Suitable for charter or commercial planes, this aircraft hangar is 35 metres wide by 42 metres long and 6 metres high to the gutter; it also features a 6 metre by 35-metre mezzanine for abundant storage. And with an 18 metre wide opening in the side, planes of all shapes and sizes can come and go as they please!
4. Aviators paradise in Rylstone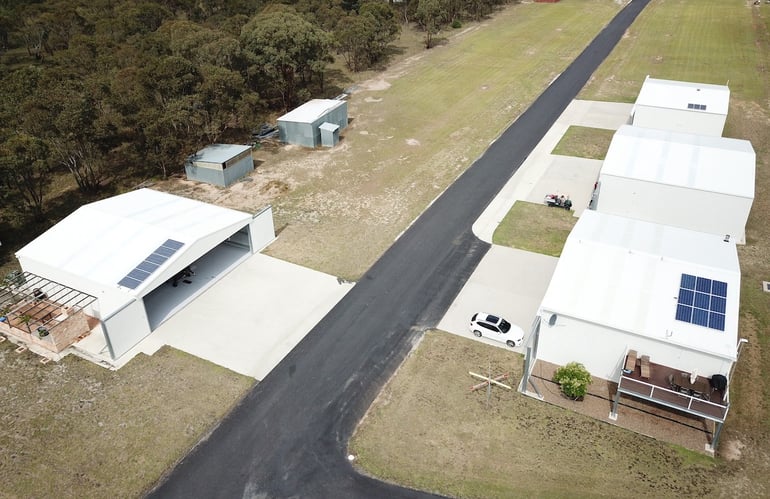 Location: Rylstone, New South Wales

Shed size: 16m x 14m x 5m
Often referred to as paradise for aviators, Rylstone Airpark represents some of the best that aviation has to offer in Australia. Located in Rylstone, one of the most picturesque pieces of countryside in rural New South Wales, the airpark consists of 37 small, medium and large hangar-only lots and 26 residential lots. Since its inception in 2015, Rylstone Airpark has become a sought after destination for pilots and their families.

We have had the chance to work on various aircraft hanger projects throughout the airpark with this impressive hangar shed being one of the first that we completed. Measuring up at 16 metres by 14 metres by 5 metres high, this aircraft hangar also has a 14.5 metre by 4-metre mezzanine balcony, perfect for relaxing or entertaining. Sit and watch the planes come and go from the runway or sit back and relax in the evening with friends to enjoy the picturesque sunsets!

With many different designs now available for aircraft hangars, we hope that you have found some of our top picks inspiring for your next hangar shed. From curved roofs to mezzanines and solar power panels, the options for aircraft hangars are vast – the choice is yours!

Are you considering a new aircraft hangar? We would love to hear from you! Our design and engineering team have over 20 years of knowledge and experience when it comes to aircraft hangar design and construction. We use the latest methods to provide you with superior plane storage, that's perfect for your requirements. And with spans of up to 60 metres, our aircraft hangars will provide enough space for an ultra-light plane or even a B52.

Learn more about our aircraft hangars and view more of our completed projects in the free brochure. Simply download your copy by clicking below.