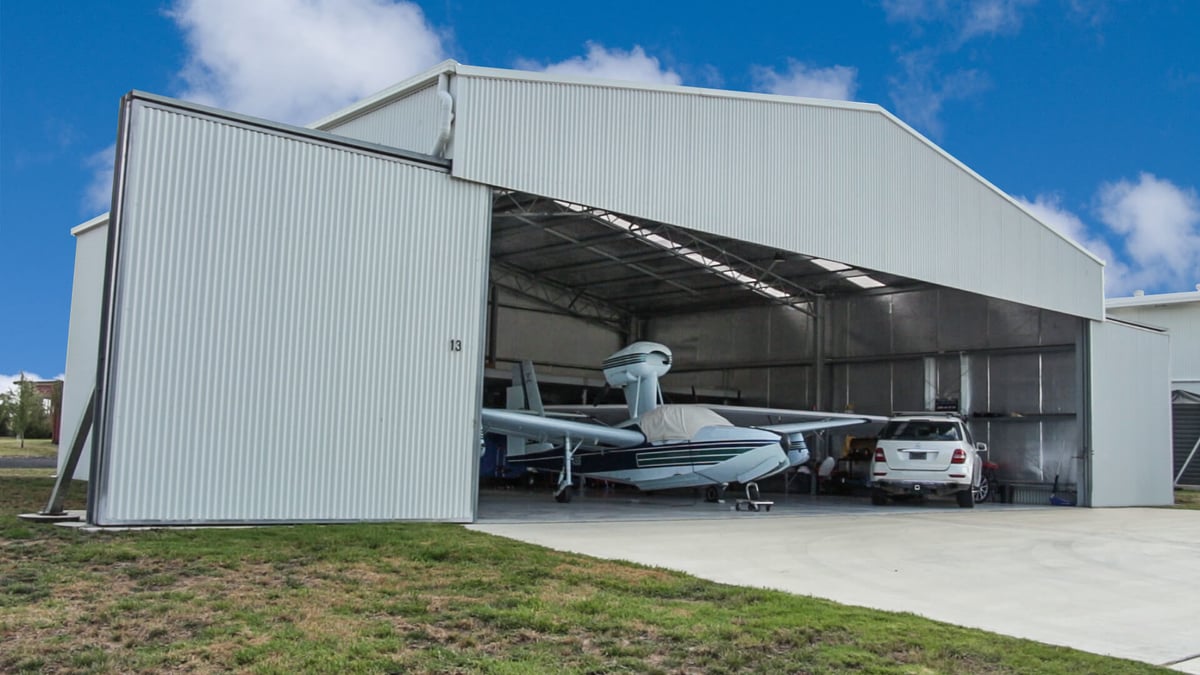 So you've decided to build an aircraft hangar – great stuff! If you're choosing to build an aircraft hangar to house your collection of small planes or perhaps you've added an airstrip, and need a basic hangar for small planes that may come and go? Whatever the reason, a steel frame aircraft hangar is something that will do the trick! An aircraft hangar is a great way to keep your planes protected from the elements when they aren't in use (plus we think they look pretty cool too)!

Before you make the final call, it's good to know what you should consider before you purchase an aircraft hangar – there are a few important things that are essential to think about. In this blog we've outlined what you need to know before you purchase or build.
1. Location
The location of your aircraft hangar is the first thing that needs to be considered. Depending on your location in Australia there could be different local, state or federal aviation planning requirements that need to be considered. A company experienced in manufacturing aircraft hangars (like ABC Sheds) will already be familiar with the required standards and will also be able to take into account any other design requirements based on where you're located such as wind ratings, terrain categories, and more.
2. What you will use the hangar for
While this may seem obvious, many people can end up using their aircraft hangars for things other than just for storing their aircraft. If you're in a remote area you may choose to add a living space to your aircraft hangar so that in the event you're there for the night, you have a comfortable place to stay. By adding mezzanine floors or a balcony you can increase the functionality of your hangar so that it then becomes a hangar that you can 'live-in'.

If you're handy on the tools you may end up doing a bit of maintenance work on your aircraft. If that's the case then you'll need extra space in your hangar to complete this work and for storage of things like your tools and a workshop. Or perhaps you're a pilot instructor and will be using the hangar to give lessons to your students? You'll need some space for teaching and showing students the ropes.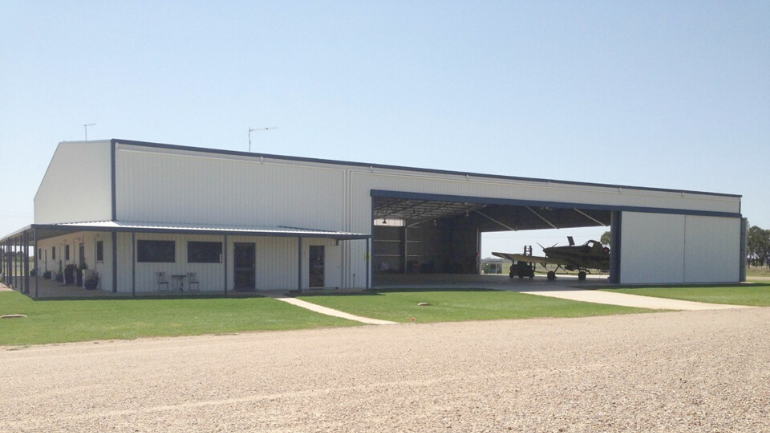 This aircraft hangar features an office space to the side.
3. Design
With advances in design technology and versatile materials like steel used in the construction and manufacturing of aircraft hangars, we can now design for almost any type, and style of aircraft hangar you require. While your hangar can be custom built to your requirements, it's important to consider beforehand if there are any specific design elements you may want to add to your aircraft hangar.
It's important to consider things like:
How many aircraft will you store in the hangar?
The size of the aircraft you will store.
The types of doors you require – sliding or rolling?
If you need a wide-span shed for maximum manoeuvrability.
If you will be using the hangar for other purposes than solely storing aircraft.
Once you've worked through the above considerations you will be in a much better position to brief a shed manufacturing company like us as to what you require, so that we can then provide you with an aircraft hangar that meets your requirements. It's also important to consider future requirements – will this shed need space to grow into?
4. Interior organisation
Now that you've worked out the design of your hangar and can picture what the exterior will look like, now's the time to think about how you will organise the interior of your hangar and by this we mean, how you will store your aircraft!

There are a number of different formations you can use when storing aircraft and a lot of the time it will come down to how many you want to store in the hangar. As you know how much space you will have to work with you can then decide which floor plan will be most suitable. Will you store your aircraft side-by-side or back-to-back, or will you look to utilise a T hangar formation. To utilise the space you have we would recommend going with a T formation so you have a bit of extra room to play with.


A T hangar formation is a good way to make the most of the space you have available.
5. Construction
How your shed is constructed may be the biggest factor to consider for your aircraft hangar. This feeds naturally on from your intended usage but even a basic hangar for storing your aircraft needs to be carefully considered.

For example, if you're planning on doing maintenance work then a gantry for lifting engines or heavy parts is only viable with a strong steel shed able to take the additional weight of the parts, gantry and crane. Access is also going to be key – you don't want braces getting in the way of key entry and exit points. You may also want to consider how electricity for power tools, compressed air lines and lightings are integrated into the structure, something that is much easier to consider in the design phase of working with an experienced shed manufacturer.
As you can see, there are a few things to consider when building an aircraft hangar. So you can get the aircraft hangar that's perfect for your requirements, it's best to consult the experts – that's where we come in!

At ABC Sheds we offer custom-made aircraft hangars for the secure storage of large and small aircraft. Whether you're running a plane or helicopter charter service or in need of extra space to stow your private jet or microlight, our hangars are the solution for you!

Our engineers have over 20 years of knowledge and experience when it comes to aircraft hangar design and construction. We use the latest methods in hangar construction to provide you with superior and safe storage options. We also offer an ABC Sheds 25-year "you're covered" guarantee on every product giving you peace of mind. View some of the aircraft hangars we've built by clicking here.