Aircraft hangars have been around for decades – in Australia it's reported that the first commercial aircraft hangar was built by Qantas in 1922. The hangar at Longreach, Queensland, became the centre of the airline's operations, and what many consider the home of Australian aviation.
While aircraft hangars are commonly used to store planes and large aircraft, they have grown so much in popularity that their uses now vary. Often you'll find that smaller aircraft hangars are used for multiple purposes, one of which is housing or accommodation – what we like to refer to as an 'aircraft hangar home'.
Aircraft hangar homes have become such a novelty that you will often find them listed as holiday rentals on popular accommodation websites like AirBnB. But what makes an aircraft hangar home so unique and what's caused them to gain popularity?

In this blog we'll explore the not so humble aircraft hangar home, and show you an example of an aircraft hangar that has been successfully converted into holiday accommodation in New South Wales.
What is an aircraft hangar home?
An aircraft hangar is essentially a strong steel shed that is built wide enough to comfortably store one or many aircraft at a time. Some aircraft hangars are left open while others may feature doors for enhanced security. An aircraft hangar that also doubles as a home or accommodation will still have the same amount of storage that a stand-alone aircraft hangar would have, it just has the additional accommodation space.

You'll find that living quarters in an aircraft hangar are often positioned at the top of the hangar, above the aircraft storage. This is very practical and means that no floor space is taken up that would generally be needed for one or many aircraft. Occupants of the hangar simply access the living quarters by stairs. We have seen examples of aircraft hangar accommodation added on the ground floor alongside the aircraft storage space. While this isn't as common, this can be achieved when good planning is done before you proceed with building an aircraft hangar, to ensure that you still have enough room for the planes.
What makes an aircraft hangar home unique?
It will come as no surprise that an aircraft hangar home in itself is truly unique – who would've thought that when the first-ever aircraft hangar was built, that the design would evolve over time to include living quarters? In a time where many people are looking to upgrade their homes to something that's bigger, better and more extravagant, an aircraft hangar home seems to go against the grain.

While an aircraft hangar home isn't as large and accessible as the typical Aussie family home, it certainly has its benefits! For people that live and breathe aviation, living alongside your aircraft is something that dreams are made of! For example, Spruce Creek in Florida, USA is an entire community built around a runway where residents can park their planes on the driveway.

Often an airport or airstrip can be quite a drive from a town or central city so having accommodation onsite also makes it that much easier for pilots or people that work in aviation, to get to work every day. This remoteness can also have its own appeal! Aircraft hangars that also double as accommodation are often rented out for holiday goers that want to experience a country escape or accommodation that isn't the norm. Move over glamping, aircraft hangar homes are here!
An aircraft hangar that doubles as accommodation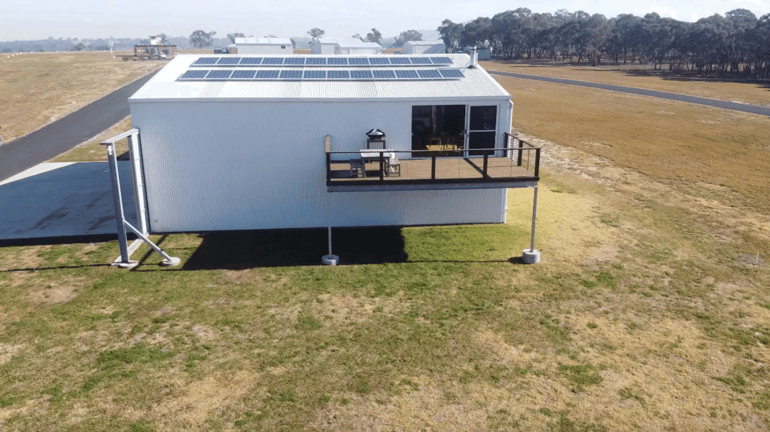 At just a 3 hour drive or a 45-minute flight from Sydney, this rural Rylstone escape epitomises the finest that aircraft hangar homes have to offer! Situated in Rylstone Airpark, this is an aviation community like no other where keen aviators can come together to share their common passion – flying! Featuring multiple hangar lots, hangar rentals and hangars for sale, Rylstone Airpark is the perfect spot for people who love aviation.

We've had the pleasure of working with the team at Rylstone Airpark to provide multiple aircraft hangars of various shapes and sizes over the years. The aircraft hangar that we supplied for this particular project features:
Luxury holiday accommodation above the aircraft hangar storage.

A balcony to take in the surrounding views of farmlands.

Space to park your plane.

Sliding doors to keep the aircraft hangar and plane secure.

This lock-and-leave aircraft hangar is perfect for holiday goers that will be flying in, they simply park up the plane and enjoy all that that the Airpark and Rylstone have to offer. The aircraft hangar is also built to stand the test of time with strong ABC Sheds structural steel framing and columns – perfect for the temperamental weather that we can experience here in Australia and the high winds often experienced at airfields.

Check out this aircraft hangar home and it's many amenities below!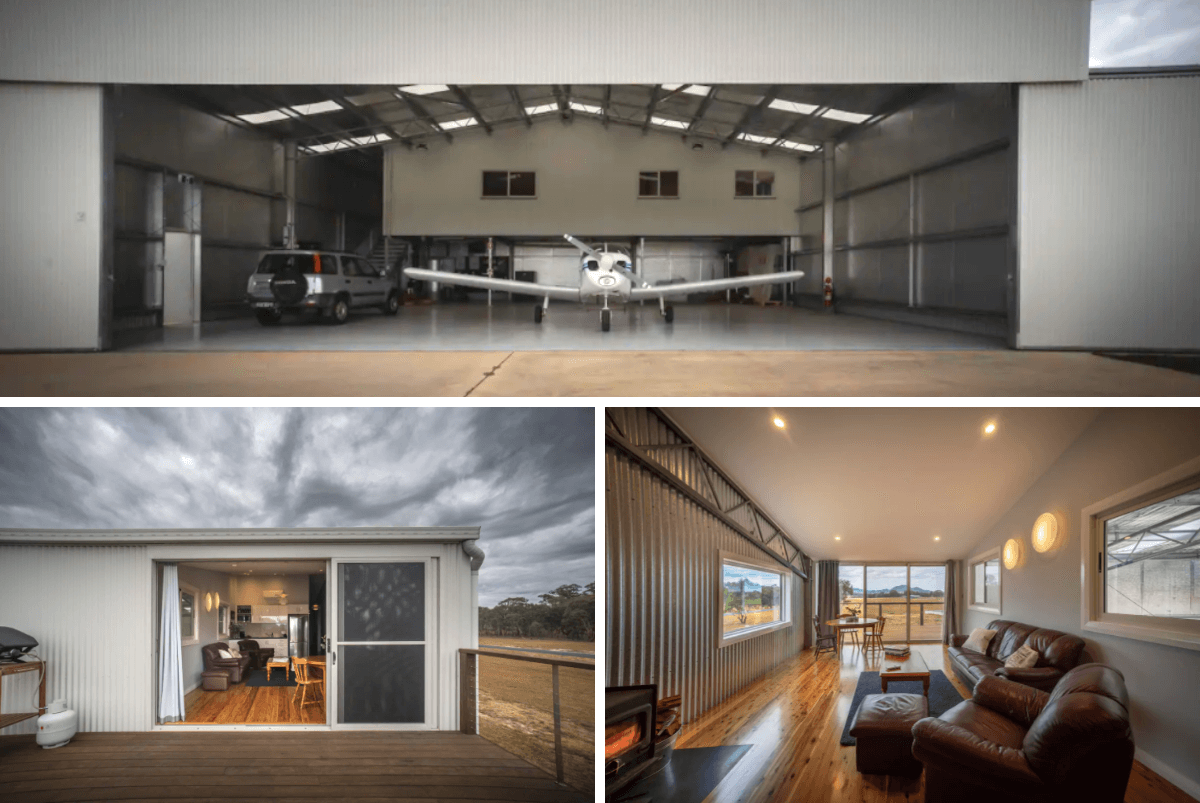 Talk to us, the aircraft hangar specialists

As rural and industrial shed experts we know a thing or two about building quality sheds and have become experts in producing quality aviation sheds and aircraft hangars. Our hangars are also fully engineered to suit your airport and the wind speed of your location.

We have a hangar to suit any aircraft big or small and can even custom design your aircraft hangar so it meets your needs – perfect for those of you that want to add a home or accommodation! Other options include extra-wide side openings (no columns), full-front opening (span), sliding doors for full width access, personal access doors and even additional space for workshops. You can view many of the aircraft hangars we've completed here, in our free brochure.

To talk to us about a hangar shed or aircraft hangar home simply get in touch with us here. Already have an aircraft hangar in mind? Submit your plans and request a free quote with us here.