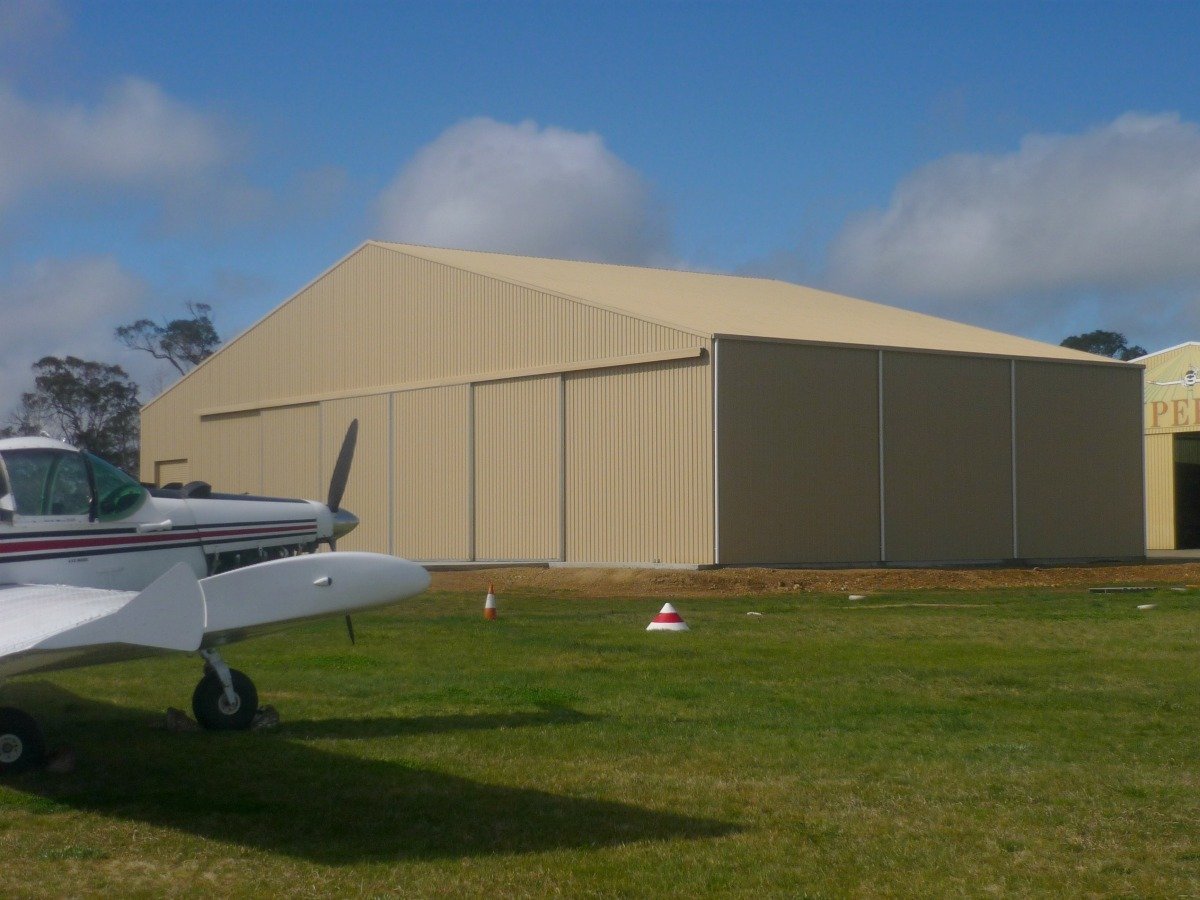 The often varied and hot weather that we experience across Australia means that it's essential to have adequate protection and shelter for big-ticket items and heavy machinery. Something like an aircraft no matter the size, or whether it's a helicopter or plane, can be a big investment. It's important to make sure that you have adequate shelter to protect this investment from the weather and potential damage.
An aircraft hangar can be a simple and effective way to store your aircraft. Aircraft hangars can also be built with lockable sliding or rolling doors making them very safe and secure spaces. But just how much does an aircraft hangar cost? And, should you buy your own aircraft hangar or lease one?

Here we explore whether it's more economical to lease or buy an aircraft hangar.
Leasing an aircraft hangar
Leasing an aircraft hangar essentially means that you will be renting the space from someone that owns it, just like you would a house or commercial building. There will be set agreements in place that will dictate exactly what you can store in the aircraft hangar, how many planes they will allow inside at one time, and for how long. Many people that lease out their aircraft hangars will specify that only planes can be stored inside.

Leasing an aircraft hangar can be economical should you only need the hangar space for a short amount of time, or if you're unsure whether your current aviation obsession will turn into a long-term passion. A lease allows the freedom to only pay for the aircraft hangar for an agreed amount of time and either weekly, monthly or annually.

Aircraft hangars listed for lease online currently go for anything from $1,300 a year to upwards of $1,800 depending on the size of the aircraft hangar you will be leasing, and the location. The more remote your location and the smaller the aircraft hangar, will reduce the amount of rent that you will need to pay.
Buying an aircraft hangar
When buying an aircraft hangar you will be doing just that – buying your very own aircraft hangar. The only decisions that you will need to make are where the aircraft hangar will be located, how big the hangar will need to be and any extra amenities that you need to add i.e. a workshop, living quarters and sliding or rolling doors for security.

If you've been flying planes for years and expect to have your aircraft hangar for decades then it makes sense to buy your own. This will ensure that you always have space to store your aircraft; it will also be a lot more economical to make the investment upfront rather than paying the fees to lease a space instead, which could end up costing you more down the track.

It's important to note that if buying an aircraft hangar you may need to pay extra fees, depending on where it will be located. If you choose to house the aircraft hangar in an airfield for example then body corporate fees may need to be paid annually to help with the upkeep of the grounds, and for any maintenance that needs to be carried out.
So, lease or buy?
Whether you end up buying or leasing an aircraft hangar will come down to your situation and personal preferences. If you cannot afford to invest in your own aircraft hangar right now then leasing an aircraft hangar will be a more economical option. However, if you're truly passionate about aviation and flying planes and can afford to invest in an aircraft hangar, then this can be a better choice for many, particularly if you have more than just one plane.

Building your own aircraft hangar comes with many perks as well and that's not just that it will be able to store your planes! Building and designing a custom aircraft hangar will ensure that you get an aircraft hangar that's fit for purpose and can thoroughly serve your specific needs (when compared to leasing an existing aircraft hangar that can't be modified). If you will regularly perform maintenance on your aircraft then having something like a workshop inside your hangar will make maintenance and repairs a whole lot easier.

If you will be living on-site then you will need to include accommodation with your aircraft hangar. An aircraft hangar is easily converted to an aircraft hangar home – this living space is generally added to the top of the hangar and will be factored in at the design stage. This will ensure that you have ample storage space for your planes and anything else that will be stored inside the hangar – living onsite can also help to offset the price of your new hangar too!

Here at ABC Sheds we regularly work with pilots and aviation enthusiasts to help them bring their dream aircraft hangars to life! We also know that no two sheds are the same, and one person's needs may be completely different to the next. That's why all of our aircraft hangars are custom designed to fit your needs, so you get exactly what you want. From the colour of the roof to the size of the hangar and the types of doors you need, we will make sure that you end up with an aircraft hangar that's perfect for you.

For aircraft hangar inspiration and for ideas for your very own ABC Sheds aircraft hangar, then we encourage you to check out our free brochure, full of our completed aircraft hangars.