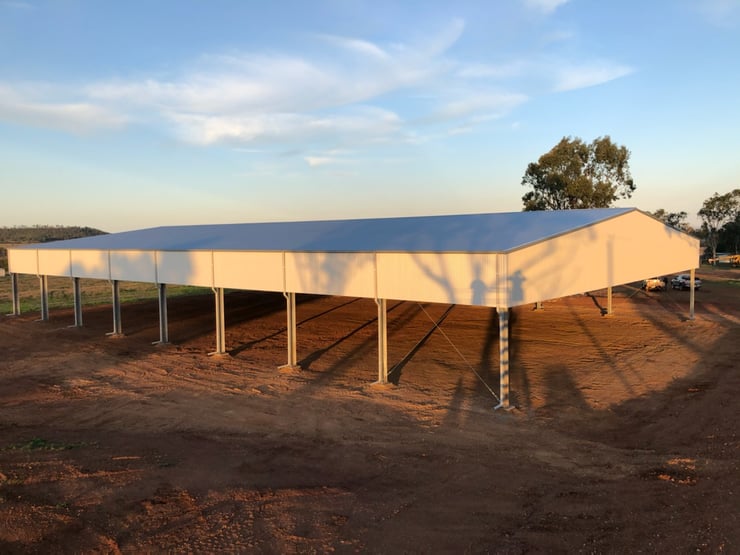 If you're planning to build a shed in Australia, you have a lot of suppliers to choose from. The key to choosing the right company is knowing what type of shed you need and the appropriate design specifications.
In this article, we outline which shed sizes we specialise in and those that we don't. To find out if we're a good fit for your shed project, find our full sizing breakdown below.
Large structural sheds
If you need a big shed, you've come to the right place. Here at ABC Sheds, we specialise in large structural steel sheds that span up to 60 metres. As a general rule, the minimum size for our sheds is 18 metres long, 12 metres wide, and 2.4 metres high. In saying that, most of our sheds are much bigger to maximise functionality and adaptability in the future.
If you're looking for a shed that's 250 square metres or more, contact us to request a quote today. If you have quotes from a few suppliers, you can also read our helpful blog about how to compare large shed quotes.
Farm machinery sheds
Our farm machinery sheds are designed to protect your machinery from Australia's harsh weather conditions. We'll accommodate various shapes and sizes of equipment, taking access and manoeuvrability into account. One of the most important things to consider with a machinery shed is clearance height and clearance width, especially if you own equipment such as combine harvesters, boom sprayers, air seeders or cotton pickers.
Livestock shelters
Working or feeding animals under a yard cover can make a big difference to your bottom line. We can create and supply yard covers to protect your animals in any climate. Sizing is also important for livestock sheds, for instance a cattle barn will require approximately 8 square metres minimum per cow. You will also need to consider a well balanced building height to ensure the shelter stays both well ventilated and also well sheltered from driving rain, wind and sun.
Grain storage sheds
Our fully-enclosed grain sheds ensure protection from harsh weather conditions. Discover why grain sheds are better than grain silos in our focused explainer. With reinforced walls, easy access and 24/7 protection from the elements these are must for ensuring you're getting the best price for your grain. When considering sizing for a grain shed you will need to consider the following, minimum clearance height for unloading, many semi-trailer tippers tip to around 9-10 metres high when fully tipped.
You will also need to consider the natural repose of the grain or granular fertilizer that is being stored, the pitch of the roof or the height of the eaves or bunkers can be easily adjusted to suit your specific storage needs
Hay storage sheds
The ideal hay shed size depends on your hay usage, stack height, fire safety, and additional storage requirements. Our most popular hay sheds and capacity estimates are:
32 metres by 18 metres (1,000 bales)
48 metres by 24 metres (2,500 bales)
96 metres by 24 metres (5,000 bales)
For larger hay storage requirements, it may be best to consider building multiple sheds to mitigate the risk of asset loss from stack fires.
With bay sizes ranging from 6 metres to 10 metres, you'll have plenty of space to store your hay and handling equipment. Most hay sheds include 8-metre bays which can easily fit three 8-foot bales side by side. However, bays can also be moved and extended to allow for different bale sizes.
Equine arenas
With full engineered steel frames, our dressage arenas can span from 21 metres long up to 60 metres. With no need for centre supports or additional knee bracing, you can make the most of the entire arena area while keeping animal safety as a priority.
Some of the most important aspects to check when considering sizing for your arena cover are, internal clearance height especially if you will be using it for jumping in which case you will need around 4.5m at the lowest point. Also consider the minimum internal span of your building to ensure it will clear span your riding area and any railings or kickboards around the perimeter.
Industrial and commercial buildings
We supply industrial and commercial buildings and have a wide range of options to suit your growing business's needs. These can be custom designed to suit your application, whether storage, warehousing, distribution, or manufacturing. We can allow for future expansion plans in the design, such as additional bays, awnings, lean-tos and door systems as your needs develop and grow.
Aircraft hangars
Our team can design structural aircraft hangars customised to your plane's specifications. Width is a key consideration for fixed-wing aircraft and we can ensure your hangar project can accommodate your current requirements with ease.
School COLAs
To encourage outdoor play and learning, we supply school COLA structures with a clear, unobstructed span. These are suitable for most outdoor play areas, providing protection from the sun and rain. Balancing clearance height is very important for COLAs. Sufficient height for ventilation and unobstructed ball game play is important as well as ensuring sufficient sun and weather protection is achieved.
Bay size
One critical component of shed design is choosing the right bay spacing. At ABC Sheds, we can build sheds with bay openings from 6m to 10m and we can achieve up to 16m with a 'trussover' bay. Thanks to our structural steel frames, there's no need for load-bearing supports in the middle of the shed. This makes it easier to move around in the shed and maximises efficiency.
There is no standard bay sizing for a shed, as it depends on the purpose, snow and cyclone ratings, and engineering requirements. However, the standard practice is to match all the bays to the largest bay engineering requirements. For example, if a shed requires one 12-metre bay and three 10-metre bays, all four bays will be engineered to 12 metres.
Shed height
Another key design choice is shed height as it will affect the functionality of your shed. This is particularly critical if you need to store large machinery or install a gantry crane in your shed, as you will need plenty of clearance.
There's no one-size-fits-all when it comes to shed height. To calculate your ideal shed height, consider the shed's purpose and any large items that will be stored in it. Also, remember to factor in the roller door height, including the necessary clearance when it's open.
In our experience, the following heights are ideal:
Hay sheds - 5 to 7.5 metres
Grain sheds - 5 to 6 metres
Fertiliser sheds - 5 to 6 metres
Machinery sheds - 5 to 7.5 metres
Aircraft hangars - 5 to 6 metres
Commercial and industrial sheds - 6 to 12 metres
Dressage arenas and stables - 5.25 to 6 metres
Wide-span sheds
The term wide-span, or clear span, refers to sheds with a large, open structure that does not require supports in the centre. Instead, the roof and walls are supported by an engineered steel frame to allow maximum efficiency and use of available space.
Wide-span sheds are used for several purposes, from industrial and commercial, to farm storage, to aircraft hangars.
Steel is the preferred material for these designs as it is strong and capable of supporting more weight than alternatives. Here at ABC Sheds, we use hot-dipped galvanised steel for added corrosion resistance.
Small sheds
If you're looking for a smaller shed that's less than 200 square metres, we recommend looking for a supplier that specialises in the dimensions you need. We suggest that with all light frame builders you ensure that they are accredited by ShedSafe.
For small scale sheds, we recommend reaching out to Fairdinkum Sheds, Ranbuild, Widespan or Best Sheds. These leading small shed manufacturers operate throughout Australasia specialising in cold-formed steel sheds for the following:
Residential garages
Carports
Barns
Small farm sheds
Small industrial buildings
If you need a large-scale shed, the friendly team at ABC Sheds are here to help. Whether you need a standard design or a customised solution, our sheds provide a reliable, durable, and robust solution. Contact us today to request a quote or browse the range to find your ideal shed design.