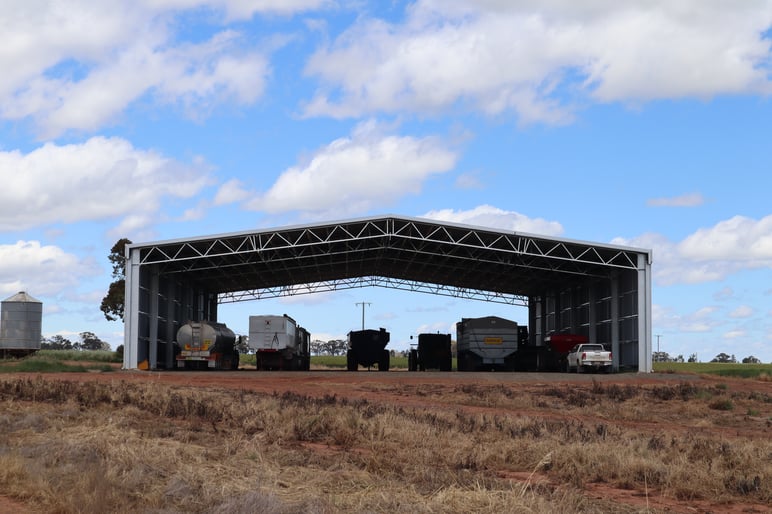 When building a steel shed, you will need to compare quotes from several shed suppliers. If you don't know the industry terminology and the various factors that influence pricing, this can be a challenge.
In this article, we provide everything you need to know to understand your quote – from the basic specifications to the hidden expenses that may be overlooked.
Check the basic shed specifications
Every shed quote should include a clear outline of shed specifications, including:
Shed dimensions

Material specifications

Types of columns and trusses

Types of cladding and roofing material

Types and number of walls and doors

Number of bays and bay spacing

Delivery and installation
How to compare shed quotes
To avoid expensive surprises during your shed build, look out for these ten hidden costs:
1. Structural engineering
A large shed can be engineered in two ways – purlins or structural steel. A purlin is a long structural support made of roll-formed sheet steel. Unfortunately, purlins may not be able to hold a lot of weight or handle harsh weather conditions so if your design is larger than 12m, a purlin frame will not be strong enough.
Structural steel sheds are much stronger than purlin sheds. The main frames and roof rafters are constructed from solid steel sections which are welded and bolted together. The simplicity of erection reduces the expense incurred during installation.
It's common to pay more for structural steel due to its increased durability and longevity.
2. Sheeting thickness
When receiving a shed quote, ask if sheeting thickness is measured in terms of Base Metal Thickness (BMT) or Total Coated Thickness (TCT). Base Metal Thickness measures the strength of steel cladding before it has any coated layers added to it. For design calculations or structural design, this is a more accurate indication of strength.
Total Coated Thickness refers to the metal after it has been coated, including any alloy finish, paint, or primer. It also includes the hot-dip galvanised surface that is applied for corrosion resistance. At ABC Sheds, our quotes reference BMT cladding for all our shed specifications.
Check that your quotes directly align. Whether this is comparing BMTs or TCTs ensure both quotes have matching steel thickness.
3. Hot-dip galvanised steel
If it seems like your shed quote is relatively low, it could be that the columns and trusses are not hot-dip galvanised.
Dipped in molten zinc or alloy, hot-dip galvanised steel has a much longer lifespan. This coating prevents oxidation and forms a barrier against corrosion. Hot-dip galvanisation benefits from three different types of protection – barrier protection, cathodic protection, and a zinc patina. Between each of these, the steel is well-protected from the harsh Australian climate.
It's important that this step is completed after the welding process is completed as you'll want all welds protected beneath the hot-dip galve coating.
4. Groundwork
You should also factor in the amount of site work including pier hole boring, service connections, drainage, and accessways. Some shed-building companies won't include any of these in the quote because they depend on your location.
For an accurate quote, speak to your local contractors. At ABC Sheds, we can help you with this process, giving you a detailed outline of the costs you need to account for.
5. Erection quotes
Every building project will face some complications that can cause delays and increase the total cost. For example, problems with material deliveries, weather, compliance, groundwork, and equipment. An unfixed quote does not account for any of these delays, meaning you'll need to budget far more than the quote.
On the other hand, a fixed quote gives an all-inclusive cost for the entire erection process, regardless of any unexpected delays. At ABC Sheds, our quotes are fixed and final. Providing you with peace of mind throughout the project.
6. Engineering certificate
The most cost-effective way to obtain compliance for your shed is to get your plans from a reputable shed manufacturer. This way, all relevant engineering certifications are already in place. Here at ABC Sheds, we provide the structural plans and can assist with providing contacts that specialise in preparing Development Applications (DA).
Quotes may not include this cost so make sure you're comparing quotes that include, or exclude this. A quote including this step will be higher.
7. Doors and fire exits
When it comes to doors and exits, the fire safety requirements are explained in the National Construction Code. While these rules are mandatory, not all shed companies will specify them in your quote so make sure to ask.
8. Crane hire
In most cases, hiring a crane will save you money overall by increasing efficiency and lowering labour costs. A crane makes it easy to transport and install roof trusses, steel beams, and prefabricated walls.
Some shed companies have a crane available while others hire a third-party contractor. Either way, ask for the cost to be specified in the quote.
9. Requirements for roller doors
All roller doors must be wind rated according to the wind speed of the building. In addition, the shed must be engineered to withstand door failure. These roller door requirements are outlined in depth in the National Construction Code. Although complying with these regulations will increase the cost of the project, it is a necessary investment.
10. Guarantees and warranties
A shed is a big investment so it's critical that you have a quality guarantee from the supplier. To ensure the company can be trusted, ask for a formal guarantee of the structure and workmanship.
If any issues do arise, the guarantee will safeguard you. Whether that be compensation, replacement, or repairs, make sure it is written into the project contract. For example, at ABC Sheds, we have full confidence in our frames, which come with a 25-year guarantee. Additionally, we design each shed to exceed minimum Australian standards.
Our shed quotes
Here at ABC Sheds, we've been in the shed manufacturing business for decades. That's why we provide fixed quotes and no costly surprises along the way. The only costs that aren't included are the concrete for the pier holes and any alterations made after the contract is signed. In fact, all our quotes include the following:
Engineering and technical plans

Installation

Pier hole boring (excluding the concrete)

Materials

Crane hire

25-year structural guarantee
Our project coordinators will guide you through the entire build so talk to our team or request a quote today. Let us know which type of shed you need and we'll send a transparent, no-obligation quote your way.