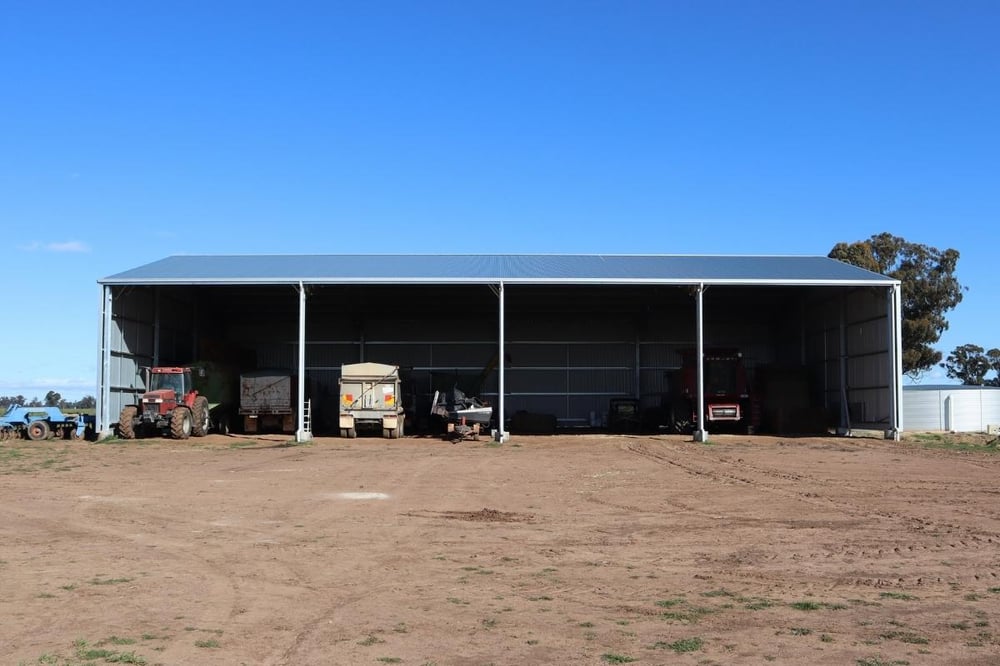 When building a new shed, one design choice you will need to make is determining the correct size or spacing for your shed bays. A shed bay is the spacing from the centre of one I beam, to the centre of the next I beam.
We often get questions from customers asking for guidance on bay size, but since there isn't a one size fits all solution, we thought we'd tell you what you need to consider when determining the best bay size for your needs. More often than not, the bay size you require will be determined by what you will store inside your shed.
If you want to maximise efficiency, you'll need to consider a few key factors including storage capacity, safety ratings, and engineering standards, to ensure that you end up with the right bay size now, and into the future.
The purpose of the shed
Before you make any decisions, it's crucial to understand exactly what the shed will be used for and what will be stored inside. The size of your shed bays should first and foremost come down to the vehicles, machinery and other equipment that will need to be stored inside so before signing off on any plans, you should measure these things carefully.

Once you have the necessary dimensions, it's important to add enough extra space so that you can manoeuvre everything as required. For this, you'll need to consider door clearances, vehicle turning circles, and pedestrian access, as well as the ideal height for your shed.
Cyclone and snow ratings for sheds
When building a shed, it's crucial to design it in a way that is durable, strong and suitable for your local weather conditions. The bay size of a shed can directly affect the performance of the shed, especially when it comes to snowfall and high winds.

In terms of wind ratings, Australia is divided into four different regions according to the terrain and topography. These factors influence the strength of the wind in the regions which range from low winds to severe tropical cyclones. If a shed is inadequately designed, open to the elements or left in poor condition for too long, these winds could cause irreparable damage. With that in mind, it's worth choosing a shed with appropriate engineering that will support the shed's structure in any conditions.

In colder climates, a shed must be capable of bearing the weight of snow so that it won't collapse or be prone to gradual deterioration. If ice and snow are likely to collect on your shed's roof, the weight and downward pressure could cause major problems. Before designing your shed, first, check what your local snow rating is and then talk to our team of experts about your options. They'll know the best ways to strengthen your shed, including what the limitations are on the size of the bays.

In simple terms, the smaller the bay size, the sturdier the shed will be in windy or snowy conditions. However, the shed must serve its purpose so, with careful engineering and quality materials, it should be possible for your shed to withstand the local climate without sacrificing bay size and functionality.
Bay size engineering
The general rule with shed design is that the biggest bay will determine the engineering required for all of the bays. For example, if a shed requires one 10-metre bay and four 8-metre bays, all five bays will be engineered to 10 metres. This simplifies the design process because all you need to decide are the specifications of the largest bay.

This also means that even if you don't need the added space, your shed will offer more versatility and improved accessibility. It also increases the adaptability of your shed for future requirements because you'll be more likely to store items in the larger space, even if you don't currently require it.
Ready to get started with a new shed? Design your very own using our free online shed builder! >>
How bay size affects shed efficiency
Regardless of what your shed is built for, it's important to think ahead and plan for future needs. By thinking beyond your current requirements, you can maximise your shed efficiency and save the need for upgrades or extensions later.
Some key things to consider are:
The minimum current requirements for your shed, including walking room and door clearances.

The dimensions of vehicles, machinery or other items that you may want to keep in the shed at a later date, such as a new tractor or storage shelves.

Adding room for facilities you may wish to invest in later, such as office facilities or more workshop space.
If you choose your bay sizes with these possibilities in mind, you'll be able to adapt the shed to suit future needs. This is a far more cost-effective option than extending or upgrading your shed later, not to mention a lot more convenient. When it comes to a bay size that we would recommend to maximise efficiency, particularly for farm sheds, we always suggest starting with 8-metre bays. This bay size is wide enough to store multiple bales of hay while also accommodating large farm machinery.
The best building materials for shed bays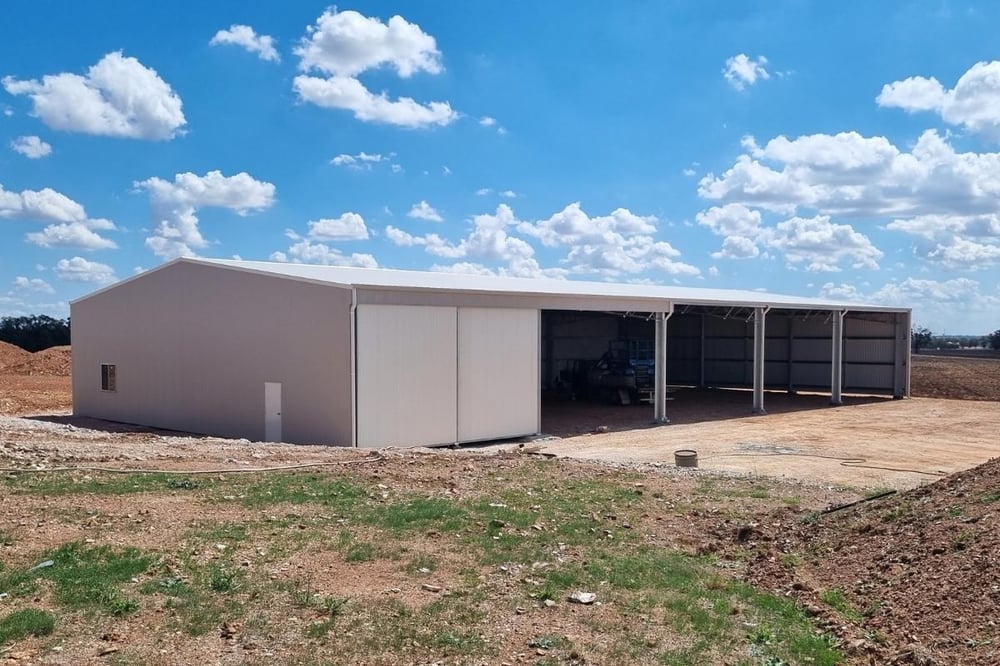 There is a range of materials available for shed construction as well as construction techniques and engineering options, but each of these could influence the strength and durability of the structure. If you want to maximise your bay sizes, it's important to invest in quality materials and reliable construction so that your shed will stand the test of time.

Some common shed building materials include timber, steel, concrete, plastic and galvanised aluminium. And while some options may save you money initially, it's worth investing in a more enduring option to improve the longevity of your shed.

Sheds built with structural steel are the strongest and most durable because they're tough, solid, and easy to maintain. Structural steel gets its strength from being roll-pressed at extremely high temperatures and can be formed to the desired thickness – anywhere from 5mm to 20mm. Paired with the dependable main frame and steel rafters, this is the most practical option for shed-building across Australia.

If you're looking for a shed with the ultimate combination of size, functionality, and reliability, the team at ABC Sheds have all the answers you need. No matter what type of farm shed or industrial building you require, we have the experience and know-how to deliver a quality structure, designed for your needs.

You can choose from a wide range of high-quality designs or discuss a custom shed with the experts. Just get in touch today for a free no-obligation quote.