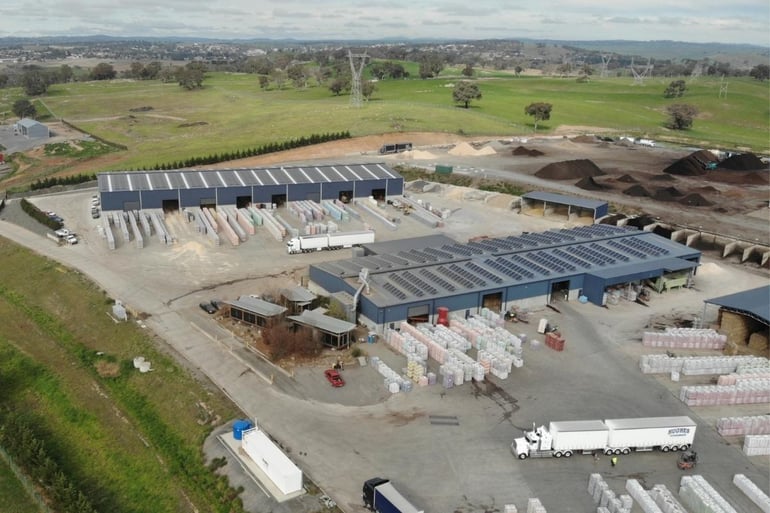 Investing in a warehouse could be one of the best decisions you ever make for your business. Warehouses provide a functional and affordable workspace solution allowing you to protect goods, machinery and stock, and keep supply chains running smoothly. Because of this, the convenience, efficiency and lasting investment of a commercial warehouse is a great way to expand your business.
However, if you're interested in constructing a commercial warehouse, there are a few key considerations to make first. The right shed is a worthwhile expense, but only if you choose one that is well-suited to your needs and is constructed efficiently. That's why this article outlines what you need to think about when building an industrial warehouse, and how you can ensure the result is worth your time and money.
How to build a new commercial warehouse
Commercial or industrial sheds are a common feature in Australia and many businesses have seen the value in having a purpose-built space for their operations. However, not all sheds are built equal, so here are the most important things to consider when you construct a new warehouse.
Purpose and utility
The first thing to assess is what your warehouse is going to be used for and what its primary functions would be. Once you know the day-to-day processes that will take place in your shed, all other decisions will logically follow. So consider how many machines and people will operate in the warehouse, what needs to be stored in it, and if it should be multi-functional. If you employ many staff then you'll need to consider what amenities they will need and how many personal access doors may be required, so that people can enter and exit the building efficiently. If you will need storage in your warehouse, consider how much space you will need for shelving or whether mezzanine storage could be more appropriate.

When thinking about the purpose of a new warehouse, it's also important to look ahead to the future – will the structure and engineering of your shed enable you to extend or add awnings down the track? This is important to factor into the design should you wish to make changes down the track.
Size and shape
The dimensions and layout of a shed's design will have an impact on how much engineering is needed and in turn, how expensive the warehouse will be to construct. In most cases, industrial warehouse construction is calculated by the square meterage but keep in mind that you could consider increasing the shed height instead of its footprint depending on your needs.
Location and site conditions
Where your warehouse is located will have a massive impact on how you use it and how it ought to be built. To start with, you should understand the local regulations for commercial sheds and any legal requirements you need to abide by (for information regarding NSW requirements, refer to this article). Not only that, you must assess the site conditions before choosing your shed because accessibility, terrain and proximity to nearby buildings will heavily influence your decision. Your shed has to be long-lasting and economical to use so be sure to use quality materials and experienced shed-builders that can deliver the results you're looking for.
Quality construction materials
Choosing the right materials to construct your warehouse with will make all the difference for your business. By investing in quality products initially, you can keep maintenance costs low and keep business downtime to a minimum. For example, at ABC Sheds we use hot-dipped galvanised steel which is strong, weather-resistant and extremely durable to ensure our warehouses stand the test of time.
Ready to get started with a new warehouse? Design your very own using our free online shed builder! >>
Warehouse health and safety
Managing a commercial warehouse involves a significant amount of safety measures which can be quite costly in both resources and productivity. With this in mind, it's crucial to minimise safety risks when building your warehouse by choosing a design that is efficient and practical for your purposes. Before you commit to a shed design, make sure it will fit with the legal guidelines which ensure that your employees have the workspace they need to work safely.
Construction materials
The method of warehouse construction you choose will affect how much it costs, how practical it is and how long it lasts. Common materials for shed building include using precast concrete walls, timber and steel frames. All you need to think about is how your construction method and materials will affect your warehouse operations once it's built. For example, structural poles in the middle of your shed could be an unwanted obstacle to forklifts or production lines. Whichever method you choose, make sure it is the most suitable in the long run.

If you require a warehouse that is easy to install and can be simply lifted into place, then a structural steel shed could be the perfect solution! Check out one of our sheds being lifted into place below!


Overall experience and customer service
The last thing to consider when choosing how to build your shed is how the design and construction process will affect you and your business. If you decide to construct it independently you are likely to experience stressful delays and complications throughout, but on the other hand, working with an experienced shed building team will keep those frustrations to a minimum. However, not all shed building companies are equal so it's important to choose one that will support you and provide exceptional customer service. This way you can keep stress levels low while knowing that you're getting a warehouse to meet your expectations.

Here at ABC Sheds we stand by the quality of our structural steel sheds, so much so that every shed we supply comes with a 25 year guarantee. So if something's not quite right or if something goes wrong down the track, our team are more than happy to put things right. You'll have peace of mind knowing that your warehouse is taken care of leaving you to get on with the important stuff, like running your business!
The cost of a new industrial warehouse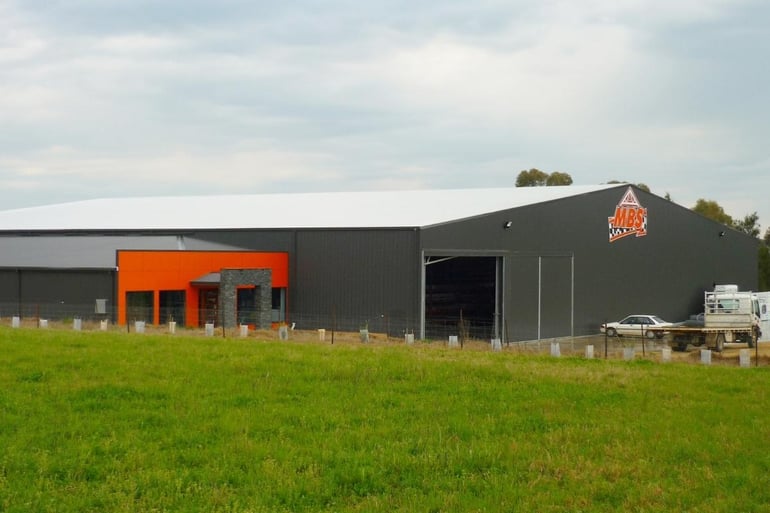 As with any business investment, it's important to know the cost of a warehouse before you commit to it. Unfortunately, many shed building companies choose not to clearly display their prices or inclusions which often results in hidden costs, and expensive surprises after construction begins. You can use these questions to ensure your quote is complete and all-inclusive:
What is the size of your shed and which materials are going to be used? This differs from case to case but generally, the bigger the footprint of your shed, the higher the cost.

Would you add an office fitout to your warehouse? Adding internal walls and the necessary fittings is likely to increase the overall cost of your warehouse.

Do you need a mezzanine for extra storage? The extra engineering this requires will contribute to the overall cost.

Do you intend to install a gantry crane? This requires extra structural support and will cost more.

Do you need to install large roller doors for machinery and other vehicles to access the warehouse? This is a worthwhile investment for most warehouses but it will increase the cost as it requires additional framing.

If your region or operations are particularly fire-prone, a firewall is a great investment. It will cost extra to install but could save you from damage and loss later on.
At ABC Sheds, we like to be transparent and open about our shed prices so that you can make an informed decision. For most commercial sheds, we estimate a cost of around $400-500 per square metre, but of course, that will vary depending on the features you need. It's best to contact us directly to discuss your needs.
Why you should work with industrial shed experts
Industrial warehouse construction can be daunting, especially when you consider all the variables that can drive the cost up or hinder the sheds' functionality. That's why it's so important to have an experienced, knowledgeable team to guide you through the construction process.

A commercial shed building company will not only help you design your warehouse, but they will also have connections with the best contractors and tradespeople to ensure it is built efficiently. Instead of starting from scratch, these companies construct industrial sheds every day so they're always up-to-date with the latest industry requirements. That gives you confidence that your investment will pay off.

At ABC Sheds, our friendly team will guide you through the design and installation process to reduce construction costs and ensure your warehouse is customised to your business' purposes. We pride ourselves on our transparency and customer service as well as the high-quality warehouses and commercial sheds we build for businesses all over New South Wales, Queensland and afar!

For more information on our commercial and industrial warehouses, check out our free brochure. You'll find all you need to know about our sheds as well as inspiration from our existing projects.