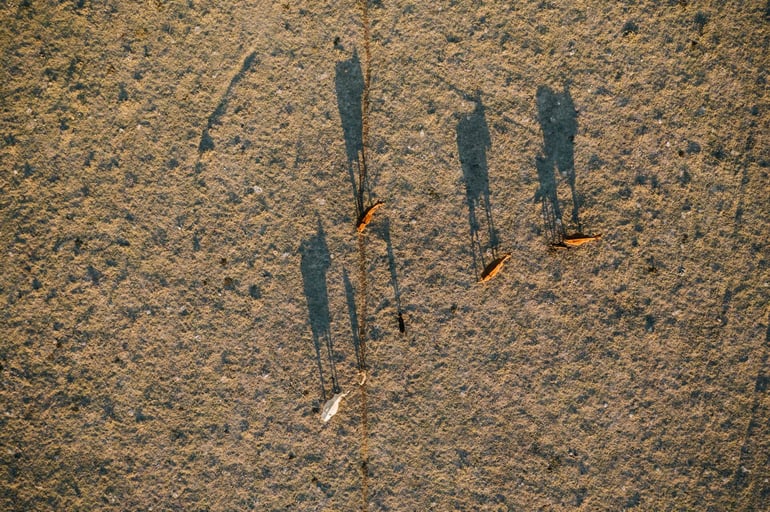 Years of drought and hardly any rain have had a significant impact on Australian farmers. This struggle has not gone unnoticed however and
on the 1st of July 2020 the New South Wales Government announced
that they had increased their interest-free seven-year loan to $100,000. This is a massive increase from $50,000 and with no repayments for two years, we're sure it will be a big help to many farmers that have been doing it tough.
Read on to find out how you could maximise this loan to help you become more drought resilient.
The impact of drought
Aussie farmers know the struggle with drought and low rainfall and how it affects business, as well as day-to-day life. Many farmers are hesitant to spend money in the fear of not making it back if things don't improve, while other farmers are off-loading livestock and assets to recover their losses. One of the key things is to plan ahead – droughts are a naturally recurring event and they are guaranteed to come back again.
It will rain again, we will have wet years and we will have years of plenty so the key is – how are we placed to take advantage of these years, and maximise their benefits to help cushion the blow when the dry years return? While there are countless debates raging about the impact of humans on the climate, the fact of it is, we have to adjust and plan for whatever mother nature throws our way.
Coming off the back of dry years it's no surprise that our battle-weary farmers could be struggling for the cash needed to implement their drought plan. This is where it would be wise to take advantage of the assistance that is available. The NSW Government is strongly encouraging farmers to take advantage of the available funding primarily directed at helping farmers become more drought resilient.
The Drought Assistance Fund
The NSW Government announced further expansion of RAA's Farm Innovation Fund from the 1st of July, which allows farmers to apply for low interest loans to create infrastructure in an effort to lessen the blow of drought. You can read more about this expansion here.
The Farm Innovation Fund and other government-funded resources should be the start of your drought resilience plan and can go a long way to help farmers that may have been struggling with years of drought and very little rain.
The NSW Government initially offered $50,000 interest-free loans to primary producers to implement systems and management practices that enhance the sustainability of their farming business. While the loan has expanded to $100,000, the conditions remain the same. The loan term is for seven years with no repayments required in the first two years which can be a big help to primary producers trying to get back on their feet.
The Drought Assistance loan funds:
The transport of stock, fodder and water.

Genetic banking of breeding herds.

Installation of on-farm fodder and water infrastructure.

Activities that promote profitability and resilience as a result of the on-farm investment.
As you can see this loan is very versatile and could be suited to a number of different farmers and their needs. This loan programme enables farmers to invest in assets and infrastructure that will make the times ahead easier – whether dry or wet.
A hay shed for $23 a day
It doesn't take too much to work out that this loan is a great deal for farmers. On average, a standard hay shed will cost $60,000. When paid off over seven years under a Drought Assistance Fund loan this works out to be only $23 a day! That's incredible considering the return on investment a quality hay storage shed will provide and that it has the ability to store hundreds of hay bales.
Prepare for the future with a hay shed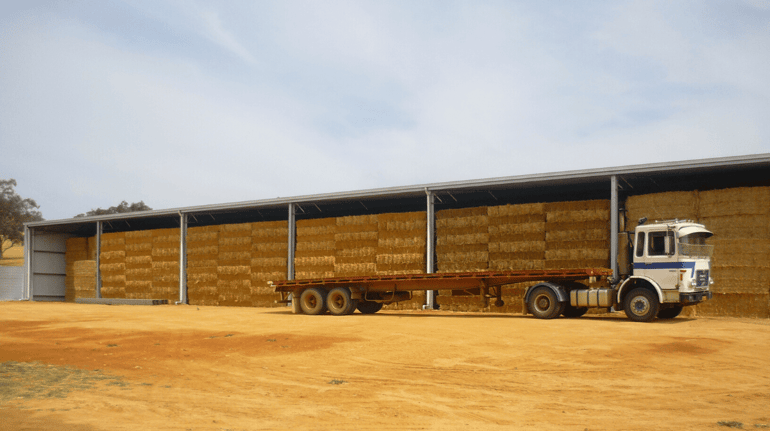 ABC Sheds - structural steel hay shed.
If you live in an area with minimal annual rainfall, a standard 15m x 32m hay shed can be a saving grace for any farmer looking to keep water up for livestock, as well as keeping feed fresh, safe and dry!
Looking at a 15m x 32m hay shed, with a minimal annual rainfall of 500mm, up to 240,000L of water could be potentially caught and stored. This equates to approximately 480 full water troughs (or 500L). Water calculations are taken from kingspan.com.
By investing in a hay shed, not only will you store your hay for as low as $23 a day, you can collect the water off the shed to further prepare you for the future, and the well-being of your livestock.
ABC Sheds offer custom-designed hay sheds to protect your bales from the elements. With our years of expertise in rural shed design and construction, we provide reliable storage for all of your hay bales. And with flexible bays, you will always have the right amount of storage space that you require.
If you're considering taking up a loan under the Drought Assistance Fund and would like some guidance around potential hay shed options available to you, get in touch with our friendly team today to discuss your hay storage needs!