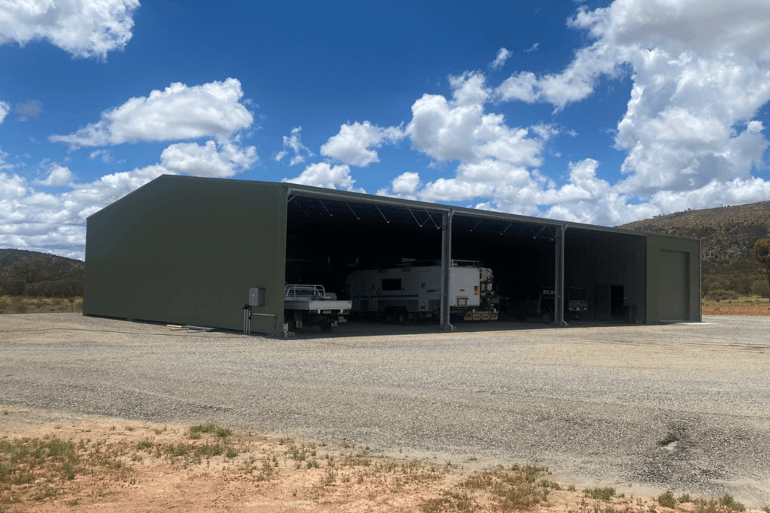 When purchasing any big ticket item like a new car, home or shed, it always helps to know the process involved so that you're well prepared before you start. In particular, the process of building a new shed can be a lengthy one and with manufacturing and building delays due to increased demand and material shortages, some people are surprised at just how long the process will take, from start to finish.
Here at ABC Sheds we like to be transparent with all of our processes. This is so you'll know what you can expect when you purchase a shed or industrial building from us, along with the steps we take to ensure you get the most exceptional experience.
Like anything building related there are specific steps that must be taken to ensure you get the most quality shed that's fit for your requirements. Here we outline the steps involved when buying a new ABC shed and how all of our teams from sales to production are with you at each point of the process.
1. Initial enquiry with a sales consultant
The first step most people take when buying a shed from us is an initial enquiry with a sales consultant. Often this is done online via our contact page or the request a quote page. Some people come to us with a specific shed design in mind already and may have used our online shed builder to design what their ultimate shed could look like. Completely free to use, this is a great tool as it lets you design your perfect shed before you place an order. You can then request a quote through the shed builder, for the specific shed that you have designed.

In some cases of the initial enquiry stage, our sales consultants may not have enough information to provide an accurate quote. They will be on the phone as soon as possible to discuss your requirements which will enable them to get a better idea of what you require.
2. Shed designed, engineered and quoted
At this stage it's over to our design team who will plan what your new shed will look like. They will ensure that every detail is factored in and that your shed is designed so that it meets engineering requirements. Depending on where you intend to erect the shed extra work may need to be done at the design stage to ensure that your shed is engineered for strong winds for example.

Once the design is complete the sales consultant will proceed to quote it up and they will email the quote through for your approval. Currently quotes are valid for 14 days, if your quote is older than that we recommend calling us to see if the pricing has changed.
3. Quote accepted and commencement invoice raised
Once the quote has been accepted a commencement invoice is then raised. This is a very important step as once the deposit is paid, it ensures that we can manufacture your shed at the price we have quoted.

With the current construction boom we're seeing here in Australia along with material shortages and subsequent delays, locking in your pricing early ensures that should the cost of steel rise, your quote will not increase.
4. Engineering and plans submitted to council
At this stage of the process the design team will take a final look at your shed plans to ensure any final engineering work is completed. Once they're happy with your plans they are then submitted to your local council should council approval be required.
5. Council approval
Depending on the type of shed you are building and your location in Australia, you may be required to gain council approval, before we can progress with your shed. For example, if you are building a commercial shed in New South Wales, the New South Wales Government has a number of requirements and standards in place that must be adhered to.

While we don't directly assist with gaining council approval, our projects team will be more than happy to direct you to the necessary forms if required. It is worth noting that it does take time for council approval, so this will need to be factored into your schedule if required. To account for this some customers will purchase just the engineering for their sheds and submit that to council and once they have gained approval, they will then pay the commencement fee. The downside of this is buying the engineering plans alone, doesn't lock your price in – it will have to be re-quoted once approval has been obtained from council.
Ready to get started with a new shed? Design what your shed will look like with our free online shed builder >>
6. Steel purchased
This step in the process is where things start to get exciting! Once any required approvals are acquired, we can then get onto purchasing all of the steel required for your shed. All of our sheds are manufactured using quality structural steel which is perfect for the tough and varying weather conditions we can face here in Australia. Structural steel also has the added benefit that it can be hot-dip galvanised which offers extra protection from the elements and harsh weather conditions.
7. Manufacturing commences
Once your steel arrives it's then over to our production team who will manufacture all of the steel components such as columns and beams that may be needed for your shed. Here at ABC Sheds we also have our own in-house plasma cutter which ensures we can manufacture almost every piece of your shed, which helps to cut down manufacturing delays. Throughout the entire manufacturing process you will receive regular progress updates from our team and photos of your shed being made.

Our workshop contains the best of the best and we feel very lucky to have a talented production team of welders, boilermakers, leading hands and trades assistants who ensure that all of our sheds are manufactured to the highest standard.
8. Shed delivered to site
Once all parts of your shed have been manufactured it will then be delivered on an ABC Sheds truck, direct to your site. Our sheds are packaged as a kit which means everything comes on the one truck. Once it's been loaded up you'll get an update and some photos from our customer service team who will let you know that it's on its way. You will also receive a tracking link so that you can track the progress of the truck, live on GPS!
9. Erectors install your shed
The last step and the most exciting one in the shed buying process is when it's finally time to erect your brand new ABC shed! As we've mentioned, your shed will be delivered as a kit which makes it relatively simple to install – some would even compare it to a Meccano set! All of our sheds come with an erecting DVD and installation manual which details how the shed should be installed – this can prove very useful should you be erecting the shed yourself or employing your own shed builders.

If you need your shed installed, we are more than happy to arrange shed erectors for you. We have relationships with a number of excellent building contractors who are very used to working with and installing ABC sheds. Keen to see just how quickly an ABC shed goes up? Take a look at the time lapse below!
Designed for you, built to last
As you can see there are lots of steps involved when buying a shed. We hope that this blog has given you a better idea of the process involved when buying an ABC shed, and what you can expect from us.

From sales through to production our team is with you at every step of the process to ensure you get a shed that's designed exactly for your requirements, and stands the test of time. Every ABC shed is also backed up by a 25-year "you're covered" guarantee so if something's not quite right, you're covered.

Interested in a new farm shed, industrial building or covered arena for your property? Contact us below to request a free no-obligation quote.