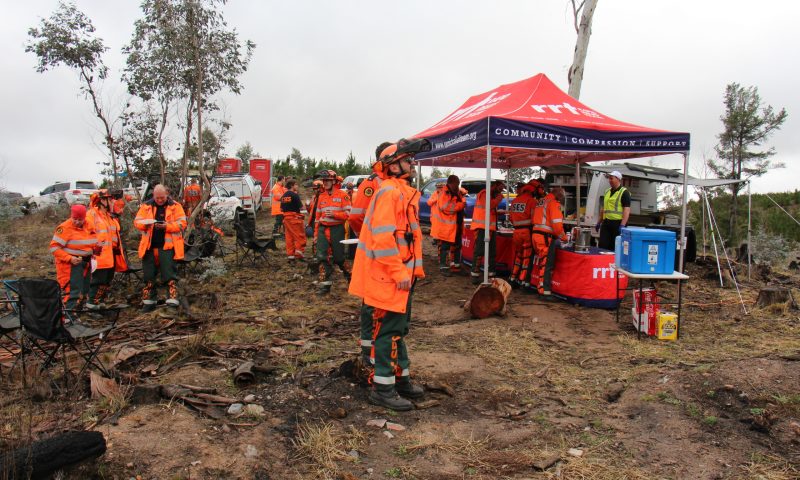 Just like you, we were devastated to see the toll the recent Australian bushfires took on loved ones, communities, forests, and our wildlife. While we managed to stay away from the worst of the fires here in Young, New South Wales, it was heartbreaking to see the amount of damage caused from the fires across the country and to see many who lost their family homes and more.

Now with wild weather and floods ravaging some parts of Australia, it's even more important to keep supporting our firefighters, medical workers and other emergency services during times of crisis so they can keep up the amazing work they do, every single day. That's why for every shed sold during the months of February and March, we will be donating $1,000 to our friends over at the Rapid Relief Team.
Find out more about why we're donating and the great work the Rapid Relief Team do.
Rapid Relief Team
Severe weather conditions like the bushfires have meant that many of Australia's emergency services have needed to be available around the clock, to assist in times of crisis. A community organisation that helps to ensure our emergency service workers are supported while on the job is the Rapid Relief Team (RRT).

During times of crisis, this charitable organisation works hard to lend a hand to those on the frontline – during the recent bushfires, you would've found them assisting and replenishing Australia's emergency service crews on the ground, around the clock. The Rapid Relief Team is made up entirely of volunteers who make themselves available to help out around their normal day-to-day jobs. Several members of our team at ABC Sheds are volunteers for RRT and have seen the impact first-hand.

It is because of this great work and their continued efforts, that we choose to support such a great organisation like the Rapid Relief Team.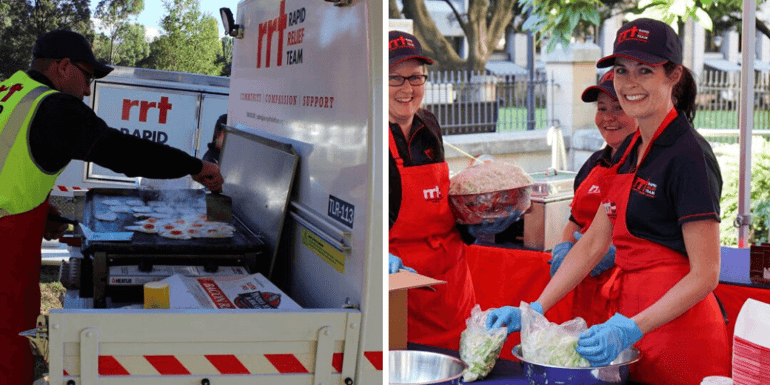 The Rapid Relief Team are always on hand to assist our emergency services during times of need. Image 1 Source. Image 2 Source.
Ways that RRT lend a hand
You'll find the Rapid Relief Team volunteers helping communities across Australia, and the globe, during times of need. These are just some of the ways that the team have assisted with the droughts and bushfires.
Livestock pellets for farmers affected by drought
With record-high daily temperatures reached around the nation and a 'super drought' declared in 2019, farmers across Australia have been dealing with the harsh ramifications of such extreme weather, and have struggled to provide their livestock with substantial feed and water. Many farmers have also had to sell off some of their livestock just to make ends meet.

The Rapid Relief Team has donated 428 tons of livestock pellets (supplied by AMBOS Stockfeeds) to farmers financially affected by the drought in Cobar and Warren, NSW. From August 2019, RRT also hosted six Farmers Community Connect events, donating more than 1,000 tons of livestock pellets to farmers in Tullamore, Nymagee, Condobolin and Narrabri.
Bushfire relief for NSW locals
In December 2019, the Rapid Relief Team held a bushfire relief effort 'Operation Fire Relief' which brought hope and a bit of Christmas cheer to locals who had been devastated by the bushfires in Taree and Wauchope – families tragically lost their homes to the bushfires.

RRT gifted 71 families $1,000 gift cards just in time for Christmas, to help them rebuild their lives after losing their homes, and belongings to the fires. The donated gift voucher was given to locals alongside a family food box, and an RRT Cookie the Kookaburra toy for the kids.

The Rapid Relief Team has supported three fire-ravaged communities. During 2020 they will continue to provide support to other communities who have been impacted by the fires.
Water tank filling
Towards the end of 2019 the Rapid Relief Team designed and engineered a mobile water pump and frac tank to provide fire trucks on the frontline with access to hard to reach water. In the first 72 hours of use, RRT's Rapid Water System filled 200 fire trucks, including the largest fire truck, the CAT 1, which holds up to 3,500 litres of water and takes just 2 minutes and 38 seconds to fill.

The $450,000 Rapid Water System has been designed to assist Australia's firefighting efforts by making water that was inaccessible due to remote locations, available for emergency services to use.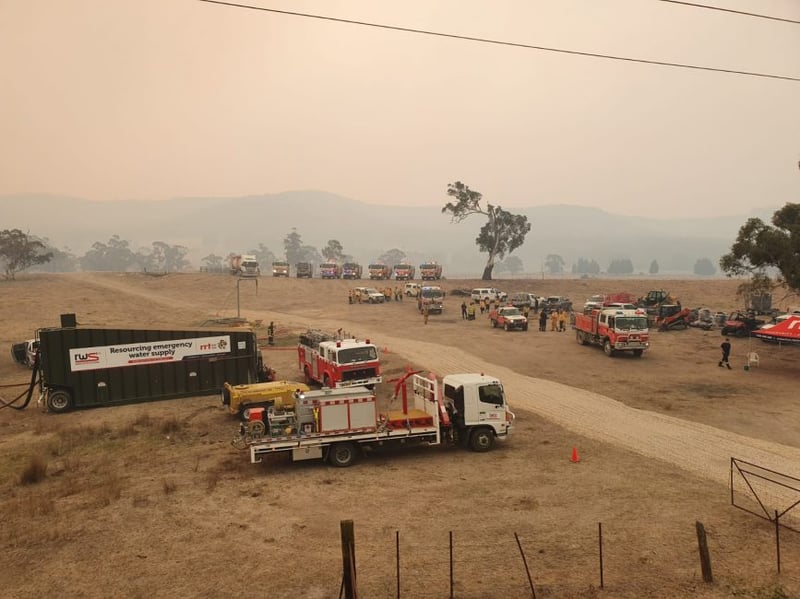 RRT's Rapid Water System in action. Image Source.
RRT across the globe
During 2019 the efforts of the Rapid Relief Team reached new heights supporting people in need, across the globe. Together RRT volunteer teams served 327,266 meals at 1,649 events! Check out this video for some 2019 highlights.
Funds for fires
For every shed we sell during the months of February and March 2020, we will be donating $1,000 to the Rapid Relief Team so that they can continue doing an amazing job, and assisting during times of crisis like the bushfires. The money donated will go directly back into the Rapid Relief Team, to make sure they have everything they require to assist with current and future emergencies.

So if you've been eyeing up an ABC shed then now's a great month to purchase what you require, knowing that ABC will send $1,000 across to RRT as a result.

If you require more information get in touch with us here. To view our complete range of sheds download our free product catalogue.