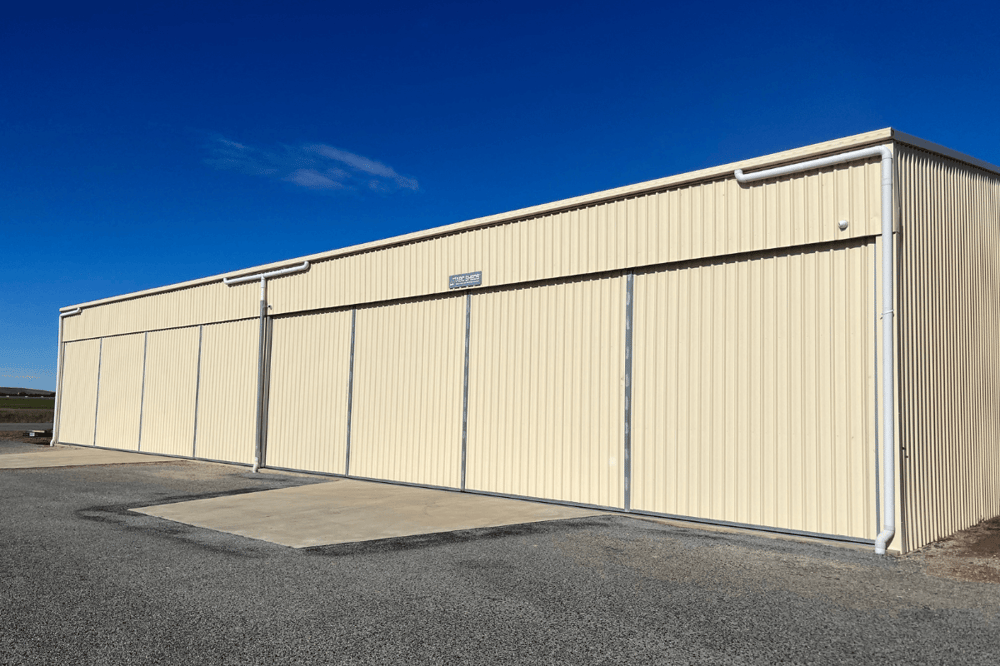 For most farm sheds and industrial buildings, door access is crucial. To keep your operations running smoothly, and the costs low, you need to choose a low-maintenance option to improve efficiency, durability and security.

The question is – are roller doors or sliding doors better?
In this article, we explore the pros and cons of each type of door, which applications they suit, and the basic costs so you can make an informed decision for your new shed.
Sliding doors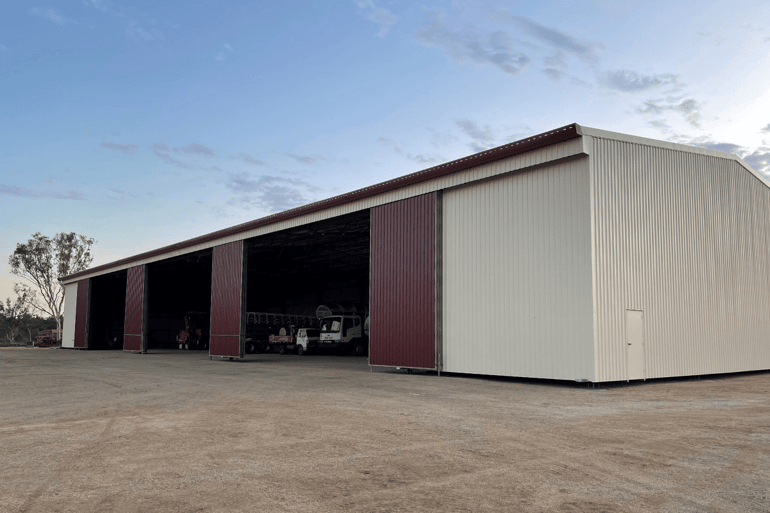 A sliding door opens along the wall of the shed, usually fixed to a rail or a track that keeps it in place. For longer sheds, multiple sliding doors may be installed.
Pros of sliding doors
Sliding doors offer several benefits, including:
Low maintenance

Cheap to repair (if damaged by something hitting the doors)

Easy to install after the shed is built

Large opening span

Can open as wide as the shed using outriggers.
Cons of sliding doors
Doesn't seal as well as a roller door

Not easily motorised

Doors need space to slide into which may impact on space around the shed or other bays.
Suitable applications for sliding doors
Sliding doors are suitable for any shed but are most commonly used for farm machinery sheds – especially those in rural locations. Sliding doors have a much wider span, so frequently used vehicles are easier to access. Additionally, most farm sheds do not require as much security as commercial or industrial sheds.
Basic costs of sliding doors
Sliding doors vary in price due to the span and number of bays you want to open at once. A basic sliding door for a shed could start at $3,000 and, depending on whether you choose a double or triple track, could be as much as $20,000.
Roller doors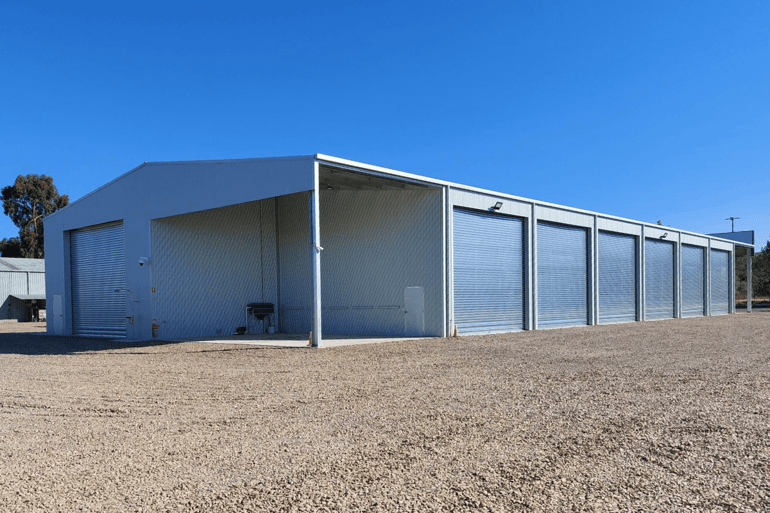 Roller doors consist of connected slats that wrap around themselves above the door opening. They are very common in industrial and commercial buildings because they require no horizontal clearance, leaving space for equipment, vehicles, and accessibility.
Pros of roller doors
100% secure

100% sealable

Can open from the outside of the building with remotes, if this option is fitted.
Cons of roller doors
More expensive as it requires a technician to install

Moving parts increase the risk of malfunctioning

Can be expensive to repair

Requires extra height clearance

Doors will not open to full bay width

Restricted in maximum door size – unable to have 16m opening like sliding doors.
Suitable applications for roller doors
Roller doors are suited to industrial or commercial settings, particularly those requiring total security for peace of mind. With remote control access, they are ideal for warehouses and factories which need to make the most of every square metre.
Basic costs of roller doors
Typically, the cost of a shed roller door starts at around $3,000. That price will increase dramatically if the door has a wider span because it requires more engineering and materials to manufacture. For the widest available roller door, the price could be as high as $50,000. You should also note that the door clearance will increase the overall shed price because more materials and engineering are needed to accommodate it when it is open.
How to choose the right shed door
Now that you know the fundamentals of each type of door, there are a few considerations to make. Let's explore the key questions you need to ask yourself:
1. How big does your shed door need to be?
To determine the size and type of door your shed needs, you should consider what will be stored inside and how accessible the opening will be. For example, if the shed is used to store farm machinery, the door opening must be bigger than the largest vehicle. Consider how much vertical and horizontal clearance is required, and how easy it will be to manoeuvre everything inside.
2. How frequently will the door need to be used?
For the ultimate ease of use, you need to think about how often the door will be accessed. For commercial sheds, a remote-controlled roller door is often the simplest, most convenient choice. For farm machinery, a wide sliding door would be easier to use.
3. Are there any shed ventilation and weatherproofing requirements?
Depending on the purpose and location of your shed, there may be an added need for airflow and protection from weather conditions. If you need the shed to be dust-proof then a roller door would be best.
4. Does the door provide enough shed security?
If you decide that full security is a top priority, a roller door would be most suitable. This is especially relevant for commercial and industrial sheds that store lots of equipment, but not so much for farm sheds.
5. How easily can the door be installed and repaired?
The shed door you choose determines the installation costs, as well as the frequency of maintenance. For example, a sliding door will usually require fewer repairs and will be easier to install. On the other hand, roller doors contain more moving parts, meaning repairs are more frequent and costly.
In summary
To sum up the above points, the ultimate answer is that neither type of door is better than the other, but rather they each serve different purposes. Roller doors and sliding doors each have their place, and the most suitable option for your shed will depend on your priorities.

Whether you need security, protection from the weather, easy access, or a wider opening span, the ABC Sheds team can help you to find the right door type. In our years of experience, we've worked on all kinds of sheds, including:
Yard covers

Horse arenas

Hay sheds

Machinery sheds

Industrial sheds

Aircraft hangars

Workshops

Grain sheds

Farm machinery sheds

Custom-designed sheds
For the expert advice and industry insights you need, contact our friendly team today. Or discover your options and plan your perfect shed using our virtual shed builder below.