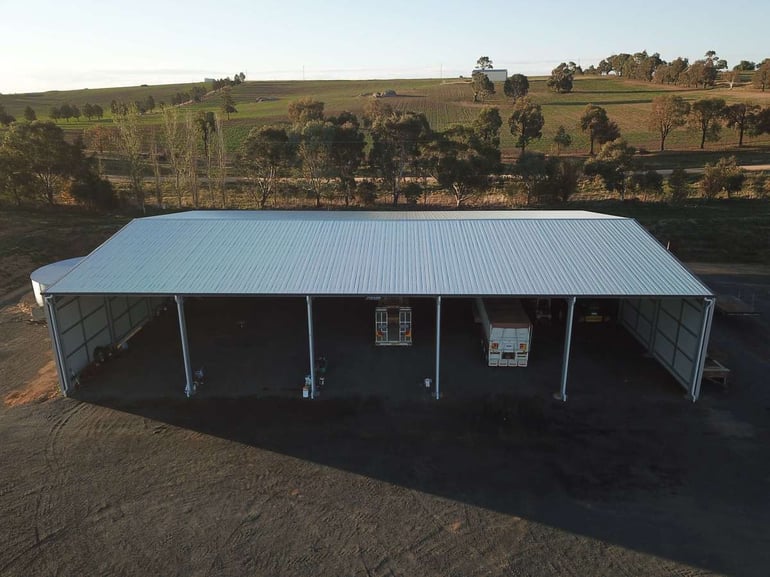 If you operate a farm there's no doubt that you will have farm machinery and equipment on-site that you use on a daily basis. Farm machinery is a big investment for any farmer so it's important that this machinery remains as protected as possible. While the weather in Australia can be temperamental and a cause for concern at any time of the year, the risk of potential trespassers is also enough of a worry for any farmer to want to keep their valuable machinery safe and secure. One of the easiest and most simple ways to keep your machinery and equipment safe is to invest in a farm machinery shed.
There are many different styles and designs of farm sheds and it's important to consider exactly what you will use your shed for and how you will use it, before you get started with the shed build. As experts in rural and industrial buildings, we've outlined some essential factors that you should consider before you get underway with your new shed.
What machinery will you store in your shed?
Probably the most important consideration for anyone about to embark on building a new farm machinery shed, is to think about how much machinery and equipment you will need to store in the shed. As a starting point, it may help to make a list of all of the machinery you'd like to store in the shed. From there you can note down the size of each piece of machinery and how much space it will likely take up giving you a good idea of how big (or small) you will need your new shed to be.

While there should be enough room to safely secure your machinery, you should also allow for some extra room should you invest in another piece of equipment. You will also need to consider whether you'll have enough room to move around the shed, once your machinery is stored inside. If you think you may find it hard to move around all of your various pieces of equipment once they're all safely secured inside, then you'll want to reconsider the size of your shed.

Future-proofing your shed now will save you money in the long run and will ensure that you won't have to spend twice the money building another farm machinery shed when you run out of room!
Check out our free farm sheds brochure for shed inspiration >>
Consider the weather
Depending on where you live in Australia, you can face very harsh weather conditions – from harsh sun and incredibly hot temperatures to heavy rain and high winds, it's important to make sure any structures you have on your farm can withstand all types of weather. One way to mitigate this is by carefully planning the orientation of your shed to consider the direction that the weather comes from – this is particularly important if your shed won't be fully enclosed.
Make sure that your shed is pointed away from the incoming direction of high winds and rain to ensure the best protection possible for your farm machinery. If you live in an area prone to flooding, you may also want to consider building your shed on higher ground. You may also want to consider sheeting the walls that are most exposed to the weather, for extra protection.
Size of the bays
Most farm machinery sheds can be custom-designed to meet your specific requirements. The sizing of bays and how many you include in your shed is something many farmers will customise based on how much space they need in their shed, and the size of the machinery they wish to store inside.

A bay is essentially the amount of space between the columns inside the shed so the wider that these are, the more space you will have to store your machinery inside. This can come in very handy if you have large tractors or trucks that you will need to house in your farm machinery shed. There are restrictions on how far apart bays can be as they provide the structural support for the roof but if you know what's going inside the shed, then a specialist building firm can figure out a way to position structural elements so you get the access required while maintaining strength.
If you're looking to store large machinery items and you're concerned about supporting the roof of your shed, trussovers can always be used to provide extra structural support to the roof. Like the example below, trussovers have been added to this combined farm shed for optimum support, due to very wide bays.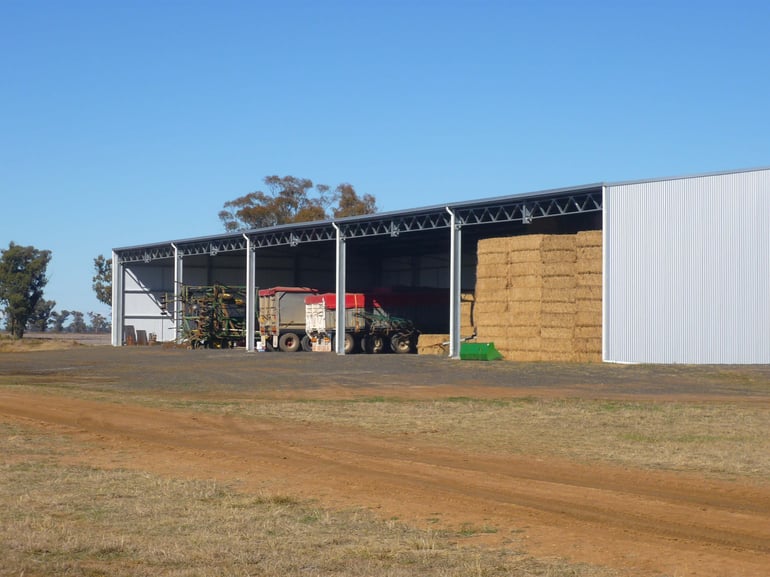 This combined hay and machinery shed with wide bays utilises trussovers to support the roof.
Open sides or fully enclosed shed?
One of the most essential considerations for any new farm machinery shed is how many walls you will choose to include in your shed. If you will be accessing your shed frequently and driving machinery in and out you may want to consider removing a wall or two to make access easier. If security is more of a concern (which it tends to be with a lot of farmers we speak to), we would encourage you to consider a fully enclosed and lockable farm machinery shed.

A secure farm shed will not only help to protect from trespassers and potential theft, but it will also help to keep your machinery safe from harsh weather conditions. If you're concerned about being able to get large machinery out easily, sliding or rolling doors can be easily fitted. And with the option of adding a personal access door to the shed, getting into your shed will be a breeze.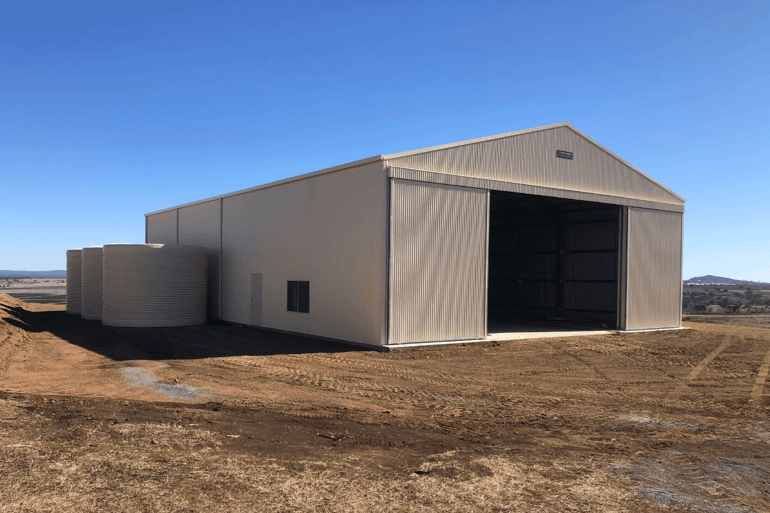 ABC Sheds farm machinery shed featuring sliding doors for ultimate security.
Choose a custom-designed farm machinery shed
If you're ready to discuss a farm machinery shed for your property then you're in the right place! Here at ABC Sheds we'll help you design the perfect farm machinery shed for your property. If you need large openings to fit headers or boom sprays, we've got you covered. We offer custom shed designs to suit your specific storage capacity – our sheds can have bay openings of up to 16 metres in width giving you ultimate flexibility.

So whether you want farm equipment storage with sliding doors, open-gable ends, or fully enclosed bays, our team can provide the best option for your specific needs. Ready to get started? Get in touch now to request a quote or talk to us today to discuss your farm machinery shed needs.

Want to take a look at farm machinery sheds we've completed previously? Check out our free farm sheds brochure here.