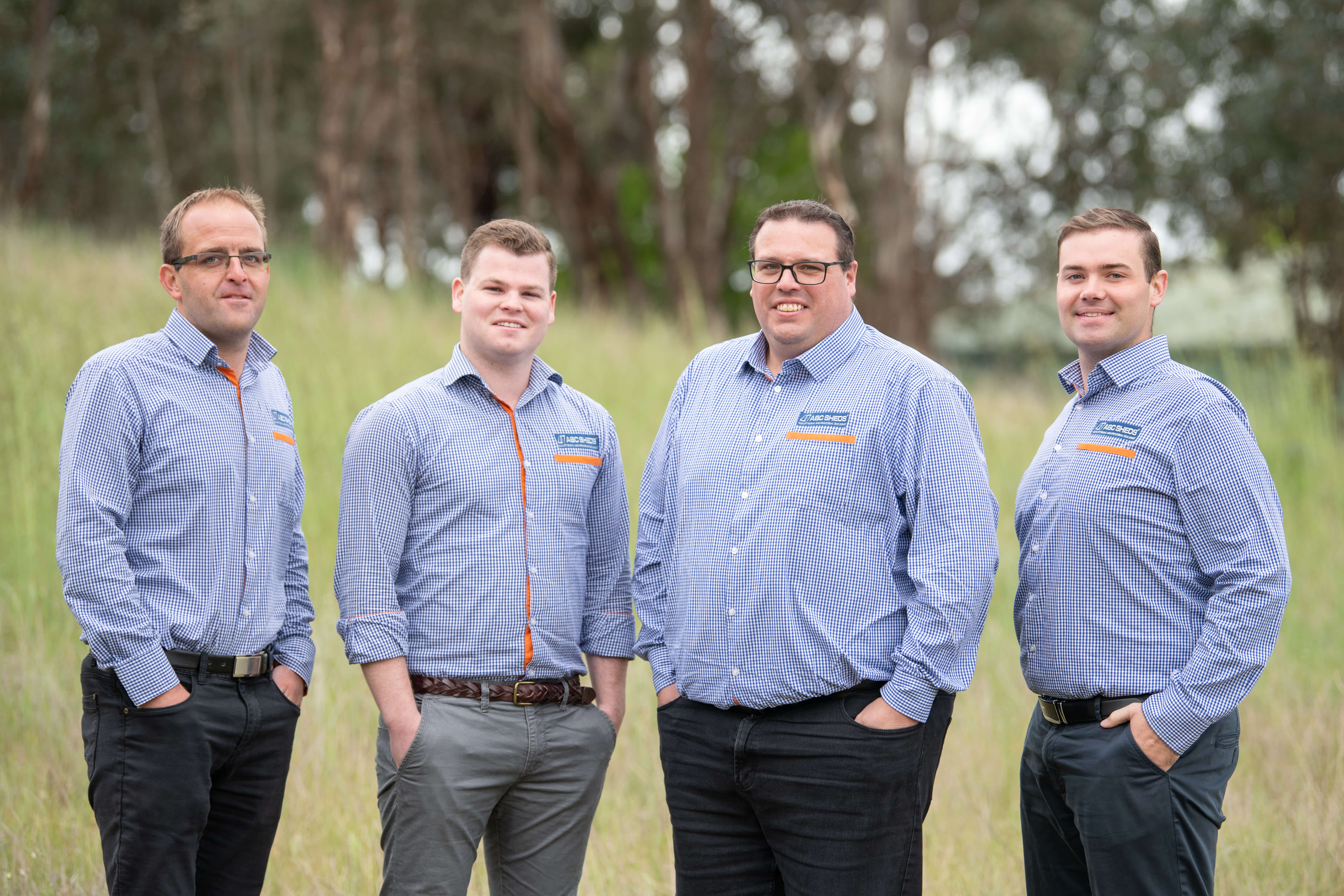 The ABC Sheds Sales Team
Discussing people's dream shed means we're asked a bunch of questions each time. And while we do have an FAQ section on our website to cover many of these, that doesn't mean we don't see the same few questions appear every so often.
In this month's article, we sat down with our sales team and discussed what questions they are commonly asked. So if you're in the process of thinking about a new farm, commercial or equestrian shed why not see if any of these questions are similar to what you're thinking of asking?
What is the maximum depth that your buildings can span?
Our buildings are engineered to span from 12 metres (30 feet) up to 60 metres (200 feet) clear span and further if needed. We can span longer distances but this will involve columns at various points to support the roof structure.
If you're after an uninterrupted central space then these clearspan distances are the ones you should consider but if columns aren't a hindrance to your plans then we can discuss greater depths to meet your needs.
Are your buildings compliant with the Building Codes of Australia?
And are your buildings compliant with Australian engineering standards? Absolutely. All structures are site specifically engineered by an independent structural engineer. Not only are they compliant – they exceed the requirements for Australia.
So if you're looking for a shed that's built to last then look no further than an ABC Sheds steel structure!
I need help putting my shed through council – can ABC Sheds help?
Too right! All of our sheds come complete with a set of plans and certification from our engineer for submitting to the council. Council applications can be completed by yourself or a private certifier at your expense. So while we won't submit them to the council on your behalf we will support you with the necessary engineering information to make the process as easy as possible.
In order to receive my Be Rewarded! gift card – do I have to place an order with you?
No. The Be Rewarded gift card programme is also for referrals so if the friend that you referred to us places their order before you we will still send you your card once their commencement payment has been received.
You don't even have to be a customer of ours to get your Be Rewarded gift card. Simply refer a friend that does buy from us and you'll be rewarded.
What are the benefits of galvanised columns & trusses?
Regardless of whether you live on the coast or inland, your shed is exposed to a risk of corrosion. Galvanising is the best protection on offer against these harmful effects.
Some of the benefits of galvanisation include increasing the life expectancy of galvanised columns & trusses, far in excess of 50 years. Galvanising your steel shed also provides neat even protection for your column's frame, something that no other coating can do.
Because our steel is galvanised after welding the fabricated columns and trusses have the ultimate protection against the elements. If you're looking at a competitor double-check that they weld before galvanising and don't simply touch up the welds with galvanised paint!
Can I erect my shed myself?
Certainly. The construction is a simple bolt-together process and providing you have the necessary access equipment it's easy. Every kit shed comes with footing cages, bolts, screws, downpipes, gutters, flashings and an instructional DVD with a clear set of instructions as to where everything is to be installed. You will also be assigned a dedicated project manager that will be willing to assist you throughout the build.
So if you want to save time and money by erecting your shed yourself then the process couldn't be easier. However, if you would rather enlist the help of a professional we can help!
I got a price from ABC Sheds for the erection of my shed – what is included in that price?
Our full-service shed erection service is the stress-free option for ensuring your shed is constructed to the highest standard and with minimal fuss.
Our shed erection prices include;
all pier hole boring

crane hire

scissor lift hire

accommodation for the erection crew
The only additional expense will be the concrete for the piers, which your Project Co-Ordinator will source locally and confirm pricing before the pour. If during pier hole boring rock is struck, there may be additional charges incurred. Again, your Project Co-ordinator will confirm before proceeding with the dig.
Are ABC Sheds Shed Safe accredited?
Shed Safe accreditation only applies to purlin construction sheds. ABC Sheds use UB columns and open web truss construction which exceeds all building standards and is inherently safer and stronger, so it is not required to have Shed Safe accreditation to prove its strength and safety.
Does ABC Sheds build garages and carports?
If you want a 12m deep and 60m long garage and carport then, yes! Because we build structural steel sheds these are best suited for larger spans and stronger sheds. If you need a large external building to store a car collection or large farm equipment then our sheds are perfect. If you just want a small garage or carport for one or two vehicles then there are more cost-effective solutions available to you.
While we've done our best to outline many of the most common questions we're asked in this article there might be a few questions that we haven't been able to cover. If that's the case you can check out our full FAQ page on our website, or you can chat with a member of our team using the website chat in the bottom right corner of our website.
Do you have more questions? Why not contact a member of the team using any of the methods already mentioned or simply submit your question using our contact us page or by clicking the button below.