In the past twelve months, we've been busily working on sheds all over Australia. With material shortages and unpredictable weather, it sure has been a wild ride for the shed-building industry. Despite all of the challenges, the ABC Sheds team is proud of what we have achieved, with 170+ new sheds being built across the country.

To inspire your next shed, we thought we'd share a few of our favourites from 2022 with you. From large industrial buildings to loafing barns, our team share all of their highlights. Find out what they had to say below.

Favourite project: Three-sided grain shed

Location: Condobolin, New South Wales
Shed size: 42m x 21m x 6m
At 42m by 21m, this three-sided grain shed is incredibly versatile. For our hardworking clients, a multi-purpose shed is a wise investment – especially in these dimensions!

Featuring large concrete panels, this shed is perfect for grain storage all-year-round. And with large awnings on either side, this shed will also come in useful for all other farm storage needs. Whether it be machinery or general farm supplies, this shed has plenty of space both now and into the future.
Features include:
Three enclosed walls

7 bays at 6 metres wide

Large awnings for additional storage

Hot-dip galvanised columns and trusses.
Check out this project's progress below!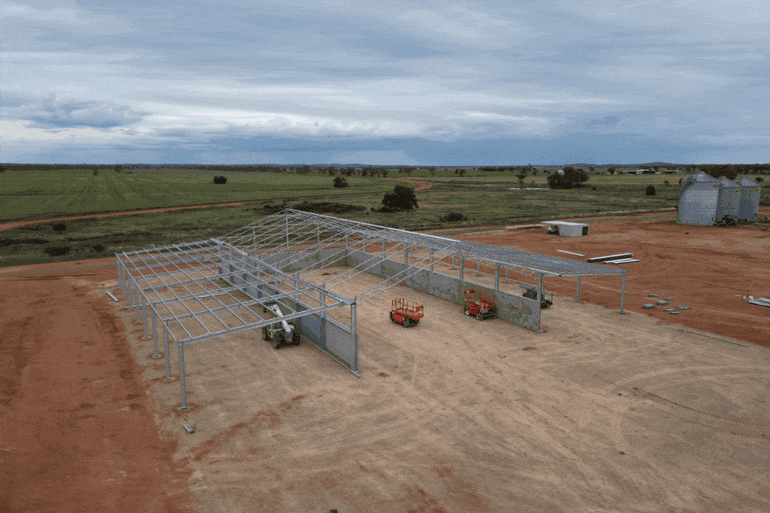 Favourite project: Large-scale industrial building
Location: Stapylton, Queensland
Shed size: 90m x 31.6m x 13.5m
At 90m by 31.6m by 13.5m, this massive industrial building is one of our biggest and tallest yet! Complete with concrete panels of various heights, internal wall cladding, and structural steel purlins, we are incredibly proud of this custom industrial design. We look forward to seeing the finished product very soon – we're sure our client will get great use out of this large, versatile building.
Features include:
Concrete panels with varying dimensions

Internal wall cladding

Structural steel purlins.
See a preview of this show-stopping shed below!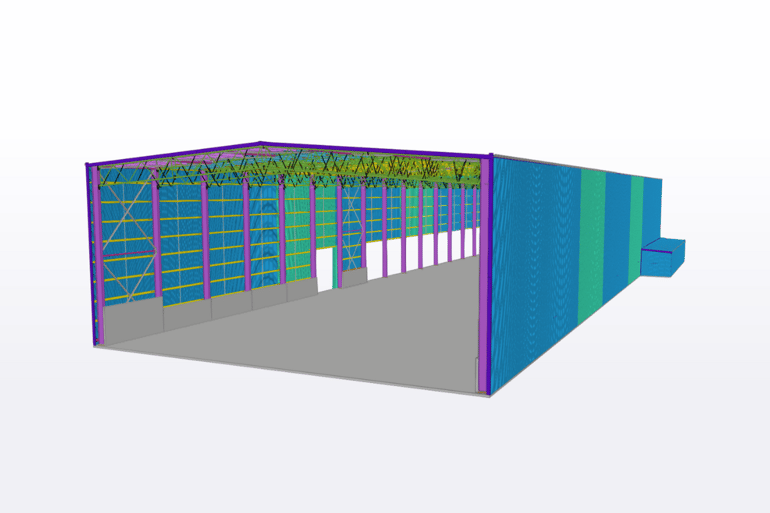 Favourite project: Loafing barn
Location: Korumburra, Victoria
Shed size: 152m x 21m x 5m
Built for a client in Korumburra, this farm shed was a favourite for its impressive scale. To provide optimal efficiency for livestock management, we built a whopping 152m long loafing barn with a full wall of concrete panels and steel cladding.

By protecting animals from the weather and allowing plenty of room to move inside, this barn has already improved the farm's productivity. Paired with a concrete slab along its entire length, this shed is sure to keep both farmers and cattle happy for decades to come.
Features include:
Large concrete panels

19 bays at 8 metres wide

Hot-dip galvanised columns and trusses.
See this shed in all its glory below!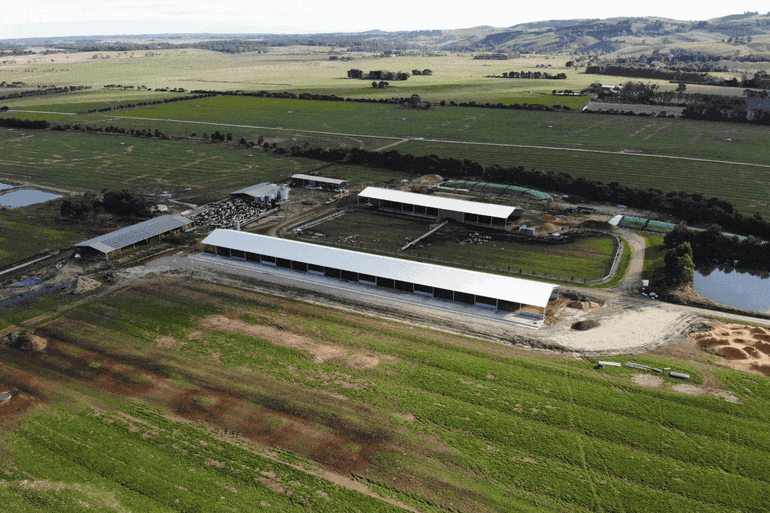 Favourite project: Industrial shed and stable building
Location: Jindabyne, New South Wales
Shed size: 20m x 14m x 7m
In the town of Jindabyne near the Snowy Mountains, this industrial shed was a fun challenge for our team. The client needed a large steel shed with Aircell insulation, skylights, and clearance for a 5-tonne gantry crane. In addition, the cold climate meant the shed had to be engineered for heavy snow loads.

Conquering the rocky terrain, we worked closely with the client to bring this practical shed to life. The result is a durable shed with a spacious 7m roof clearance, powder-coated runway beams, a classy Colorbond Monument finish, and a cantilevered awning over the door. This way, the team can easily access the shed whatever the weather.

Taking advantage of our two-shed deal, the client decided to construct a stable building as well. Being four hours away from our factory in Young allowed us to complete both projects simultaneously, providing a cost-effective, streamlined service.

Features include:
Monument Colorbond finish

Cantilevered awning

Personal access doors are inset into the sliding doors

Powder-coated crane runway beams

Translucent sheet skylight.



From the initial concept to construction, view the progress of this shed below!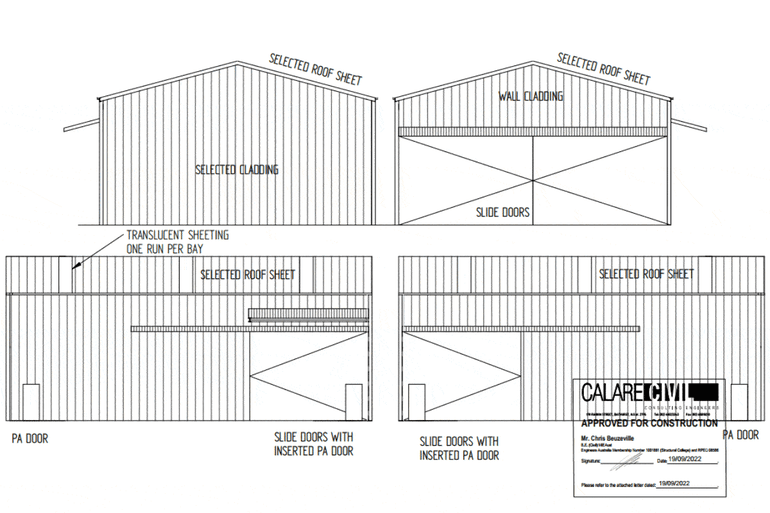 Whatever your shed needs are, we hope our 2022 top picks have sparked some ideas and shown just how beneficial a new steel shed can be. From farm storage to industrial buildings and everything in between, a structural steel shed is a practical, durable, and stress-free solution.

If you need a shed that works as hard as you do, contact the ABC Sheds team today. Our sheds are built for Australian conditions and exceed national standards, so you can be confident yours will stand the test of time.
All our sheds include:
High-quality materials

25-year "you're covered" guarantee

Galvanised structural steel frame

Finance options

Customised designs

Quick and easy installation.
With over 25 years in the business, we've built sheds for all kinds of applications so whatever you need, we've got you covered. From planning and consent to the final installation, we'll guide you through the whole process.

Ready to get your new shed sorted? Check out the full range in our brochure to see your options.