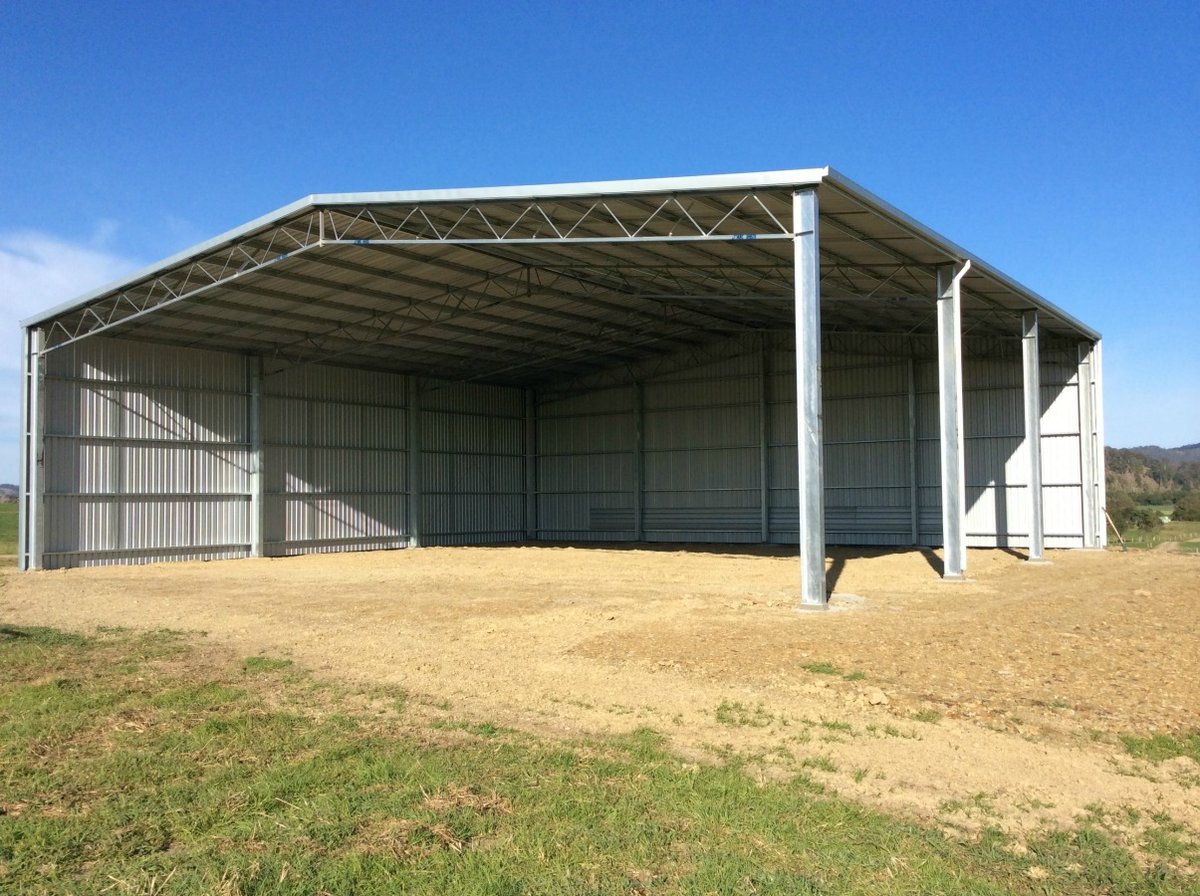 Any farmer with livestock knows the effort and cost involved in continuing to buy feed for their animals, especially during a time of drought, flooding or other challenging circumstances. Recent environmental challenges have highlighted the challenges farmers face in preparing and protecting their feed and pasture. Feed loss might come in the form of a devastated pasture with crops useless before they're harvested or it may come in the form of harvested feed losing nutrients due to improper storage. And while you can't stop every form of feed loss, you might be able to reduce that loss by taking additional steps to protect it.
A shed may seem expensive but the ongoing loss of feed, and the impact this can have on the health of your livestock, mean the long-term losses can be significant too. There are several incentives, grants and schemes available which can lower the cost of protecting your most valuable assets. In this article, we'll explore a few of these.

Something as simple as a well-structured hay shed or feedlot shelter can make all the difference when it comes to feeding your stock and keeping feed like hay protected from the elements. Farmers who have the capacity to collect and store large amounts of feed, not only have the benefit of protecting their own assets but the potential of selling their overflow to increase cash reserves.

If you're a farmer living in New South Wales and need a new shed for your farm, you could be eligible for financial assistance through the Rural Assistance Authority Farm Innovation Fund (RAA). In this blog, we've outlined the basics of the Farm Innovation Fund including what it involves and how much you could loan for a new shed for your farm.

There's also a new fund, launched in the wake of the devastating bushfires across Eastern Australia. Grants of up to $75,000 will be made available to farmers in bushfire-affected areas. We'll explain this one a little more and help you find out if you might be eligible for either fund. Find out more below.
What is the Farm Innovation Fund?
The Farm Innovation Fund is part of the New South Wales government's drought strategy which offers NSW farmers a long term, low-interest loan for permanent on-farm infrastructure. Applications can be made any time during the year with funding available to meet the cost of carrying out permanent capital works that will have a beneficial impact on the land, long term profitability of the business, and address adverse seasonal conditions.

Before you consider applying for the Farm Innovation Fund, you must make sure that the work you wish to carry out is for permanent on-farm infrastructure. The Farm Innovation Fund can help specifically with projects like:
Improve farm productivity
Reduce risks and improve efficiencies by building hay and grain storage facilities, sheds, fencing, roadworks or solar power conversions.
Manage tough seasonal conditions
Improve water efficiencies with irrigation systems, cap and piping of bores, new dams, installation of water tanks and desilting of ground tanks.
Ensure long term sustainability
Help to increase the viability of a farm business and improve pasture and soil health, plant trees for shade and wildlife corridors, eradicate weeds, flood-proof the property and fence river banks.
Eligibility criteria
To be eligible to apply for a loan you must meet the following criteria:
Own or operate a farm in NSW where the work will be carried out.
Operate as a sole trader, partnership or private company, trading in agricultural products.
Show that the farm provides at least 50% of your total gross income, under normal conditions.
Be registered with the Australian Taxation Office (ATO) as a primary producer and have an Australian Business Number (ABN).
You must not have more than $5 million in gross off-farm assets.
You must demonstrate that the work you want to carry out on the farm will have a beneficial impact on your land and will help to prepare you for adverse seasonal conditions like drought.
Show that your farm is sustainable long-term and will be able to repay the loan.
Finally, you must ensure you have the security required for the loan.
Find more details and full eligibility criteria here.
Farm Innovation Fund loan details
The RAA has $1 billion in funding available for farmers who wish to use the fund for permanent on-farm infrastructure.

If you're a NSW resident looking to apply it's important to note the following details:
You can borrow up to a maximum of $1 million to build on-farm infrastructure, like a farm shed.
Interest rate fixed at 2.5%.
The loan term is up to 20 years.
Security – there is a statutory charge and registered caveat over the property.
The Farm Innovation Fund guidelines outline complete eligibility details, and what projects can be undertaken through the fund.
The application process
Anyone wanting to apply for a loan through the Farm Innovation Fund is required to complete an application before costs are incurred. The Farm Innovation Fund guidelines outline what you can apply for and how to apply. It's very easy to apply online, you will just need to make sure you have access to the following documents before you start:
Signed mortgage lenders consent form from your existing mortgagee.
Last 3 years balance sheets and financial statements of your farm.
Last 3 years individual taxation returns and a current listing of all assets & liabilities held by:

Individual members of a partnership/ family trust.
Individual director(s)/shareholder(s) of all companies.

A copy of your farm business and risk assessment plan.
A monthly cash flow budget for the next 12 months.
A copy of the current LGA (council) rates and LLS rates notice(s) for the property(s) where the work will be completed.
Grants for fire-affected farmers
The Federal Government recently announced that grants, similar to the ones offered to flood-affected farmers in Queensland last year, will be available to help with rebuilding after the fires. Funds under the Disaster Recovery Funding Arrangement will be made available to state governments of impacted communities, on request, for delivery through the Emergency Bushfire Response in the Primary Industries Grants Program.

Details on the application process and other eligibility criteria are still being defined but the funds are designed to enable fire-affected farmers to access essentials like feed and water, while also helping to rebuild fencing or hire vital agricultural equipment like water pumps, irrigation systems, horticultural netting and generators. Using the funds to replace and repair farm buildings such as sheds remains to be seen but it's already been stated that any financial relief funding will be tax-exempt. If you feel like you might be eligible for this funding keep an eye on the NSW government's dedicated web page.
Whether you're looking for a new shed or you need to replace an existing one, the team at ABC Sheds are perfectly happy to help. There are a myriad of benefits to storing feed and with a proper storage facility like a hay shed, hay maintains its quality and the nutrition needed for feeding your livestock. This is where we step in!

ABC Sheds offer fully engineered structural steel sheds to protect your bales from the elements. With our unmatched expertise in shed design and construction, we bring reliable storage for all your hay bales and handling equipment.

To enquire about an ABC Shed for your property or for more information about the Farm Innovation Fund, please get in touch with us by clicking the button below and we'd be happy to help.