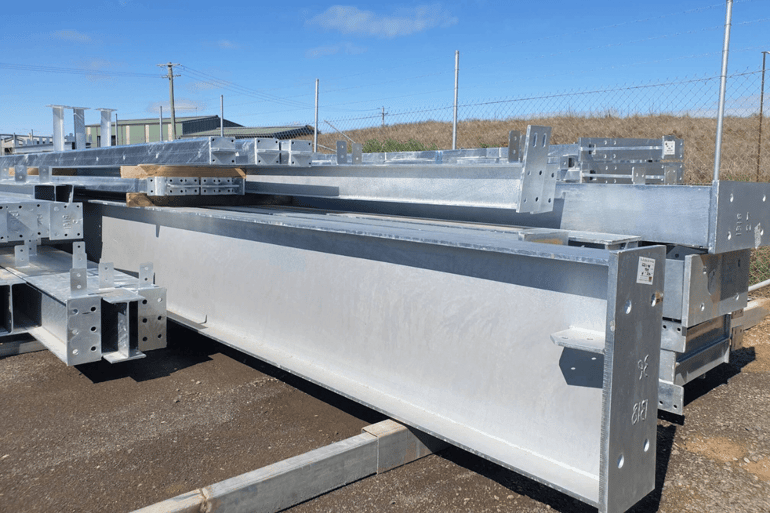 Here at ABC Sheds, we use hot-dip galvanising to ensure that our sheds can stand up to even the toughest Australian weather conditions. But, just what is hot-dip galvanising, and how does it protect a steel building like a shed?
In this blog, we'll take a look at the hot-dip galvanising process and how hot-dip galvanising is the best way to ensure that your shed stands the test of time.
What is hot-dip galvanising?
With often unpredictable weather conditions to contend with, hot-dip galvanising is one way to ensure that steel buildings like sheds are protected, and will last for many years to come. Harsh Australian climates, particularly along coastal areas can make steel more prone to corrosion.

Hot-dip galvanising is the process of immersing fabricated steel in molten zinc/alloy. The zinc coatings prevent oxidation of the protected metal by forming a barrier. This thick, tough metallic zinc envelope covers the steel surface and seals it from corrosion.
The hot-dip galvanising process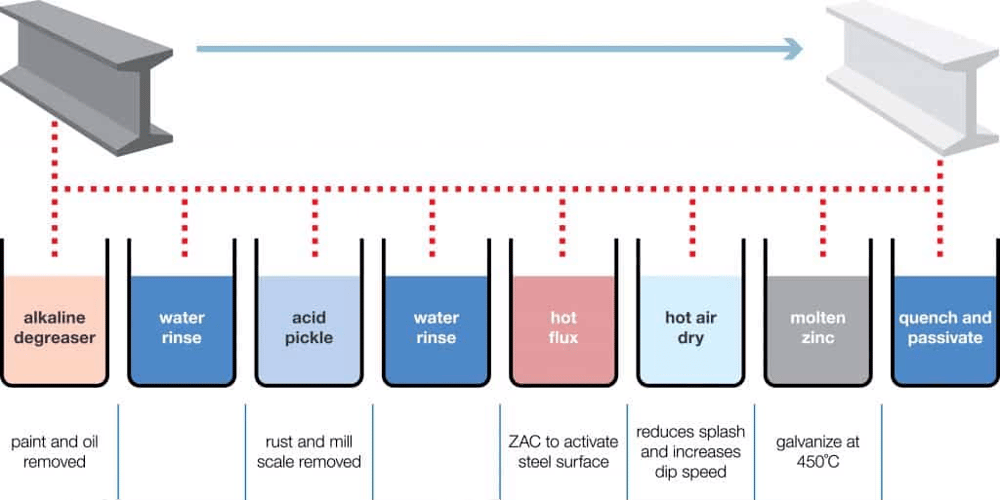 The hot-dip galvanising process. Source.
Steel gets put through several different steps or phases, while it's in the process of being galvanised. These important steps as outlined by the Galvanizers Association of Australia are included below.
1. Initial degreasing
The first step is ensuring that surface contaminants like oils and paint are carefully removed. This is done as a preliminary treatment, usually through a caustic solution. Some surface contaminants may need to be removed before the steel arrives at the galvanising facility.
2. Acid cleaning
After the initial degreasing, the steel then undergoes acid cleaning or 'pickling' which removes rust and any mill scale. Hydrochloric acid is commonly used during this step, although sulphuric acid is an alternative.
3. Hot fluxing
Once the steel has been acid-cleaned, it is then immersed in a flux solution. This solution contains zinc ammonium chloride and will be at a heat of between 50-70°C. The flux solution will remove any oxide film which forms on the steel surface after acid cleaning, preventing further oxidation. The steel is then dried so that it's ready for hot-dip galvanising.
4. Hot-dip galvanising
In the final stages, the steel is then galvanised by being dipped into molten zinc. This involves completely immersing the steel in a galvanising bath so that the steel's surface is completely covered by molten zinc. The molten zinc then reacts with the steel to form several zinc alloy layers.

So that the coating or 'layers' can form, the steel needs to remain in the galvanising bath until it reaches the same temperature of the molten zinc, 445°C to 465°C. The steel is then slowly pulled out of the bath at a controlled rate so that the outer layer of molten zinc solidifies, and forms a pure outer zinc coating.

When this process is followed, the molten zinc will cover corners and welds, and seal the edges of the steel. It will also penetrate any recesses to provide complete protection to any areas within the steel that could degrade from corrosion. The galvanised coating will be slightly thicker at corners and narrow edges to provide increased protection.

After being pulled out of the galvanising bath, the steel is then cooled in a quench solution, which will also prevent early oxidation of the zinc surface.
Here at ABC Sheds we design and manufacture our sheds so that they're built to last. Hot-dip galvanising the steel that is used to manufacture these sheds is a critical part of the process. We work with the team at Albury Galvanising who ensure that all of our steel columns are protected with hot-dip galvanising. Take a look behind the scenes and see how they use hot-dip galvanising to coat our steel, in the video below.
The protection that hot-dip galvanising provides
Steel that is hot-dip galvanised has the benefits of three different types of protection, making it perfect for sheds exposed to the elements. These types of protection as outlined by the Galvanising Association, are listed below.
1. Barrier protection
The galvanised coating provides complete coverage of all steel surfaces and acts as a barrier that protects the steel from surrounding factors and the environment.
2. Cathodic protection
The coating also cathodically protects the steel from coating imperfections caused by things like abrasion, cutting, drilling, or bending.
3. Zinc patina
The zinc patina or film is insoluble which will slow down the corrosion rate of the zinc. The zinc patina is a critical part of the galvanised steel coating's longevity.
How we protect our sheds with hot-dip galvanising
As you can now see, galvanising your shed will drastically increase its longevity and will ensure that it lasts not only a few years, but decades to come. We ensure that our sheds are completely hot-dip galvanised which leaves no corner or surface unprotected. Sheds that have been hot-dip galvanised in the past are still standing today, and look just like they did when they were first installed! This is a testament to the galvanising process and the high level of protection that it provides from external factors and corrosion.

If you're considering upgrading an old shed with something that you know will last, then we encourage you to get in touch with us to discuss your options. Our team of shed experts are ready and available to help you make your new shed a reality. Just contact us here.

Keen to see what your future shed will look like before you place an order? Our online shed builder lets you design your very own shed before you buy. Free to use, this new tool lets you design exactly what your future shed will look like, from the colour to the size, and even the style of the roof!

So whether you're after a farm shed or perhaps you need something more custom like a horse arena, our shed builder is a great first step. Once you've designed your shed you can even request a free, no-obligation quote. Try it out now by clicking below.