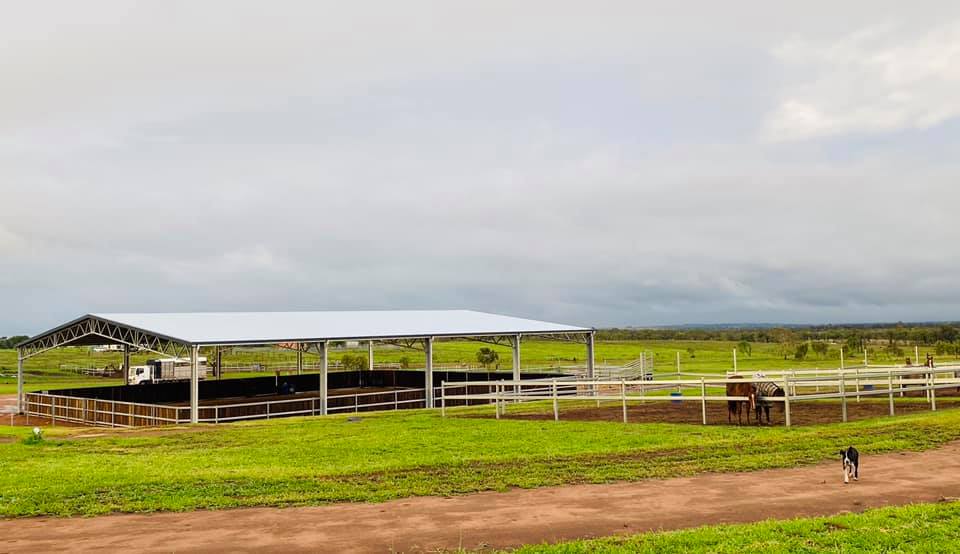 With a passion for horses that started in 2001, Abe Graham grew up spending his weekends at campdrafts, working his way through mini, junior and juvenile drafts in Central Queensland. At just 23 years old Abe has already started his own training facility west of Rockhampton and currently has over 20 horses in training.
We had the pleasure of working with Abe last year to provide a covered arena for his training facility. Learn more about Abe, his business, and the arena that we provided below.
A passion from the get-go
Abe's passion and knowledge of horses developed from humble beginnings. It was through his neighbour John in fact that he first discovered the world of cutting.

An acclaimed horseman, John lived over the hill from Abe's parents' property. It's with John that his performance horse apprenticeship began, first during school holidays and then following high school, where he worked there full-time for 12 months. This was then followed by another 12 months of working and learning with professional cutting horse trainer, Trent Smith. Abe then went to work for Phil Dawson, where he remained for nearly three years.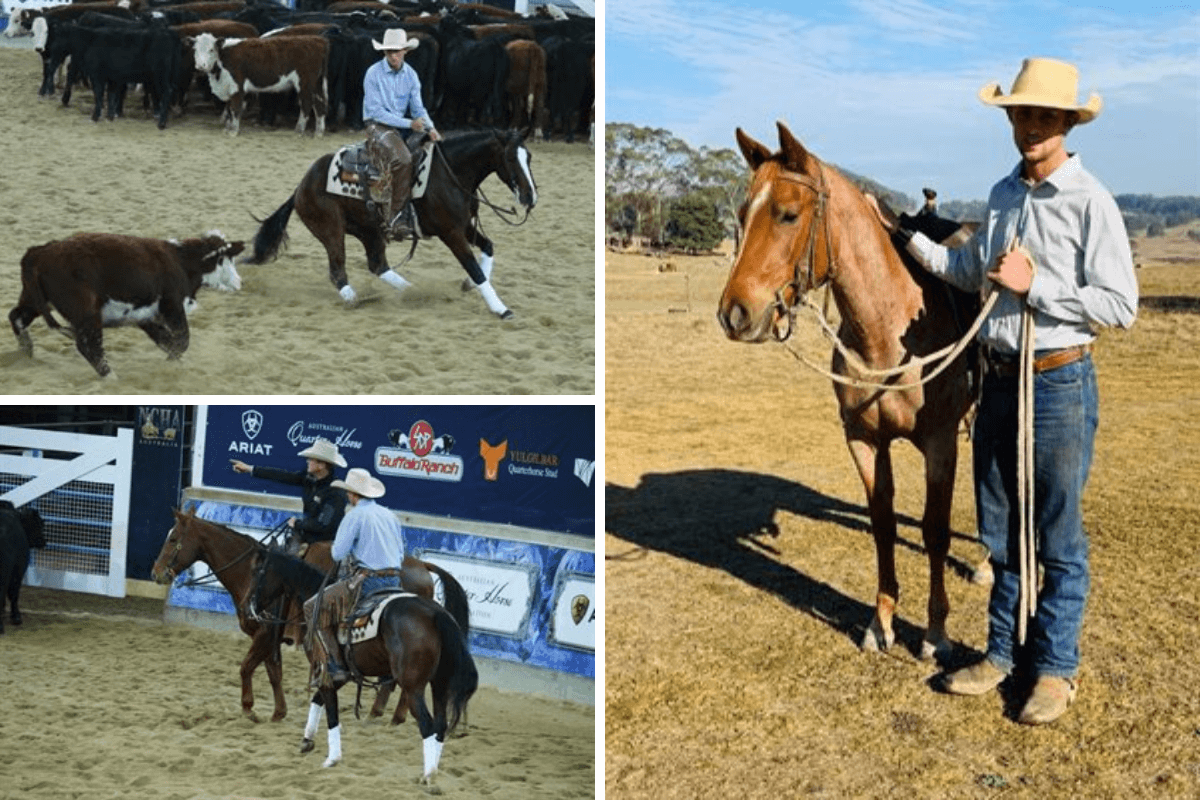 Acclaimed horseman, Abe Graham, has had a passion for horses for years which has taken him to many jobs and competitions.
An acclaimed horseman starts his own business
2020 finally saw Abe start his own business, and boy did he waste no time! In November 2020, Abe opened the doors to "The Big Bend" – his new property 40 kilometres west of Rockhampton where he runs his training facility, Abe Graham Performance Horses. The Big Bend is where he trains both cutters and campdrafters. Around three quarters of the horses Abe trains are for clients – some are also sent to be prepared for sales such as the Nutrien Classic, while other horses are with him for long-term training.

Opening his training facility at the end of 2020 saw a busy few months to round off the year. The farm was essentially a blank canvas with only a hay shed and some cattle yards at the time so there was a lot of work to be done. Abe had a plan of what he wanted the property to look like in 10 years and knew that he had to start with the main infrastructure first, which was an arena.

The arena that Abe decided on was one of our own and it's pretty impressive if we do say so ourselves! A 32m x 30m x 5m clear span fully galvanised arena cover.
Building a horse arena that will last for years to come
As Abe likes to say "if you're going to be a builder, the first thing you do is go and buy decent tools" – this is a great principle that certainly applies to Abe and the infrastructure he has built so far for his training facility.

When Abe was first thinking about an arena for The Big Bend he requested a number of different quotes from various shed suppliers and was pleasantly surprised when we got in touch with him, only a few hours after he requested a quote. As Abe recalls "I went to the website and filled out a form for a quote. The guy I dealt with initially, Huxley, he was on the blower within a couple of hours to talk to me about it!"

Our quick reply was in stark contrast to some of the other quotes that Abe had requested – one of which landed on his desk months later, the day after the arena had already been constructed! Abe also speaks highly of working with us, and the process that was taken from start to finish.

"They were unbelievable… really good to deal with the whole way along. The process took probably three or four months, between the quote, designing it, getting everything sorted through council, and then construction. ABC Sheds came up with a lot of different things that I would have never thought of. For example, my project coordinator, Alexander, suggested that we drill holes so that we could bolt on awnings if we wanted to down the track. I'm very happy with the quality of it; it's going nowhere!"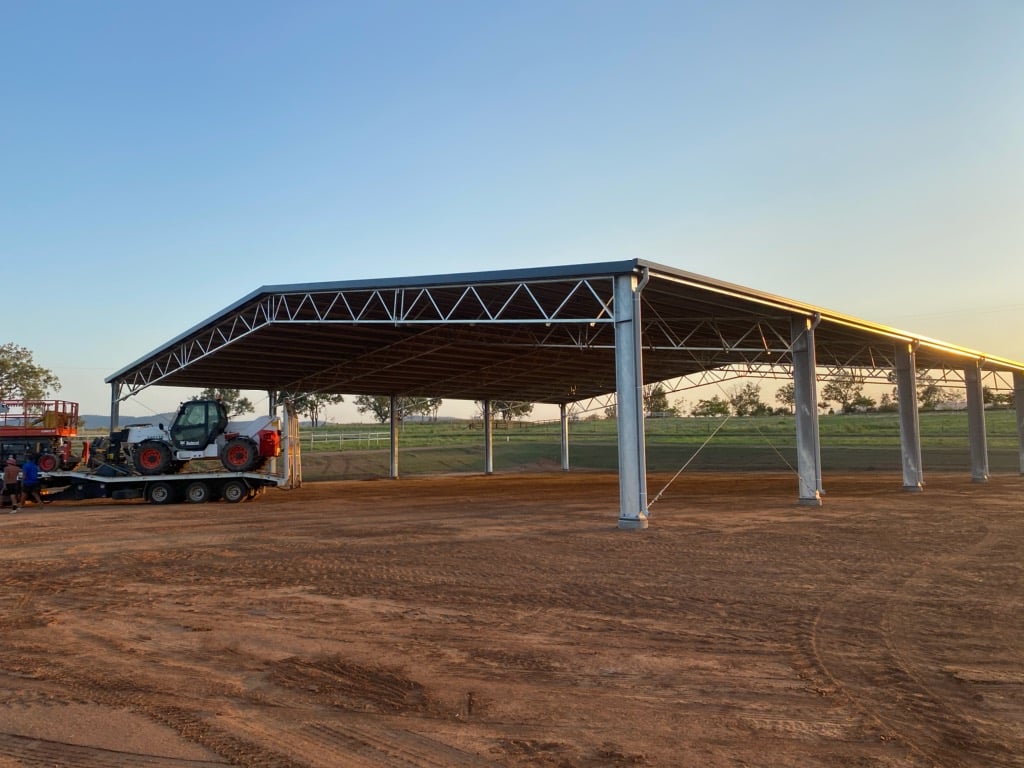 Abe Graham's ABC Sheds horse arena is the perfect spot to train his horses all-year-round.

Since he's had the arena constructed Abe has been able to boost his productivity which will help to pay for the shed over time. He's also done a few thermometer tests on scorching days and can safely say that "it's about an eight degree difference between outside and under the arena. On a 45 degree day, it's the difference between working horses or not, and making money or not".

The ability to train horses outside even on the hottest of days is now something that can be easily done, and all with a quality covered horse arena that will last Abe for many years to come.

It was a real pleasure to work with Abe and see his arena cover completed, and ahead of schedule. Are you after a horse arena like Abe's? We'd be happy to discuss your options with you – we'll even provide a free no-obligation quote if you already have a design in mind. Just visit our website and share your arena plans with us here.

For more horse arenas that we've completed just download our brochure. Free to download, you'll find lots of ideas and arena inspiration!