From hay sheds and dressage arenas to aircraft hangars and industrial sheds, our customers often come to us requiring a bespoke farm shed or rural building. David Stuart approached us last year after his travel plans changed due to the effects of COVID-19 – it was the perfect time to get a few extra things done around the farm which included getting a custom arena cover built. David isn't just your ordinary equestrian enthusiast, however!
An equestrian career that has taken him across the globe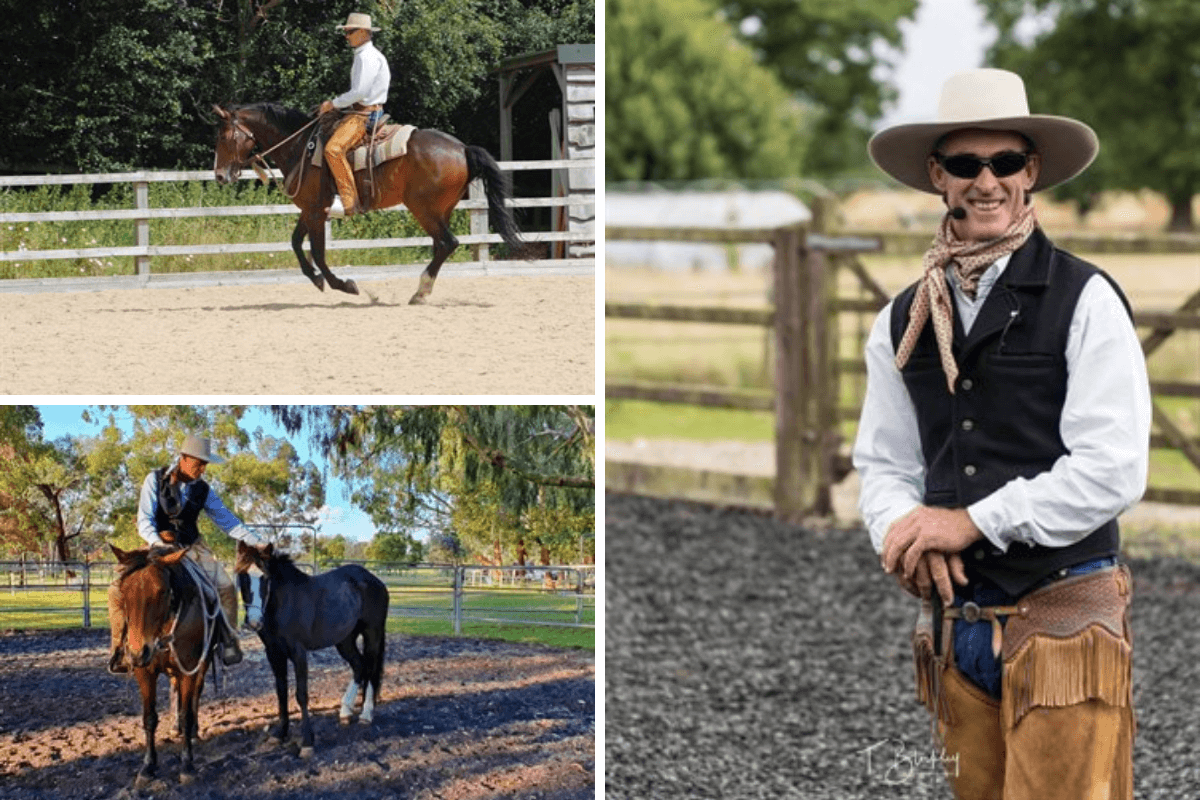 Renowned horseman and trainer, David Stuart.
When he's not out on his farm in Nebo, Queensland, David would often find himself travelling the world (pre-COVID of course). From his introduction to horses as a kid on his parents' cattle station, David has worked with horses around the globe, from the United States to Dubai, Europe and Asia. For the last 20 years, David has spent a lot of his spare time travelling in Europe, in particular the United Kingdom.

It was while David was overseas that he was able to build up quite a career in the equestrian sector. His love of good horsemanship and excellent training ability has seen him experience far more than the average horseman. From giving demonstrations at Burghley International Horse Trials, the UK Horse of the Year Show and Buckingham Palace, through to working for the Dubai Royal Family, David says it's hard to pick a career highlight as each situation has been unique. David's trip to The Royal Mews at Buckingham Palace however was certainly one of his more unique adventures.
"I was part of a delegation that went there, some time ago now. I was in Sydney at the time running a clinic, and we were told that we had to go to Buckingham Palace. We jumped on a plane that night and got there the next morning, and then the following evening gave a presentation at The Royal Mews. We then jumped on a plane back to Sydney the next day.

It was quite surreal. As I was heading back through the airport the next day, there was a questionnaire asking why we were in London – they asked what I was doing. I told them, 'I was at Buckingham Palace last night!'. They must've thought that I was taking the mickey but said, 'There will be no further questions' before waving me through!"
A lot of David's work throughout his career has been based on building a strong foundation. Through his work around the globe, he's found that getting the right basic start in life is vital for every horse — no matter the country, the discipline or the level.
"It doesn't matter whether you're talking about dressage, eventing or even polo, horses are horses, and people are people. As you travel around you start to see that the stronger that foundation is, the more success people are likely to have with a horse, and the more likely it is to work for the horse as well.

If you can get the basics cemented and working well, and the horse working with you rather than against you, then you're set up for success later on regardless of what direction you're heading in."
A big part of the basics and something that's important to get right at the outset, is ensuring you have an appropriate dressage arena to train in, all-year-round.
Why ABC Sheds?
Like many of us, David's 2020 plans went out the window due to COVID-19 travel restrictions – this left him reevaluating what he would be doing throughout the year. He had planned to be in England from late July until late September, but instead, he found himself back at home in Nebo training horses and managing cattle on the farm. This extra time back home has allowed him to tick quite a few things off the to-do list that he hadn't been able to get to, due to frequent travel for long periods of time.

Last year we worked with David to make his arena cover dreams a reality! Skyrocketing temperatures in Queensland during summer meant that often it could be 40 degrees at two o'clock in the afternoon. This hindered how long David could train in his existing dressage arena, as it was simply too hot for not only himself but the horses.

An arena cover means that David can get out and train his horses all year-round including the peak of summer.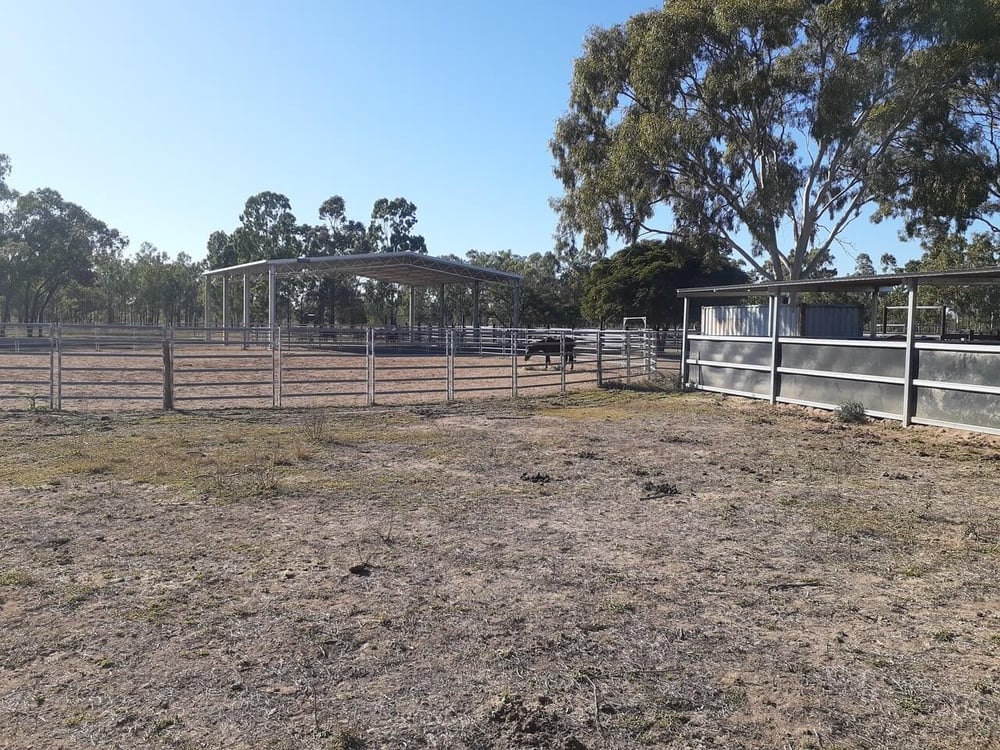 An arena cover ensures that this dressage arena is a practical space that can be used all-year-round.
The benefits of an arena cover
With his newly built arena cover, David is now a lot more inspired to get out and train in the summer weather, as there's shade from the hot sun. Even during spring, he would hazard a pretty good guess that it's got to be at least five or ten degrees cooler under the arena than it is out in the direct sun.

David is currently training seven horses for clients which allows him to make the most of his new dressage arena cover. And with a couple of training clinics on the horizon, David and his clients have lots to look forward to under their new ABC Sheds cover that will keep them nice and cool.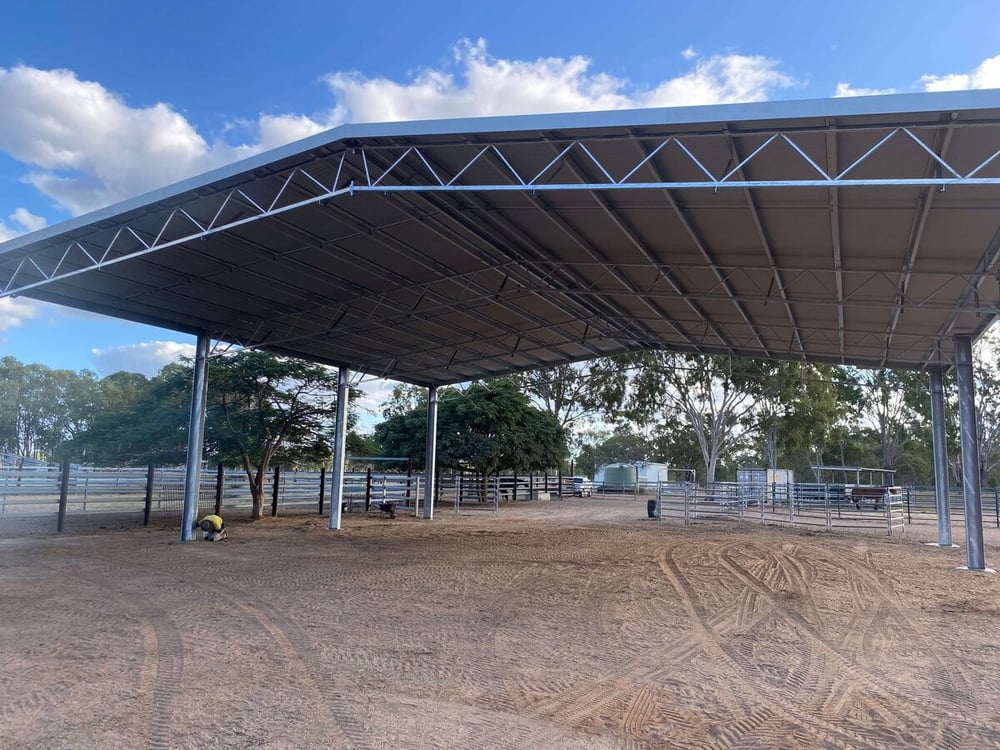 This ABC Sheds arena cover helps to keep David, his guests, and the horses cool on hot summer days.
David is rapt with his new arena cover and thinks that we've been pretty good to deal with too! Hear what he has to say below:
"ABC Sheds were a tremendous company to deal with. They kept us informed throughout the process, they did what they said they were going to do, and they did it in the timeframe specified. They were great to deal with."
If you would like to discuss your dressage arena requirements with us or you'd simply like a cover constructed for an existing arena, then we would love to hear from you! We can guide you through the different options available so that you get an arena cover that's perfect for your requirements. Just contact our friendly team here.

Keen to see what your dressage arena cover could look like before you buy? Try our free shed builder and customise your very own arena cover right down to the colours, and the skylights!

To view more of the dressage arena projects that we've completed, check out our free downloadable brochure here.