Whether you're looking for a dressage arena for riding or perhaps something a bit smaller for the horses to run around in, making sure that you have the perfect dressage arena that meets all of your requirements is essential! We're now lucky enough that dressage arenas can come in all shapes and sizes and with a range of different features such as covered roofs, lights, secure gates and even additional horse stables.

We've helped our customers to design some pretty cool dressage arenas over the years and we wanted to show you three of our favourite equestrian building projects. Read on to view some of the dressage arenas we've completed and to get some inspiration for an arena of your own!
1. Dressage arena and stable block for Eureka Horse Wisdom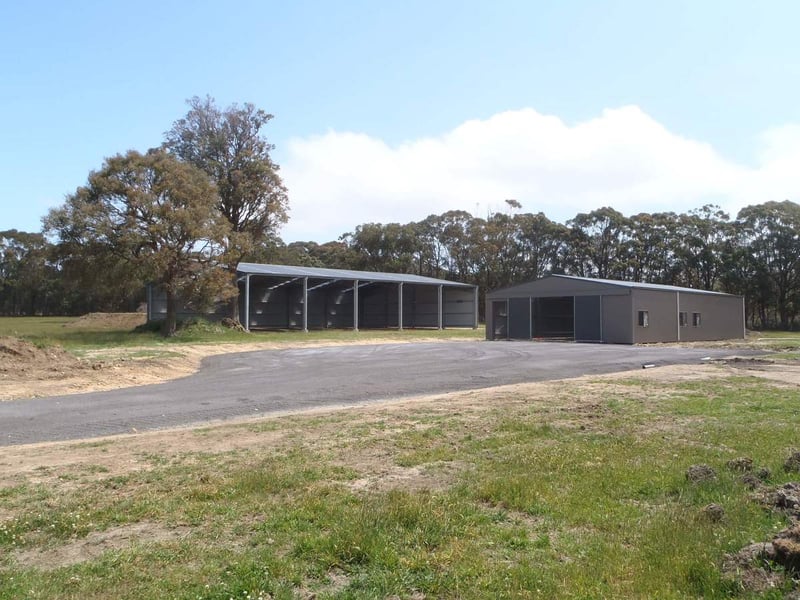 Located in the picturesque Southern Highlands of New South Wales, Eureka Horse Wisdom is home to Core Horsepartnership and Equine Therapy. Founded by Soo Woods in 2014, Eureka Horse Wisdom offers unique experiences that benefit both people and horses. Soo's clients of both the Core and Equine Therapy businesses benefit from the tranquillity of the property and the natural beauty of the Southern Highlands. This amazing outdoor space is also complemented by smart infrastructure, which provides a safe space for Eureka Horse Wisdom's vast range of clients and a good environment for the horses as well!

We were lucky enough to be approached by Soo when it came time to build a dressage arena for the property and were happy to provide her and the team with a 30m x 20m covered arena that acts as the central hub of Eureka Horse Wisdom. While the dressage arena isn't fully enclosed, it does feature walls on the south and west sides to help protect against the worst of the weather.


The dressage arena provides plenty of space for the horses to unwind and relax!
We were also on hand to supply an additional stable block for Soo. What's different about this horse stable is that unlike conventional stables it features three large 4m x 4m stable boxes. Two of the stable boxes open up onto each other allowing Soo to create an 8m x 4m space. There are also added facilities like a bathroom and client room that make this space even more practical.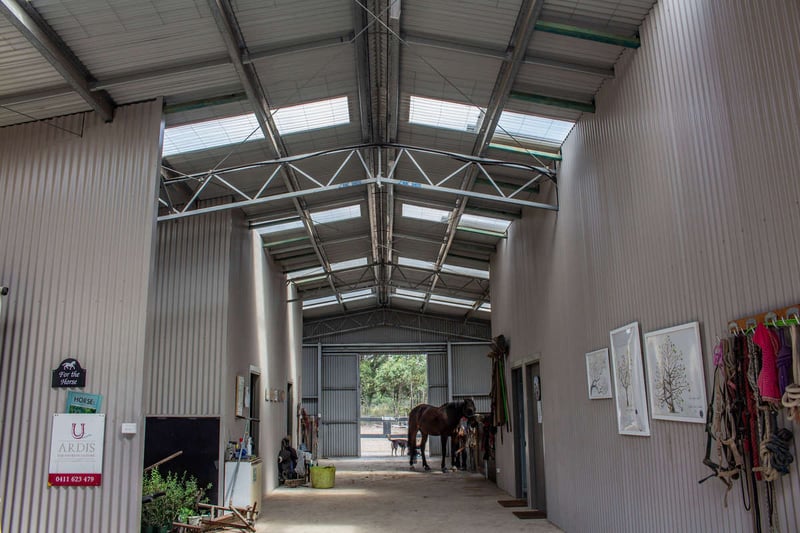 This horse stable block is a practical space for both horses and trainers alike.
Looking for even more dressage arena inspiration? Download our free brochure >>
2. Dressage arena and custom horse stable in Bundanoon
This project continues to be one of our all-time favourites! We were approached by local Bundanoon horse trainers Virginia Russell and Peter Asimus who were in need of a custom dressage arena they could use all-year-round. It was important that they could get out and train their horses whenever they needed without having to worry about external factors like harsh weather conditions interrupting their training time. They were ready to invest in a covered dressage arena that would allow them to train on a hot summer's day, or in the middle of winter.

We supplied Virginia and Peter with a 42m x 21m x 4.5m open plan dressage arena so they now have plenty of freedom when it comes to whether they choose to train under cover of their arena, or out in the open.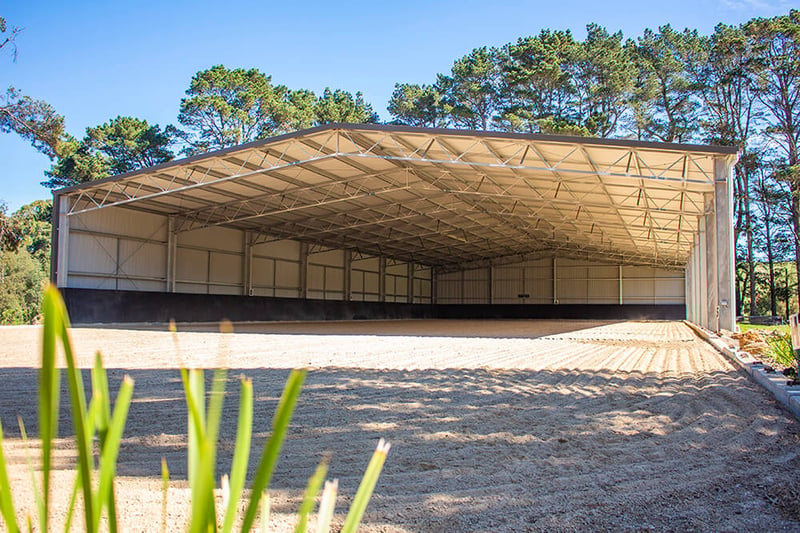 A covered dressage arena makes training all-year-round a breeze!
Not only did Virginia and Peter require a dressage arena, they also needed a secure stable block to house their horses. They didn't want just any run of the mill horse stable though, they wanted something with a rustic feel. We provided them with an 11m x 12m horse stable with 4.6m awnings off the sides, all finished in recycled timber!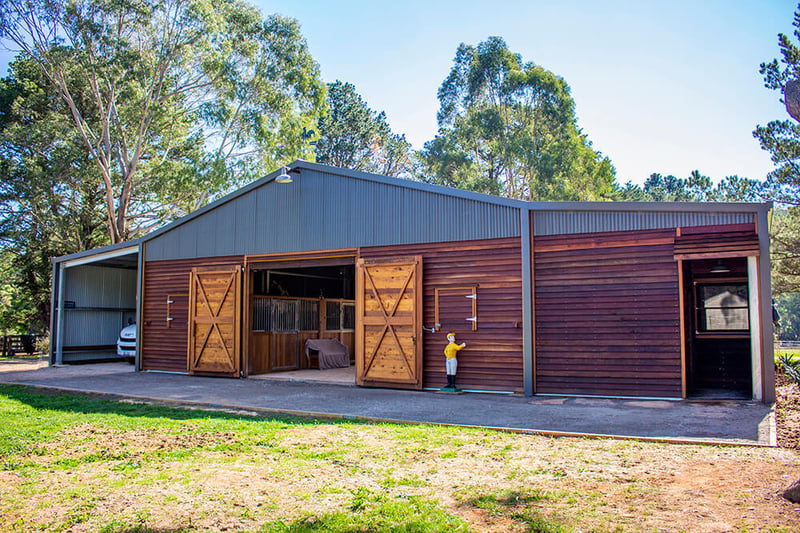 This custom horse stable achieves a rustic look with recycled timber.
Learn more about this project here >>
3. Custom dressage arena for Gwandalan Stables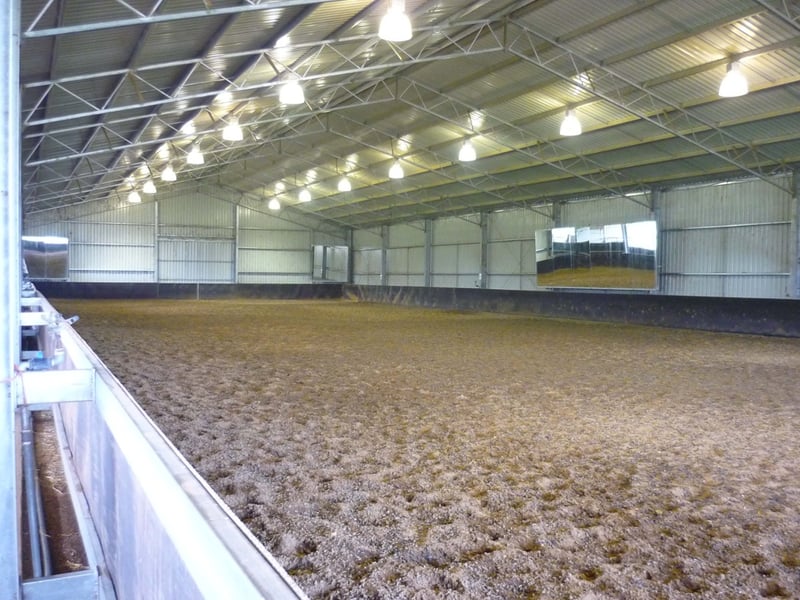 If it's practicality that you're after then you can't go past a covered dressage arena like this one at Gwandalan Stables in Scone, New South Wales. FEI dressage rider Robyne Smith came to us many years ago now with big dreams of a covered dressage arena for her property. Built in just 10 days, we supplied Robyne with a 60m x 20m dressage arena as well as horse stables. An added bay at the end of the arena also means that riders can come in and out of the dressage arena without getting wet on a rainy day.

Another cool feature is the sliding door included at the end of the arena. Even with one end of the arena completely open, a hot summer's day can still result in very hot temperatures inside an arena. Having the ability to open a sliding door for extra ventilation and airflow really does make all the difference to the dressage riders that use this facility, and their horses. Did we mention that this dressage arena also features hanging lights? That's right – Robyne and her team can train at any time of day, all with the flick of a switch!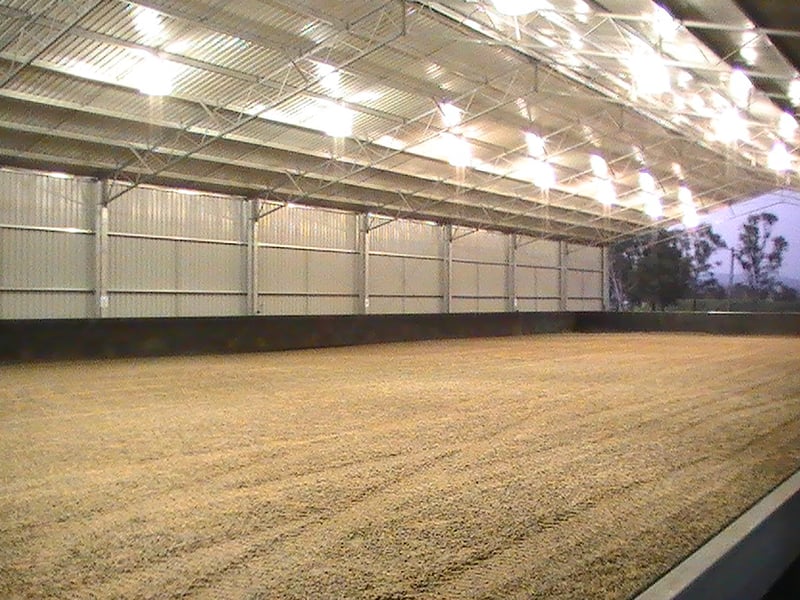 The addition of lights to this dressage means that riders can train well into the night.
There you have it – three of our most inspiring dressage arena designs to give you plenty of ideas for your next arena project! So whether you're after a fully enclosed dressage arena or something more open, here at ABC Sheds we're happy to work with you to come up with an arena design that's just right. And with the option of adding things like horse stables, sliding doors, and even lights, we'll make sure that you get the arena that's perfect for your needs (and your horses).

You can browse through more of our completed dressage arena projects in our free brochure. Ready to get your new arena underway? Chat to our friendly team of shed experts now to start designing the horse arena of your dreams!