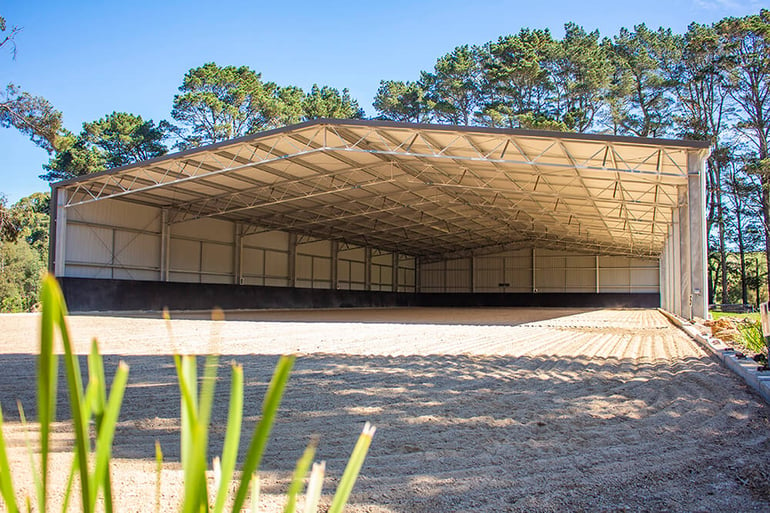 Being based in New South Wales, Australia we're no strangers to the heat and understand that quality sheds need to be built for all weather conditions. Dressage arenas are no different. One of the most common things we hear from clients that require dressage arenas is that they need to be able to train all year round, so they need something that will be suitable on a hot summer's day as well as the middle of winter.

When Virginia Russell and Peter Asimus approached us they were in need of a dressage arena that would allow them to train their horses no matter what the weather conditions were. Read on to find out about the work we did for Virginia and Peter, and the dressage arena we provided.
The Challenge
Virginia and Peter train dressage horses in New South Wales and were in need of an arena cover that they could use all year round. They needed a solution that would allow them to train their horses in both indoor and outdoor environments – a factor that had affected this previously was unpredictable and hot weather conditions.

They were ready to invest in an arena that would not only allow them to train horses if it was raining, but also on hot sunny days. As well as an arena, they also required a stable block to house their horses. They wanted something that not only looked good, but was good on the environment too.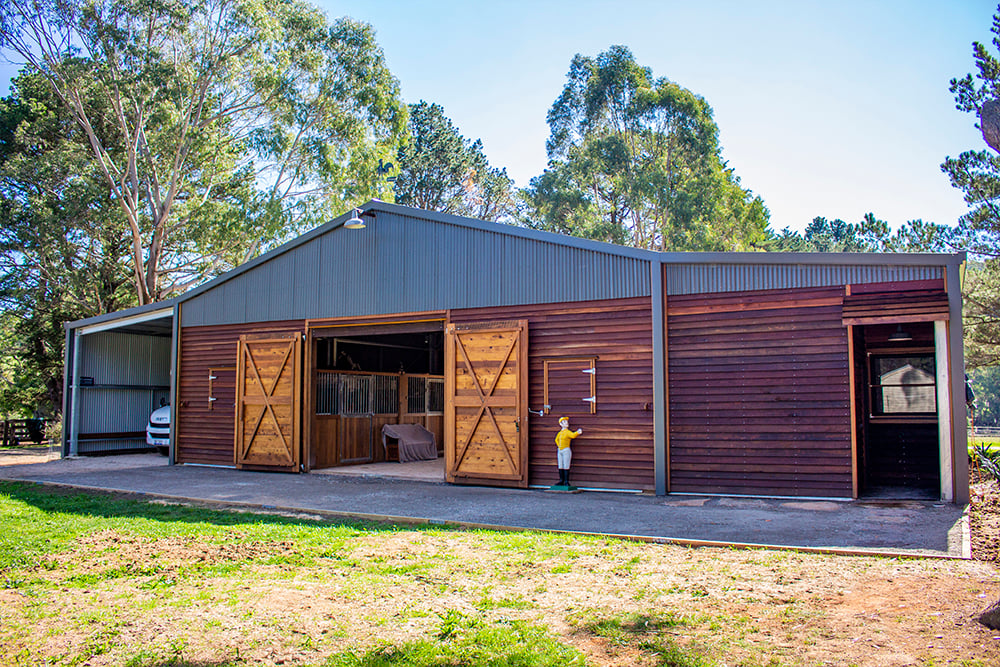 Why ABC Sheds
Due to their requirements, Virginia and Peter needed something that was custom built. There were very specific details that needed to be added, both for the arena and the stable so they needed a company that could give them exactly what they wanted.

A high level of attention to detail was required for this project which was ultimately why we were selected for the job. We were happy to meet Virginia and Peter's requirements and enjoyed working with them to provide a solution that would allow them to train horses, whenever they needed.
The Solution
Virginia and Peter were after a quality dressage arena that would allow them to get out of the sometimes harsh weather conditions and do what they do best – train horses! We provided a 42m x 21m x 4.5m open plan dressage arena so that they can make use of both outdoor and indoor horse training.

We also provided them with an 11m x 12m horse stable with 4.6m awnings off the sides. They wanted something that had a rustic look so we were able to clad a steel frame shed, with a timber finish. The timber used was recycled making the barn very economical to build.



Virginia and Peter were happy with the final products and really enjoy being able to get out and train their horses in any season. They also love having a horse stable on the property now as they can house their horses safely plus, it looks pretty good too!

Want to know more about this project? Check out our video below with Virginia!

To chat about your dressage arena plans and how an ABC Sheds solution could work for you, request a chat or a site visit with one of the team below.