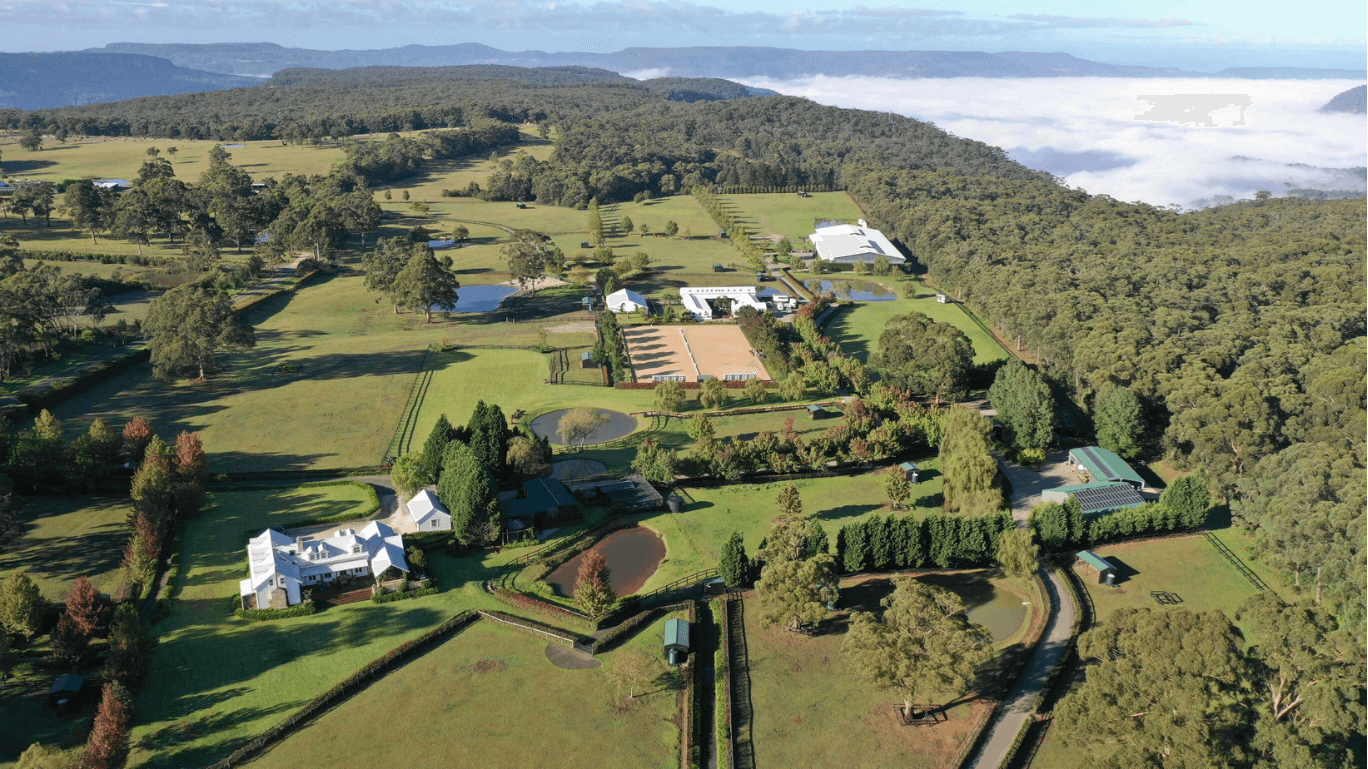 COVID-19 threw many challenges at businesses across Australia and the equestrian industry was no different. Multiple lockdowns and travel restrictions meant that many equestrian events were either postponed or cancelled. The team at Wallaby Hill saw first-hand the effects of COVID-19, which forced them to cancel their Equestrian Extravaganza in April 2020.
However, like many of us that had important plans and events cancelled, they managed to stay positive and use the downtime to get underway with some long-overdue projects! One of the projects they embarked on was building a new equipment shed on the property.

Learn more about this project and how we worked with the team to supply their new shed.
Organising a shed during COVID-19
Owner and manager of Wallaby Hill, Alex Townsend, made sure the team put their spare time to good use during 2020. They needed a new shed to house their ever-expanding collection of competition equipment so the unexpected downtime due to COVID-19 was the perfect opportunity to get this underway. A much-needed equipment shed would be a great project to keep everyone busy.

Located in the picturesque Southern Highlands, they wanted to build the equipment shed at the back of the property. The old equipment shed was located in the centre of the property. This had made it challenging at times, especially when running events, to get everything where it needed to be – especially to the cross-country course.

From dressage arena setups to cross-country fence markers and decorations, there is a surprising amount of equipment that needs to be stored away when it isn't being used for an event. The old shed was no longer big enough to hold all of the equipment needed so the only solution was to build a new, bigger shed, and in a more suitable location.
The process of building a new equipment shed
After talks with their builder, it was decided, by Alex and the rest of the team at Wallaby Hill, that they would use ABC Sheds to manufacture their new shed. Their builder had used us before and liked how we worked.

The building process was smooth, however, delays with the planning permit took quite some time! As Alex recalls:

"The poor team at ABC Sheds – to get planning through the council was an unbelievably long process and they were very patient waiting for us. The property sits on the edge of two national parks, and the shed sits right at the back of the property adjacent to one of them. The council was concerned about what our neighbours would think… even though there are none! It took about a year to get the planning approved!"

While the process of gaining a permit to build a shed took longer than expected, the end result has been well worth the wait. The beautiful 20m x 15m two-tone green shed, which features three large roller doors for easy access to large equipment and trailers, blends effortlessly into the surrounding bushland. The shed provides quite a striking feature and ties in well with the aesthetics of the property.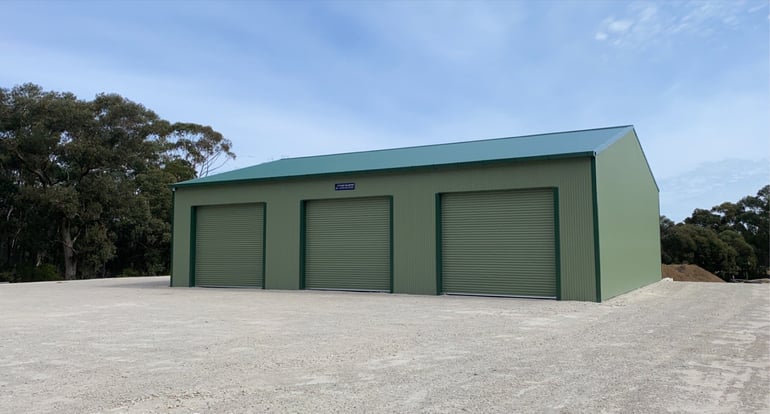 The green 20m x 15m equipment shed provides Wallaby Hill with plenty of extra storage space.
Alex speaks highly of working with us and the process that we took to build the new equipment shed.

"They did a great job. The planning took forever, but once we had that, ABC Sheds came in and built it very quickly. We now refer to it as the 'Robertson Rural Fire Station Shed!'". The shed looks like one of the buildings used by local NSW Rural Fire Service stations – a lovely coincidence that the team doesn't mind at all.
The benefits of a secure equipment shed
Like the Wallaby Hill team have seen, nothing beats a secure equipment shed that has plenty of storage space. Additional features like roller doors can add extra functionally should you need to store large items. They make it easy to back in a truck or trailer and simply unload the equipment that you need to store. Further addition of personal access doors will mean that you don't have to push open a large roller door every time you need to enter the shed. Just enter a smaller access door at your leisure!

At ABC Sheds we take away the stress out of constructing your next equipment shed or storage facility. We'll handle your building projects from start to finish, meaning there's no back and forth with contractors or councils – we'll do it all! Our sheds are manufactured using fully galvanised frames and high-quality materials so your shed will last you for many years to come.

To view the complete range of sheds we manufacture like equestrian buildings, lockable workshops and classic farm sheds, just download our free brochure by clicking below.