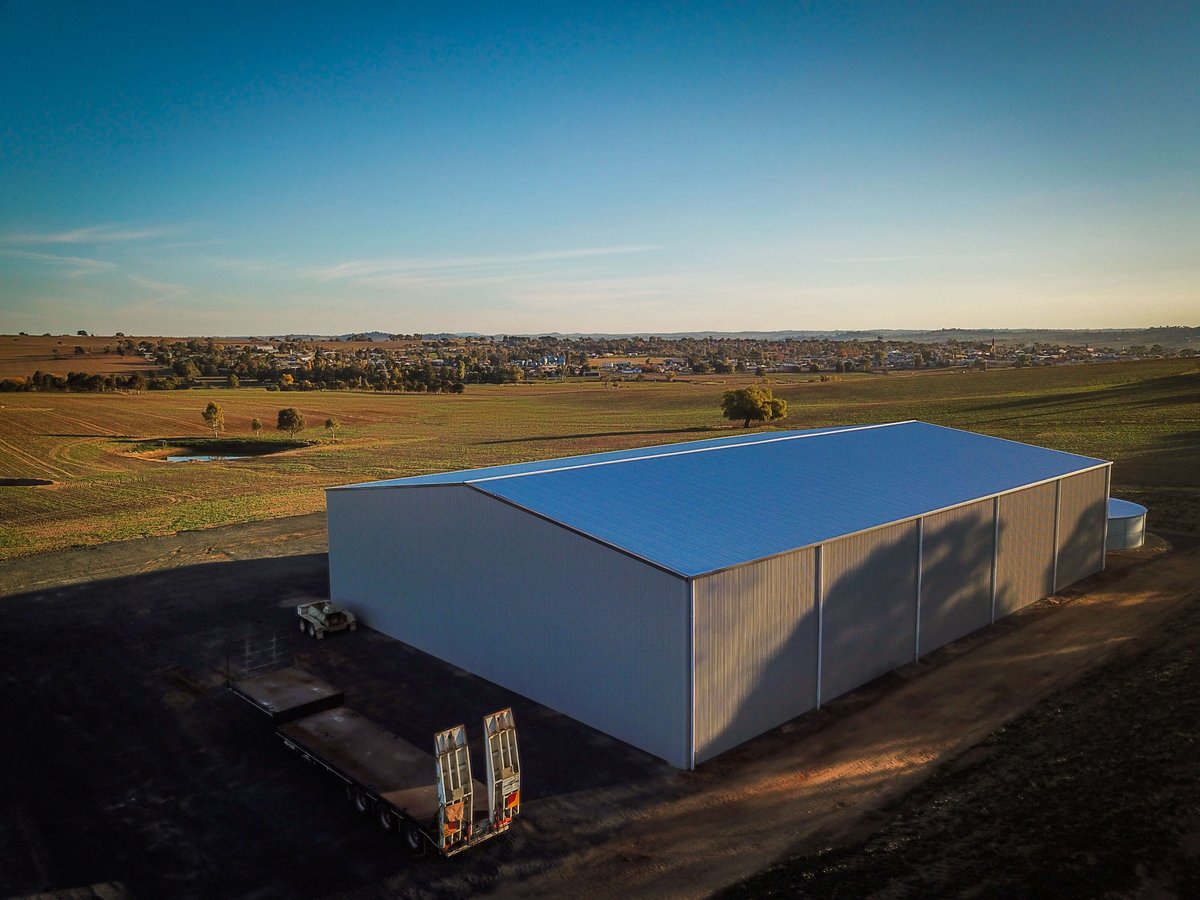 For anyone that owns or operates a farm, farm assets like buildings, equipment and machinery are essential to daily operations and the effective running of a farm. To ensure the smooth operation of your farm all-year-round it's essential that all necessary farm assets are insured so that your livelihood is protected. With the recent Australian bushfires affecting many areas of the country and devastating communities, wildlife and forests, it's important to make sure your best assets are protected so that in the case of an emergency, you're insured.
An expensive asset that's also essential for most farmers to have is a quality farm shed. Whether you have a shearing shed, a shed for machinery storage or a farm shed to store your hay or feed for livestock, it's essential to make sure that you have the right insurance cover so that you're protected when the unexpected happens.

Find out about some common types of farm insurance available in Australia, and extra things you may need to consider when insuring your farm shed.
Insurance available for farmers
Taking out any type of farm insurance can be complicated – knowing what you need and what you don't can be confusing and with a number of different insurance companies and types of insurance available, it can be hard to decide what's right for you. We always recommend that you discuss your individual insurance needs with an insurance broker and we have provided the information below as a guide only.

While there are many different options available, most insurers offer farm insurance in the form of an 'insurance pack'. These are quite standard across the industry and will generally include cover for:
Farm property such as buildings and contents.
Cover for hay, grain and livestock.
Farm machinery which includes any potential theft and breakdown costs.
Fire cover.
Domestic property on the farm like your house and your workers' houses.
Personal accidents and sickness.
Farm and personal vehicles.
Working dogs.
Business interruption.
Business liability.
Road transit.

While the above may seem like a lot to include in an insurance pack, it's better to be covered for absolutely all potential things that you may need to claim for, than be underinsured in times of need.
If you only have a set budget for insurance make sure you direct that money towards ensuring the most important things that would have a direct impact on your farm, and your livelihood if the unexpected were to happen. If you farm sheep, something like a shearing shed is essential to operations so would be a crucial thing to have insured. Many farmers also choose to employ people to run and manage the farm, in this instance it's absolutely essential that you have workers compensation in place that will cover their wages, in the instance that they cannot be paid or an insurance policy that covers any loss or injury to your workers while working on your farm.
Prepare for the unexpected
If there's one thing the recent bushfires taught us, it's that anything can happen so we must be prepared for the unexpected. If you own or operate a farm in Australia you no doubt would have been affected in some way by the bushfires whether it be directly, or someone you know. If you were directly affected by the fires then you've most likely already made a claim to your insurer for something like a farm shed. If you were lucky enough to not be affected then now's a good time to check your farm insurance policy and make sure you're covered for all critical items.

Most farm insurance packs will likely already cover you for a natural disaster such as a bushfire or flood however different insurers provide different policies so it's best to check the fine print to ensure you know exactly what you would be covered for, and how much you could claim for. Particular importance should be paid to whether you're sum-insured or total replacement insured. Something like a farm shed is a big investment and can cost hundreds of thousands to build so if this needs to be re-built from the ground up you'll want to be covered for absolutely all costs which is where total replacement insurance is more beneficial.
Emergency bushfire support for farmers
As a result of the recent bushfires and the impact they've had on the agriculture sector in Australia, the Australian government has committed $100 million in emergency grants to farmers, fishers and foresters located in declared bushfire disaster areas. Up to $75,000 can be claimed to cover costs for immediate and emergency needs not covered by existing insurance policies so if you were caught out in the recent fires, and your existing policy didn't cover exactly what you need, then you could be eligible.

Eligibility criteria for an emergency grant includes that:
You're not a corporation.
You earn more than 50% of your income from primary production.
You spend part of your labour on primary production.
You intend to rebuild your business in its current location.
If you don't earn more than 50% of your income from primary production, you may still be eligible if:
You can show you will earn 50% of your income from primary production within 3 years, OR
You can show you would ordinarily earn more than 50% of your income from primary production but this has been affected by drought, and in both cases, you earn less than $100,000 in "off-farm" income.

For specific details on the exact insurance you need for your farm it's always best to talk to your insurer to see what cover you can get, and any essential cover you should have so that you're always protected.

If you are on the lookout for a new shed and would like to see if an ABC structural steel shed could be a good fit for your farm, you can view our full range here.