As the end of 2020 nears, now can be a great time to start planning ahead so that you're well prepared for 2021. Key farming activities roll around quickly every year so why not try and get a head-start on planning what you may need for next year?

While it may seem simple enough to order the machinery and equipment that you need, manufacturing something like a new shed can take some time. Careful planning needs to be done at the outset so that you get the shed that's right for your needs whether that be for harvesting hay or grain, shearing sheep, or housing your valuable farm machinery.
To help you plan ahead for 2021, we've put together a helpful guide that outlines some key farming activities that you may need a new farm shed for. We've also highlighted important timings so that you know when you would need to start the process of purchasing a new shed, so that it's ready in time.

From hay sheds to shearing sheds, learn more about when you may need to purchase a shed for 2021, along with some key considerations.
Hay and grain sheds for harvest season
One of the most important times of the year for many farmers across Australia is harvest season. Whether you grow hay or grain, it's imperative that you have adequate storage in place before harvest time so that none of your crops goes to waste, and are potentially spoiled by harsh weather conditions like wind and rain. If you're anticipating a bumper crop then ensuring you have ample capacity for storage ahead of the harvest becomes imperative.
Hay shed planning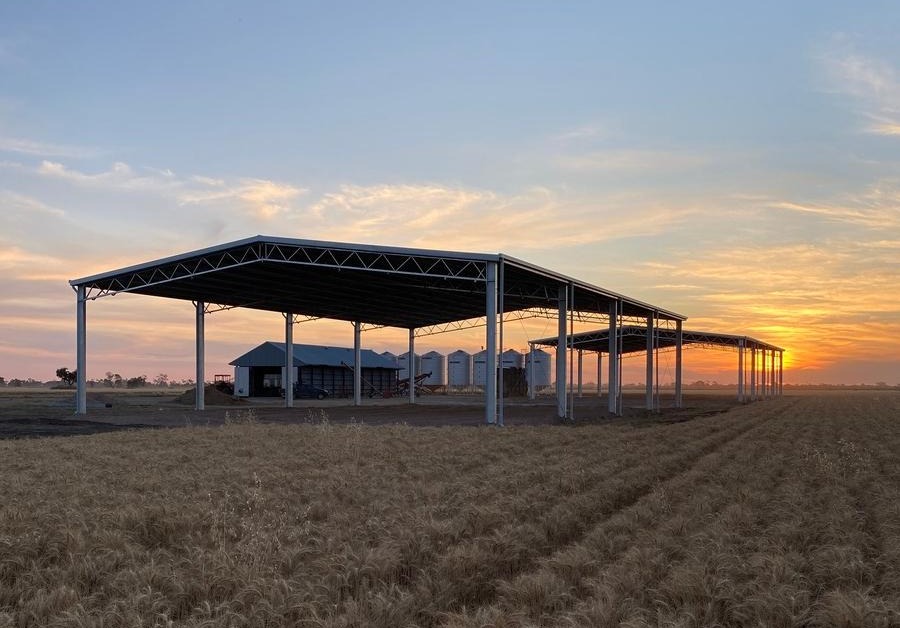 Two ABC Sheds hay sheds, ready for harvest season.
Hay sheds are relatively simple to install as they tend to follow the same layout, the only elements of a hay shed that a farmer may want to consider changing are how many walls they include and whether enclosed bays for machinery are required. This decision will come down to location and typical weather conditions. Sometimes a roof-only hay shed is more than enough coverage for hay bales; in other instances you may want to consider a more enclosed shed with something like three walls to prevent rain and prevailing winds from damaging hay. It's important that moisture doesn't build up in your hay bales as this can cause spontaneous combustion.

For the average farmer, hay would normally be cut between June and September. Because of this it's recommended that your shed is standing no later than mid June. The process from initial planning stages through to manufacturing and then erection could take as long as 3 months. So with that in mind, we recommend you order your shed in April. Having said that, why not be prepared! Wouldn't it be better to have your shed sitting and waiting for your hay rather than the other way around?
Grain shed planning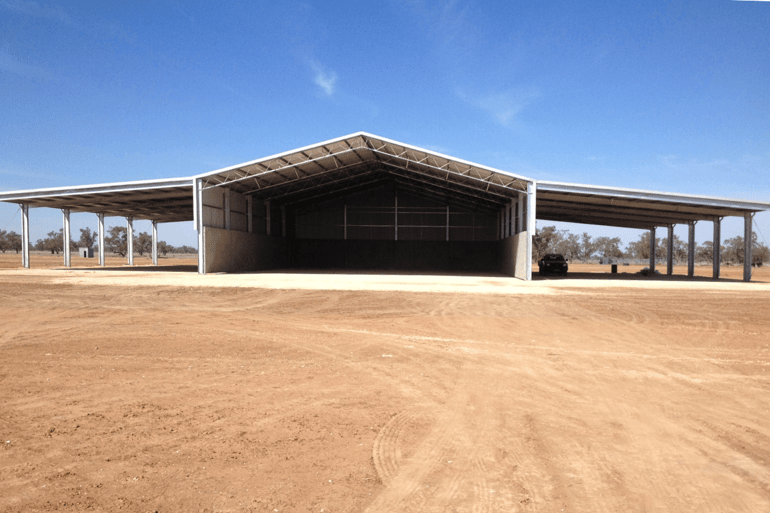 ABC Sheds grain shed ready for harvest season.
Unlike hay sheds that are relatively simplistic in their design, a lot more planning is involved with grain sheds. Most grain sheds will have concrete floors to act as a moisture barrier, protect the grain, and allow for easier cleanup. Because of this, a concrete supplier will be required, which will take time to organise, and time at the build stage where the concrete will need to be poured and allowed to dry. Grain sheds can also take longer to design as they need to be engineered so that the panels can withstand the pressure of the grain.

A lot of careful planning is needed for grain sheds so they shouldn't be rushed. You must allow yourself plenty of time for the completion of this type of shed so we recommend ordering a grain shed no later than May so that it's ready well before grain harvesting in October and November.
Shearing sheds for shearing season
Unless you're lucky enough to have a flock of sheep that naturally shed their wool, like the Wiltshire, then you will need to shear your sheep at least once a year. While there is no standard time of year that all farmers shear their sheep, the basic requirements to get this done remain the same – some dry weather, a good shearing gang, and a quality shearing shed!
Shearing shed planning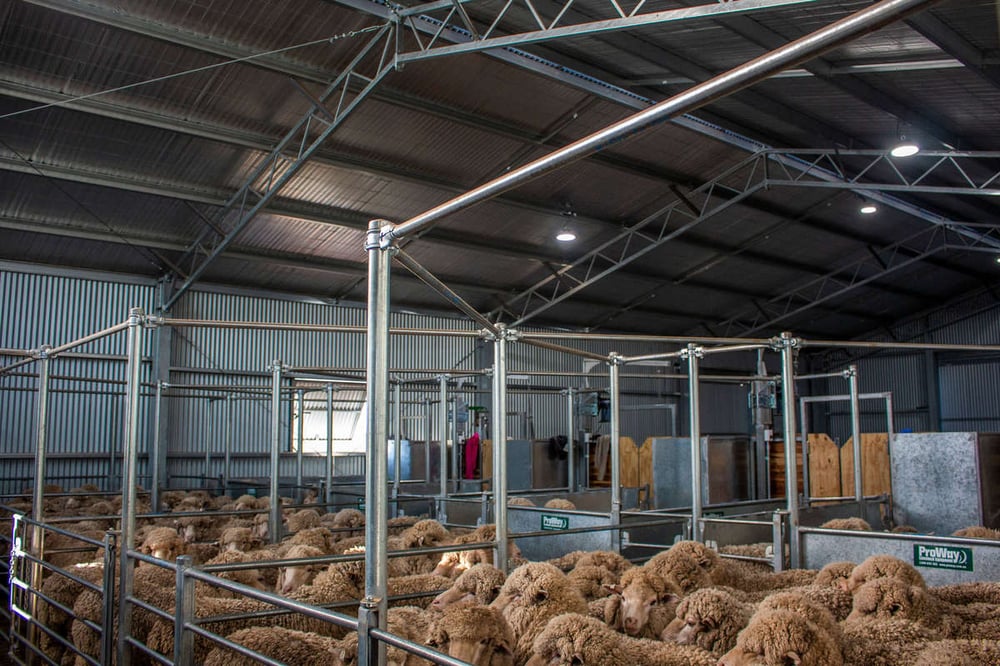 ABC Sheds shearing shed and sheep pens.
A lot of planning goes into designing a shearing shed that's right for your needs – many of our customers will talk to other farmers before they get started to see which shearing shed layouts work for them and why. There is a lot to consider with the design of a shearing shed so that it works well for you during shearing time – things like a raised shearing board, how many sheep pens you will have and the placement of your chutes are all important factors to consider.

Giving yourself as much lead time as possible for this will make all the difference in ensuring that you have a shearing shed up and running, by the time shearing comes. With an ABC Shed for example, once the kit is installed it could then take another couple of months to fit-out the shed so that it's ready for use.
Farm machinery storage during winter
If you house a lot of machinery and equipment on your farm then having adequate storage for this to keep it protected during winter is essential. A quality farm machinery storage shed will ensure that your shed is protected from harsh weather conditions.
Farm machinery shed planning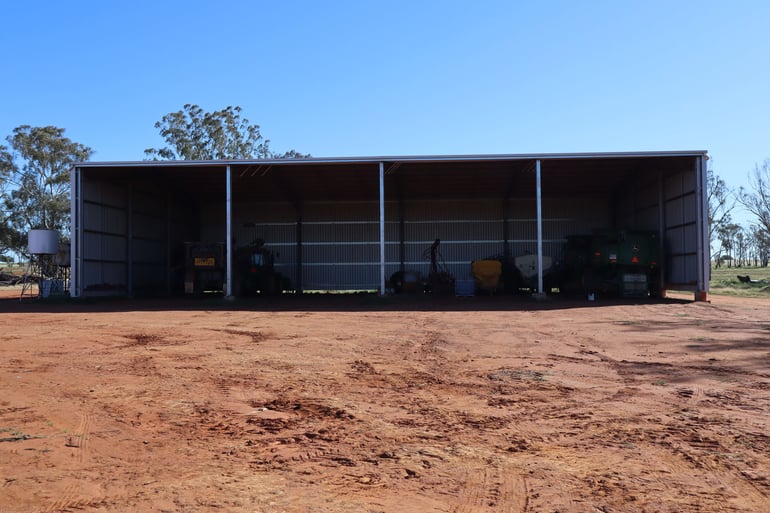 ABC Sheds farm machinery storage shed.
Farm machinery is only getting bigger so the first thing to consider at the planning stage is how much room you will need to comfortably store everything. Are you left with extra space should you make more machinery purchases in the future? Many people also utilise a farm machinery shed for extra rainwater storage during winter months. Australia is prone to long droughts during summer so being able to collect and store extra water to use at times when rainfall is extremely low is imperative. Simply purchase a tank and figure out your plumbing layout before the shed build starts.

So that there's enough time to plan, manufacture and install your shed you should get the process underway towards the end of the year, so that the shed can be installed in autumn, ready for use in winter.

There's a lot that goes into building a quality farm shed that's going to adequately serve your needs both now, and for years to come. So that you get a shed that's just right, it's best to consult with an experienced shed manufacturer who can guide you through the process.

Here at ABC Sheds we've been manufacturing farm sheds since the 80s and have built up a team of experts that will help you with the shed building process, at every step of the way. From providing guidance on different bay sizes, whether you go with a roof-only shed or enclosed walls, and extra security measures to keep machinery protected, our team can answer any question you may have about the shed building process.

If you're planning now for 2021 and would like to start organising a new shed for your farm then feel free to contact our team here to get started.