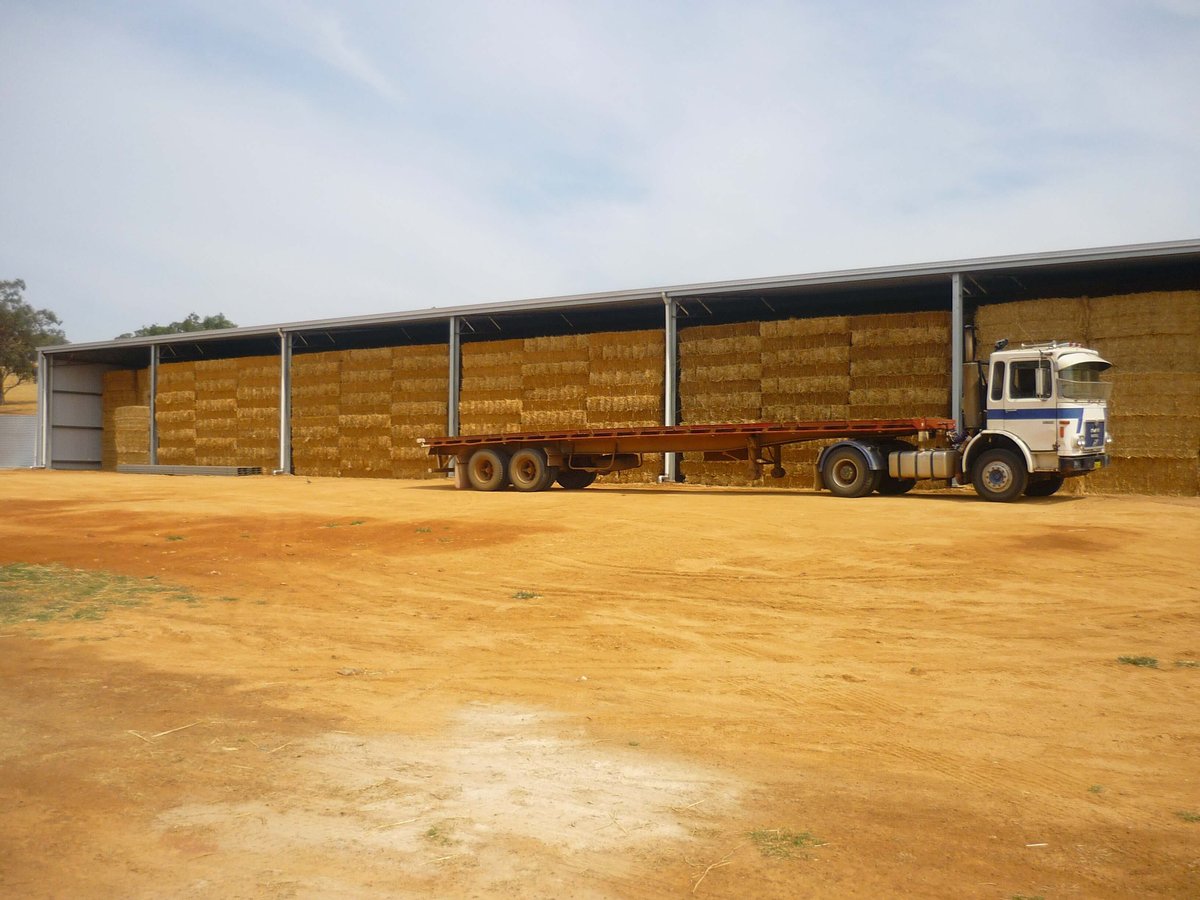 So you're considering a new hay shed? Great choice! A new hay shed is not only an excellent way to keep your harvest safe, secure and protected, but a quality shed is also a good way to save some money. Better yet, a well-thought-out hay shed could also make you money down the track!
Whether you're looking to build your very first hay shed or perhaps your current shed is in need of an upgrade, we've covered the top reasons why a hay shed saves you money. Read our tips below!
Hay sheds are multi-purpose
If you've been farming for a long time then you'll know that a well-built hay shed can be used to not only store your hay but a multitude of other fodder and farm machinery.

As hay sheds aren't built to be enclosed, they offer more flexible storage options when compared to something like a fully enclosed farm shed. A hay shed is generally used to store hay bales, but when no hay is being held, they make great storage areas for other things like grain crops, farm machinery and equipment, and even animals should they require some shelter from bad weather. Hay sheds can also be extended should you require extra space down the track. Simply add an extra bay or two or an awning to maximise the potential of your shed.

The multi-purpose benefits and extra storage that a hay shed provides are easy ways to save money. Rather than having several different sheds on your farm, a well-planned hay shed could serve all of your current and future needs.
On-site storage
Why pay for off-site storage when you can have your very own shed, that you can use all year round?

Freight charges can be expensive, especially when you may need to move large items from one farm to another. A great way to save on those costs is to have your own storage on-site, to store your hay bales and any other farm machinery. Not only will you save on freight and trucking costs, but you will also save money on leasing another shed or storage space.

While a hay shed may seem like a big investment, to begin with, having your own hay shed allows you the storage that you need for your farm, that can be utilised for many years to come.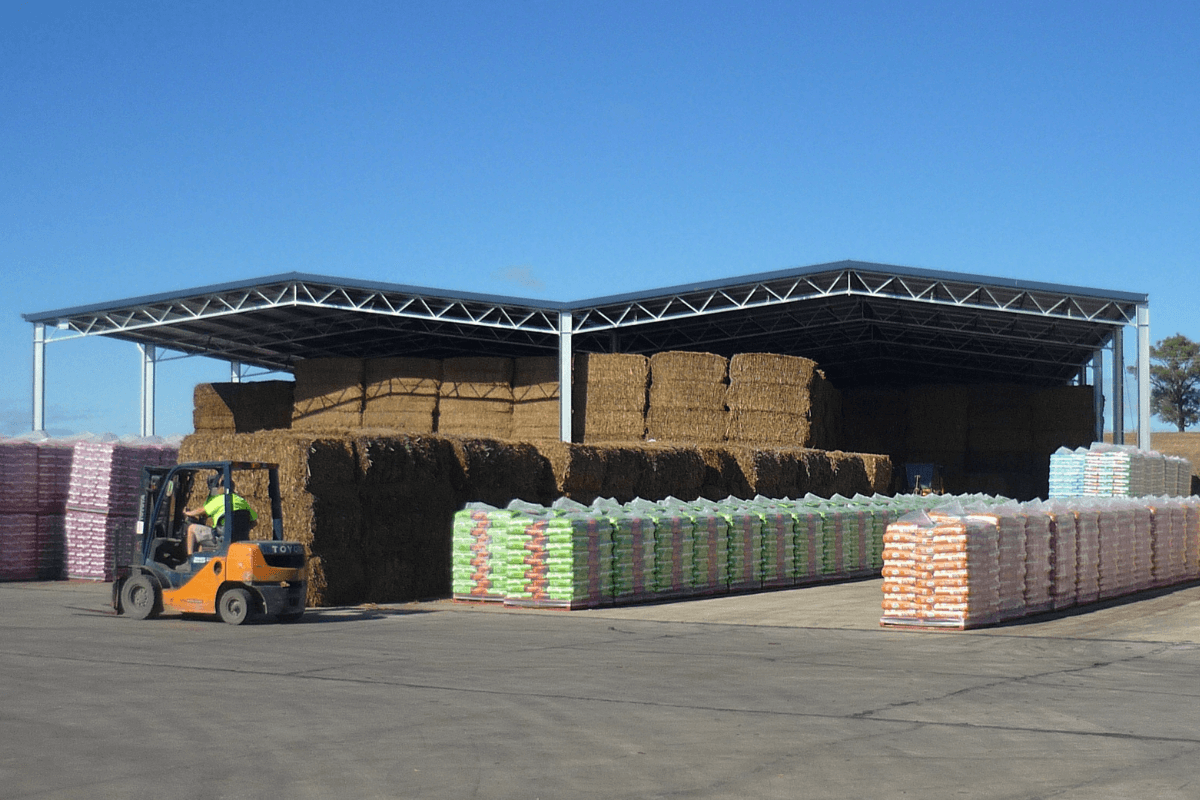 A well-planned hay shed will provide you with plenty of on-site storage for your hay bales!
Reduce spoilage of hay bales
Hay bales that are left in poor conditions can easily deteriorate over time causing you to lose money in wasted feed. Spoilage of hay bales can be a big concern to many farmers who rely on hay to feed their stock in the drier months, which is why it's so important to have good hay storage, like a hay shed, in place.

As noted by The Horse, hay shed storage is the best way to store hay, as it will prevent damage from the weather. In saying that, it's important to make sure mice and pests are kept out and hay should be stored off the floor. Bales stored directly on concrete for example could sweat and, if placed on the ground, might pick up moisture, which could result in losing up to 50% of your bottom bales. It's recommended that you place hay on pallets or a thick layer of old hay or straw to reduce potential spoilage.

Following some simple best practice tips like constructing a quality hay storage shed and ensuring that your hay is stored correctly, are both ways that will further save you money. Better yet, if you plan to on-sell your hay in the future you'll know that you'll be able to get a good price, as your hay will be in top condition.
The benefits of an ABC Sheds hay storage shed
Matt and Andrew from Garangula Estate and Romani Pastoral Company, explain the benefits of their ABC hay shed.
Here at ABC Sheds we know a thing or two about hay sheds and take pride in manufacturing structures that will not only protect your hay bales but are built to last.

There are many benefits to our hay sheds. These include:
Protection from the elements
For farmers, we know that there's nothing more important than keeping your hay dry and protected. Through proper hay shed storage, hay will maintain the quality and nutrition needed for feeding horses and other livestock.

If hay isn't stored correctly it can create a moisture trap around the columns of your shed. Moisture can contribute to growth in things like mould, which then risks corrosion. With a quality structural steel hay shed, you won't have this problem.
Designed for your needs
We custom-design every hay shed to ensure proper air circulation and to prevent moisture trap. We also use fully galvanised building materials to further strengthen the foundation of your hay shed. Our structures are designed specifically for your requirements, and to protect bales from ground moisture, rain, and heat from the sun. With an ABC Sheds storage structure, you'll know that your hay is always protected.
Flexible bays
No two sheds are the same which is why we offer different bay sizes to accommodate your hay storage needs. Sizes range from 6 metres to 16 metres, giving you enough space to store farming and hay equipment should you need to. Bays can also be moved and extended to allow for bigger or smaller hay bales and additional storage space. Typical hay sheds we produce include 8m bays that can easily fit three, 8-foot bales side by side. The ultimate flexibility!

Don't just take our word for it though! Hear from Matt Barton and Andrew King from Garangula Estate and Romani Pastoral Company, who explained the impact that an ABC hay shed has had on the farming business. Watch the video here.

For information about our farm sheds including more hay shed projects that we've completed, just download our free brochure below.