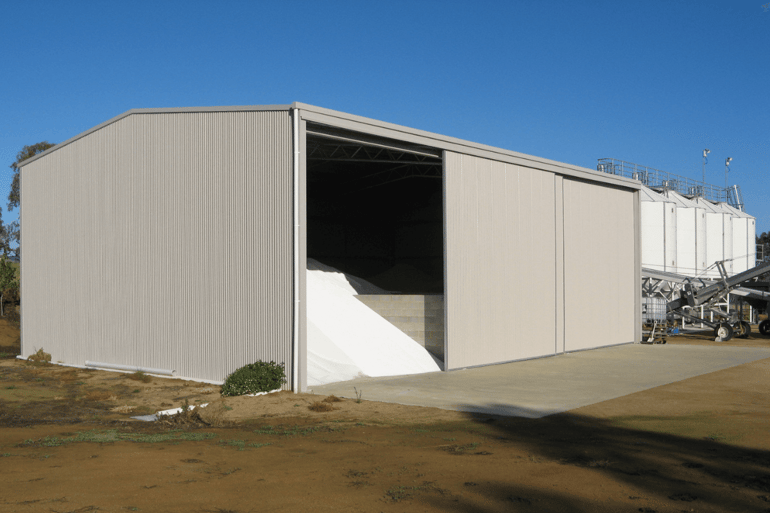 When storing your farm's fertiliser, there are several things to know that can improve effectiveness, shelf life, and safety. Good storage and handling are crucial – especially when it comes to the productivity of your farm.

Organising your storage ahead of time will also save you in the long term. With large fluctuations in fertiliser pricing, it's important to have an appropriate way to store it when the price is right. To help you store your fertiliser correctly, this article outlines some of the best practices for farmers. For ideal conditions, incompatible chemicals, regulations, and storage features you need, read on.
Fertiliser storage conditions
Your fertiliser must be stored correctly to ensure safety and security. Unfortunately, fertiliser tends to corrode a silo, so an enclosed fertiliser shed is best. The best conditions for fertiliser are as follows:
Protected from rain and sunlight.

No dust, dirt, or moisture.

A steady temperature between 5˚C and 30˚C, depending on the compound.

A first-in, first-out stock rotation.

Effective ventilation.

Incompatible chemicals should be stored separately.
Also, remember that products containing Nitrogen (N) or Potassium (K) are more likely to absorb moisture in humid environments. A pure Phosphorous (P) formulation may be more suitable if your farm is prone to humidity.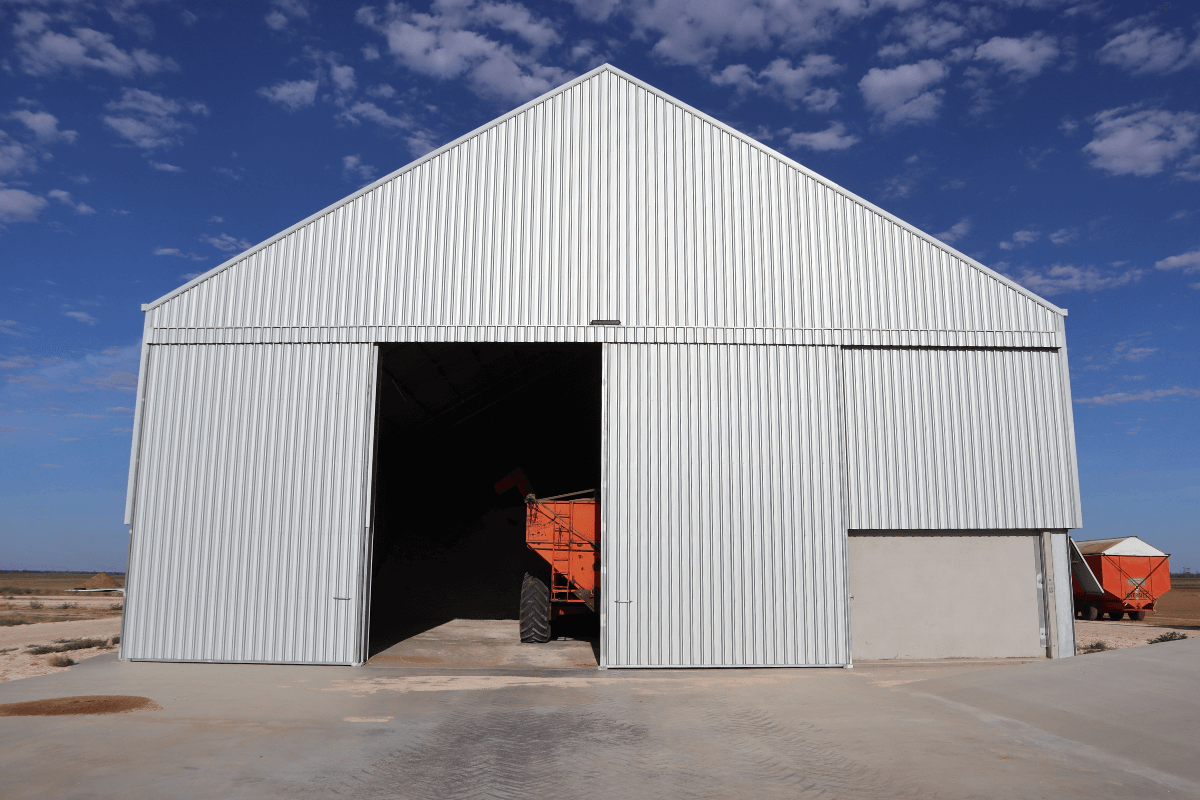 An enclosed shed provides adequate protection from rain, sun and moisture, making it a good storage option for fertiliser.
Incompatible fertiliser types
Additionally, be careful to store different types of fertiliser separately – especially when in bulk amounts. For many of these chemicals, it is recommended that you only mix them immediately before application. Avoid storing these mixtures because their effectiveness and safety will usually be compromised.
Urea
Urea should not be mixed with Ammonium Nitrate, Calcium Ammonium Nitrate or Ammonium Sulphate Nitrate. It's also important to consider a possible Ammonium Phosphate/Potassium Nitrate reaction with urea – humidity during the blending of fertiliser can lead to caking.
It's also recommended to not store any mixtures containing urea – these should be applied immediately after mixing.
Sulphur
Sulphur is combustible therefore it can react with various nitrates. Sulphur shouldn't be mixed with nitrates AN, KNO3 and NaNO3.

For the best results, it's important to train your employees in the physical properties of each fertiliser. By understanding Hygroscopicity, caking, particle shape, bulk density, and compatibility, they can store each fertiliser type correctly and avoid the risk of potential reactions.
Liquid vs granular fertilisers
Liquid fertilisers are typically stored in shuttles, which are best kept in pallet racks. Pallet racking helps to avoid overloading the shuttles which reduce the risk of damage, spills, and contamination. The shed should also have a concrete floor and good ventilation. However, if you are storing large amounts of liquid fertiliser, a liquid storage tank might be a better solution.

For granular fertiliser, a shed with concrete panel walls can separate the different types effectively. Concrete panels help to protect the cladding from corrosion and evenly spreads the granules to avoid "hot spots". This helps to reduce the risk of fires and improves stock rotation.
Considering a fertiliser shed for your farm? Design your very own using our virtual online shed builder >>
Fertiliser shelf life
Fertilisers have a shelf-life which is influenced by how well it has been stored. If you want maximum effectiveness, it's recommended that you store the right amount of fertiliser and rotate it effectively, using the older stock first. Some liquid products can be safely stored for 8 to 10 years while some granular products can only be stored for 6 to 12 months.

To maximise the shelf-life of your fertiliser, it's important to store it away from flammable materials and other chemicals, keep it ventilated and dry, and store it away from eaves.
Regulations for fertiliser storage
Fertiliser can be dangerous when stored incorrectly so it's important to follow the regulations put in place by your local government. In Australia, there are several guidelines to follow and each state has its own set of specific rules.
Australian storage restrictions include:
Fertiliser storage options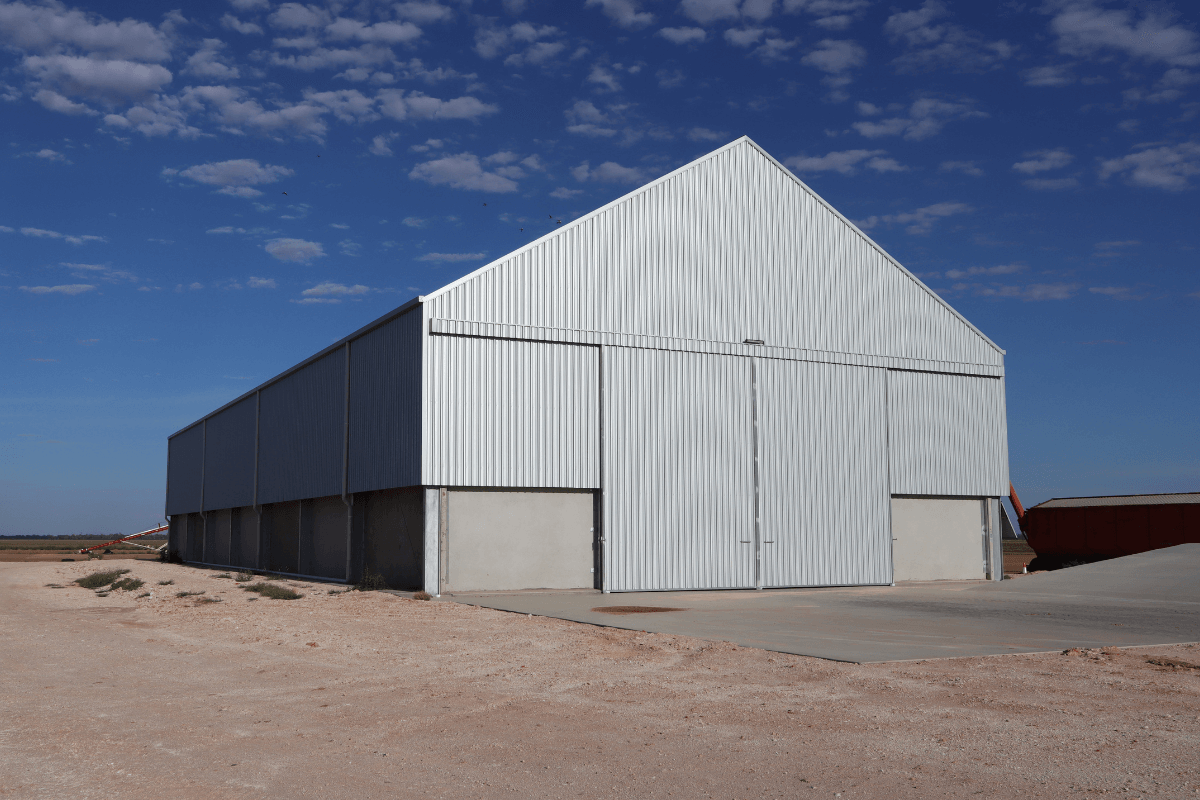 When storing your fertiliser, you need a fully enclosed shed that is dry, ventilated, and clean. We recommend considering the following features.
Pallet racking
Pallet racking consists of strong, robust metal shelves that can store multiple levels of pallets loaded with fertiliser. This makes good use of vertical space and avoids double stacking. It is a highly efficient and flexible solution designed to store pallets of any size or weight depending on your needs. Remember, liquid products should not be stored above granular products to avoid spills, contamination, and dangerous chemical reactions.
Concrete slab
When storing chemicals, hygiene is crucial, which is why a concrete slab floor is advised. With a cohesive, uniform foundation, you can easily clean up spills and prevent contamination. Additionally, some local restrictions require a concrete slab floor for all farm fertiliser storage.
Ventilation
To avoid fumes and the risk of fire, your fertiliser shed must have adequate ventilation. This can be achieved with a ridge vent in the roof as well as sliding access doors. Each shed has different ventilation requirements and possibilities, so speak with us today to find out your options – our experts are happy to help.
Concrete walls
Particularly for a granular product, concrete panel walls are a great way to protect the shed cladding and segregate different compounds. These help to avoid corrosion and spread the granules out for safe storage which helps to avoid spontaneous combustion. For more advice on concrete walls and panels, speak to the team at ABC Sheds.

Are you looking for a reliable storage shed for your fertiliser? The team at ABC Sheds is here to help. Just reach out for more advice or a customised shed quote today. Alternatively, check out our range of sheds, perfect for fertiliser and grain storage here, or in the free brochure below.