A yard cover serves multiple purposes on a hard-working farm. From protecting animals from the weather to provisioning a safe working environment, there are a number of reasons to consider adding one to your farm. In this article, we'll explore the top reasons farmers invest in a yard cover.
What is a yard cover?
A yard cover is a large-scale structure designed to sit over an animal yard offering protection from the elements while enabling good airflow and access. They're typically steel in construction, due to the large spans they need to achieve and galvanised to protect against the elements and animal matter found at their location.
Yard covers can be built over a pre-existing yard to enhance its operational functionality or they can be built at the location of a new yard site. Typically a yard cover will cover an area used for one or many of the following purposes:
Feed pad covers

Shearing area covers

Milk station shelter

Drafting yard

Processing and tagging

Loading and unloading
With so many potential uses for a yard cover it can be easy to find an application where one may be suitable, but what benefits do they bring to these uses and is it worth the investment?
Reasons to invest in a yard cover
In this section, we'll run through several significant benefits that a yard cover offers farming operations across Australia.
Improves livestock conditions
Healthy livestock benefit from increased yield due to reduced medical requirements, and general reduced cost over time. A yard cover offers shade for your herd or flock in the hot summer months and can keep the rain off your animals during the winter months.
Improved working conditions
A yard cover is often situated in an area of intensive processing and livestock management. Your farm workers and contractors may spend a few hours in the same location, often during the hottest hours of the day. Enabling them to lighten the load by working in the shade, where they are cool and protected, can increase productivity and wellbeing. This can increase staff retention and workplace safety as they are working at a more refreshed level.
Farm capital asset
Investing in a yard cover is also an investment in your farm. When calculating the net worth of your property the yard cover will be a factor in its value. This can help if you're ever looking to secure finance for future projects or to sell the farm in the future.
Secure storage
If you have machinery, equipment or tools that you use when separating animals, feeding them or generally managing their needs, then a yard cover can be the perfect solution. Adding a few extra bays and partitioning them off can serve as perfect implement storage on the farm, out of the sun and rain. Have these sections fully enclosed for greater protection or have them open-sided for easy access for forklifts and trucks. This can be perfect for feed storage near but separate to animals.
Reduced expenses
Protecting your staff, animals and equipment might be the primary reason you're looking at a yard cover but you could use this new asset to help pay for itself. Use the roof for water collection and have easily accessible water right at the point of use. Add solar panels and even a battery to reduce electricity consumption or to remove the need to run expensive cabling across the farm.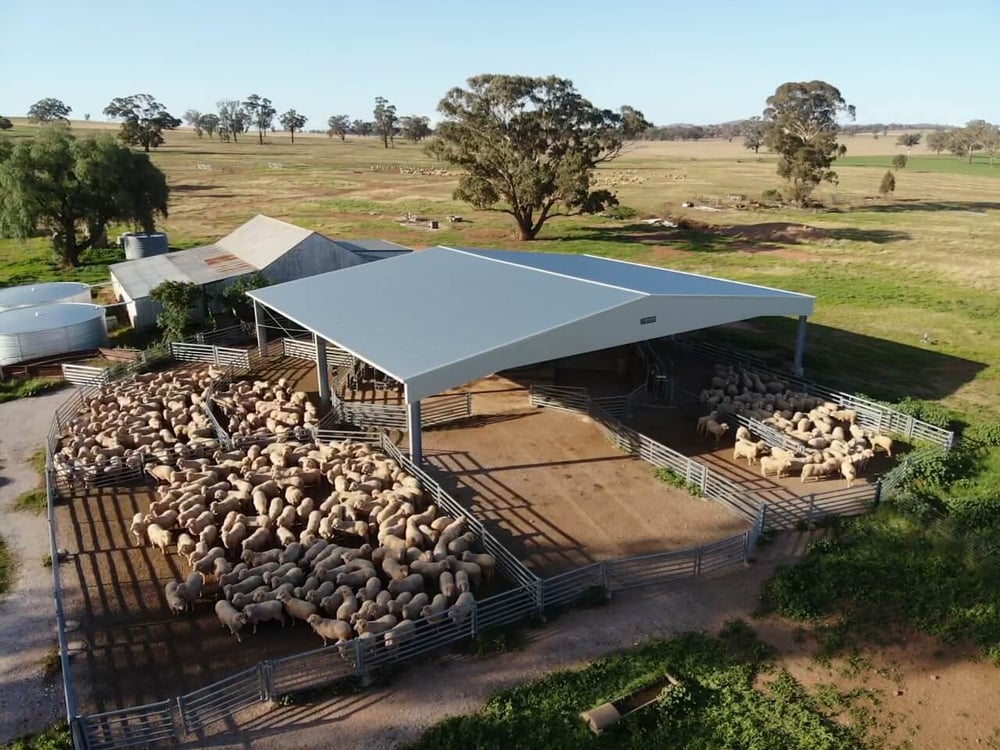 Yard cover misconceptions
So while the benefits of having a yard cover are numerous there are still several farmers that don't believe they're a great asset for their farm. This can be due to several misconceptions about yard covers. Let's tackle a few of them.
Yard covers have restrictive poles and beams
Some will, but because steel can span such great lengths our yard covers feature no centre poles in the design, resulting in more useable interior space. Steel sheds can also achieve wider bay widths, meaning fewer poles around the outside of the shed.
Yard covers are dark spaces to work in
This can be true, but only if light panels or man-made lighting sources haven't been added. Clear panels added to the roof enable much of the sun's natural light to penetrate the shed while shielding the interior from its heat. You can also add battery storage and solar panels to power LED lights so you can work in the shed long before the sun has risen, or after it's gone down.
Yard covers are very noisy when it rains
Again, this can be true. If you want to reduce the noise in a steel-roofed shed you can add sound-reducing insulation in the roof panels. This insulation can also reduce the amount of heat radiating from the roof into the interior environment. This dual-purpose solution is very popular with farmers that want the best of both worlds.
Yard covers are expensive
If you buy a cheap yard cover things can get very expensive! A quality yard cover, however, will last for decades and continue to provide numerous benefits to your operation. You could even have it work towards paying itself off with the addition of water collection features and solar capture.
If you're looking at how you can increase farm productivity, animal health and on-site efficiency then a yard cover is a great place to start. Having built hundreds of sheds, including yard covers all over the country, the team at ABC Sheds are experts in building the perfect solution for your needs. Do you have existing yards you'd like covered? A sloped site that would be perfect but you don't fancy cutting or building up for a shed yard cover? The team at ABC Sheds can help. With a range of solutions for existing, tricky sites we can work with you to find the perfect solutions.
To start your yard cover journey why not design your own 3D model of your dream shed using our online shed builder or download our farm sheds brochure today.