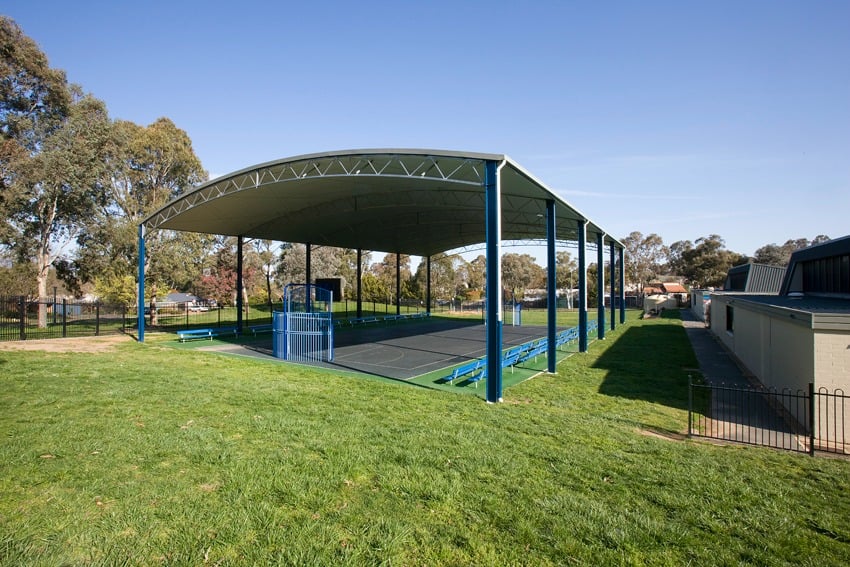 Creating an environment that allows children to get out and enjoy the outdoors all year round is important, particularly for schools that have an emphasis on sports and outdoor education. Furthermore, being able to offer students a sun-safe environment at the peak of summer is vital so that they're protected from the harsh rays of the sun.

A school COLA is a covered outdoor learning area that is generally manufactured from steel and features a large canopy for shelter and weather protection. School COLAs can come in all shapes and sizes and span wide spaces, which make them the perfect solution for schools that need a lot of space for their students.
If you're building a school COLA for the first time or if you're looking to upgrade what you already have, there are important factors that should be considered like location and access, as well as lighting and future uses. There are also strict guidelines that COLA shelters need to meet in many states, particularly here in New South Wales.

We've covered what you need to know when building a school COLA as well as the New South Wales Guidelines for school COLA shelters.
Important considerations when building a school COLA
A covered outdoor learning area for any school needs to be designed to meet particular requirements. Thought should also be put into the multiple ways that a school COLA could be used not only now but in the future. Here we've outlined 5 important considerations for school COLAs.
1. Size of the COLA
When planning a new COLA for a school, the first consideration should be the size of the structure. A structure that's too small could impact everything from the number of students that can use it at a time to the activities that can take place under the shelter. A bigger shelter will also offer more protection from the weather which is an important consideration should you live in an area that gets lots of sun or lots of rain.

When thinking about the size of a COLA, particular attention should also be paid to the height of the structure. If you plan on having basketball or netball courts under the COLA, then the roof will need to be high enough to account for the hoops. You also wouldn't want students to be able to hit the roof with their basketballs or netballs so the roof should be a reasonable distance higher than the top of the hoops.
2. Location and access
The next consideration for a school COLA needs to be the location of this at the school. While a COLA will offer shelter for students once it's constructed, this won't protect students from other weather conditions like prevailing winds. If you get a lot of wind and rain in your region then you should consider where the most suitable place for a shelter will be at the school that offers students the most protection.

Another thing to consider with the placement of a school COLA is making it easily accessible, particularly for students that use wheelchairs. A COLA should be accessible for all students so if it needs to be on a slight rise, then you will need to factor in a wheelchair ramp.
3. Durable materials
Most COLA shelters will be constructed from steel in Australia, as this is a material that's known for its durability, particularly in areas prone to extreme weather conditions. While steel is a very durable material on its own, you will want to consider whether you reinforce your structure with something like hot-dip galvanising.

Hot-dip galvanising is a further measure that will ensure you get a strong, weather-resistant, structure. Hot-dip galvanising is the process of immersing steel fabricated components in molten zinc/alloy. Zinc coatings prevent oxidation of the protected metal by forming a barrier. A big advantage of hot-dip galvanising is that the coatings are much thicker and therefore much more corrosion resistant – this is particularly important for coastal areas of Australia.

Most school COLA manufacturers will offer hot-dip galvanising for your structure as a way to further protect it from the elements and to ensure that it lasts.
4. Lighting
Will your school COLA be used at night? Have you considered how you will keep the space well-lit? Lighting is a very important consideration should your COLA shelter be used in the evenings. Even on an overcast day, a COLA shelter has the potential to be very dark so the ability to also have access to lighting all year round and in the middle of the day is crucial.

Lighting doesn't have to be seen as a costly utility bill for your COLA, however, as many steel structures can now be fitted with solar panels to harvest power from the sun. Solar panels can seem like a big investment, to begin with, however, they will more than make up for it with lower electricity bills. This can also be beneficial if your school is looking at ways to be more sustainable – solar panels are an easy way to make your COLA shelter more environmentally friendly.
5. Future uses for your school COLA
A school COLA can be a fantastic multi-use space so it's important that it's manufactured to make the most of all possible uses, both now, and in the future.

If your COLA structure will be used for sports practice there's no reason why it couldn't also be used in the future as extra seating space for students for events. A covered outdoor learning area is one of the most versatile spaces you can have at a school so make sure proper planning goes in at the design stages, so you can make the best use of this great space.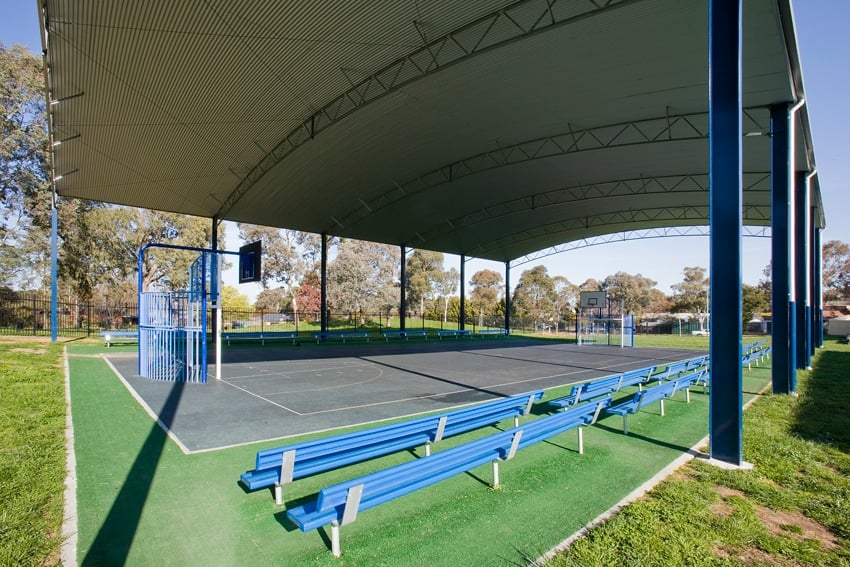 A school COLA should be a versatile space that can adapt to the needs of future students.
Our guidelines for school COLAs
We have specific guidelines in place that we follow when we design any school COLA so that they're safe for students, and free of hazards. These guidelines are:
Bird proof: It's essential that COLAs are built bird proof so that birds cannot congregate in a shelter, and pose a health and safety risk for students.
Downpipes: A COLA shelter must have downpipes that are correctly placed, to allow for rainwater to flow down from the roof to a drain.
Acoustic lining and insulation: Without any lining and/or insulation in your COLA, it could lead to a lot of student laughter and chatter being magnified in volume. Whilst we do not necessarily have to have costly acoustic panelling, simply sheeting the underside of the roof and insulating, can have a considerable impact in reducing the noise.
No obstructions: It's absolutely essential that a school COLA has zero obstructions like support beams in the middle of the space, as these would be a safety hazard for students.
Installed outside of school hours: It's also required that a school COLA is built while staff and students aren't on-site, such as during the school holidays. This will ensure no disruption and no risk of injury to staff and students.

Are you considering a new covered outdoor learning area for your school? With many years in the construction industry manufacturing industrial buildings like school COLAs, we're well equipped to help you and your school, with your specific requirements. We also stand by every shelter we build to achieve high customer satisfaction and offer fully galvanised frames and high-quality materials.

We know that a school is a busy place so our team can also handle all aspects of your project to complete your new COLA on time. From completing the necessary council forms to erecting your new structure, our team will be there to assist you, at every step of the process.

Interested in learning more about an ABC Sheds school COLA? Click below to learn more benefits of our structures and to see examples of our completed work.