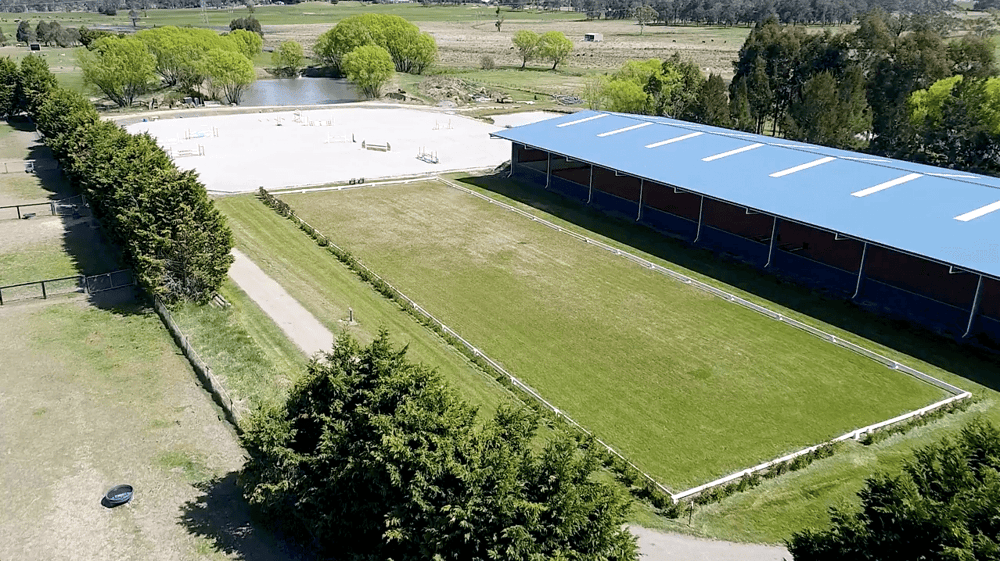 After successfully competing and training in the United States, professional rider Christan Trainor made the journey back to Australia where she has since established Glenhill Sporthorses. Glenhill is a boutique training and breeding facility in the Southern Highlands of New South Wales where they focus on quality and bringing out the best in each horse.
We had the pleasure of working with Christan to provide her with a covered riding arena for her breeding facility. While a riding arena might seem an odd choice for a horse breeder, this all makes sense once you understand how much care goes into the horses, and the different approach they take at Glenhill.

Learn more about Christan, Glenhill Sporthorses and the covered arena we provided below.
Catching the breeding bug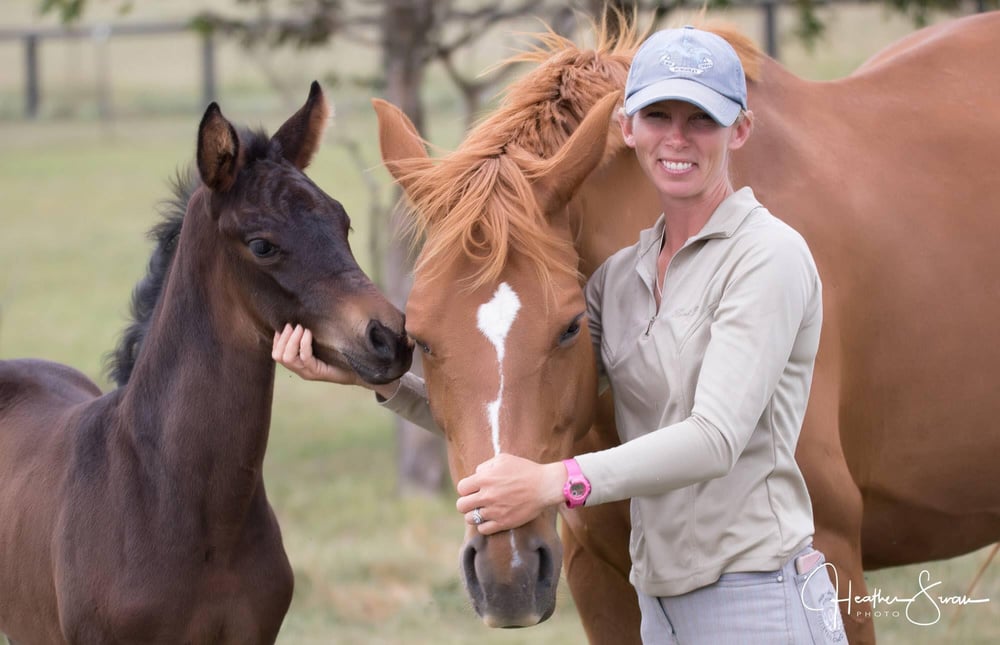 Christan Trainor made the move back home eleven years ago. She wasn't initially interested in breeding horses as her equestrian background in the US had been competing and training in upper levels. She quickly caught the breeding bug in Australia though!

Christan's interest in breeding horses was initially sparked by her retired eventing mare that made the journey with her. This passion then grew from jumping horses to dressage. Christan credits her international experience for giving her a unique advantage in breeding, having been exposed to many different programs and horses over the years. Riding and competing many of the lines she uses has given her first-hand experience and knowledge of the breeds she produces at Glenhill, as well as what she needs to aim for in the future.

Christan and the team aim to breed top competitors in the Olympic disciplines so it makes sense that they have an exceptional breeding program that differs from the norm. At Glenhill the breeding program is unique with the team taking a more holistic approach to horse breeding which focuses on each horse, and what's best for them. Their process includes selecting precise mating decisions, the correct raising of youngstock, and assisting potential buyers with choosing the right horse, perfect for their needs.

Six years ago, Christan and her husband Scott decided to purchase a property in the Southern Highlands to further their breeding program – and it's only been up from there!
Creating a state-of-the-art arena facility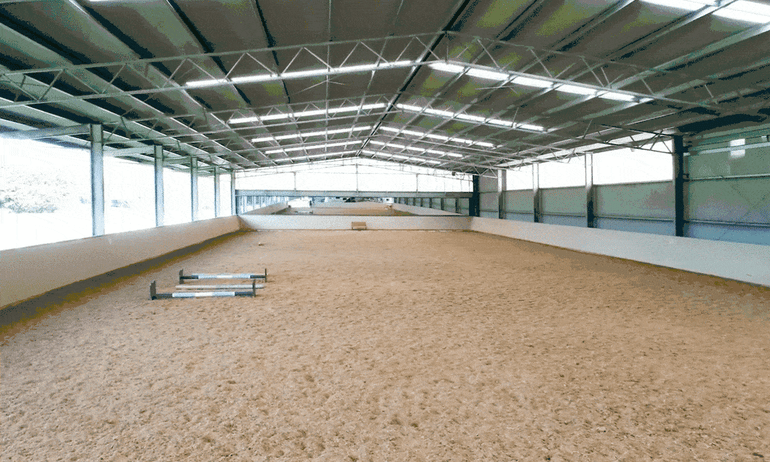 Christan knew she had to start from scratch and that there was a lot of work to be done on the property that began as a blank 40-acre canvas. After years of working as a professional rider and visiting world-class equestrian facilities, Christan also knew exactly what she wanted, and where she needed to start. The indoor riding arena was one of the first things to be built on the property.

Christan understood it was important to get the riding arena established as soon as possible as most of the mares they produce are competition horses. It's vital that they have a high quality, all-weather training area from the beginning, so they get the best start possible. As Christan explains:

"The covered arena is just vital for us because our mares are mostly all competition horses, so they have to have a really good arena with good surfaces to work on. They're not just in a paddock." She then explained that the concept for the indoor arena was actually created by her husband, Scott – this is where we came into the picture!

We were approached by Christan and Scott to make their indoor riding arena a reality. We knew that their breeding facility was unique so we would need to provide a bespoke arena cover that worked with their business needs. They had a clear vision of what they wanted to achieve and we were able to bring this to life with a custom design, perfect for their needs. The arena cover we provided is spacious at 66m x 21.6m, with eight bays at 7.5m and 1 bay at 6m. A cantilevered awning also extends off to the side. As Christan puts it:

"We worked with ABC Sheds to design the indoor [arena]. It's enclosed on three sides, and the actual arena is a proper 60m x 20m. We've then got a three-metre overhang that goes down the open side – so there's good ventilation but the weather never comes in and we don't get shadows. It is quite a clever design. And then we've got Perspex along the top third of the enclosed walls, so it lets in a lot of light."

To further help with the correct training of their mares, a wall of mirrors was added to an entire side of the arena. Our structural steel arena covers make it simple to install the framing for mirrors right where they are needed, as all UB columns have the ability for railing and framework to be attached at any time. The result for Glenhill Sporthorses is a fantastic training space that can be used all-year-round and in all seasons. Hear more from Christan and the benefits of this arena in the video below!
Design your perfect horse arena
We know that no two arena's are the same as trainers, riders and breeders will all have different needs and ways of working with their horses. Here at ABC Sheds, we manufacture horse and dressage arenas of all shapes and sizes and our team will work with you to come up with a custom arena designed for your needs. Our very own shed builder tool can also be a great starting point if you're unsure of what you need. This free online tool lets you design your very own custom arena, from the size to the number of bays, through to the colour! And once you're done, you can request a no-obligation quote from us to see how much your design will cost. Try it out now by clicking below.