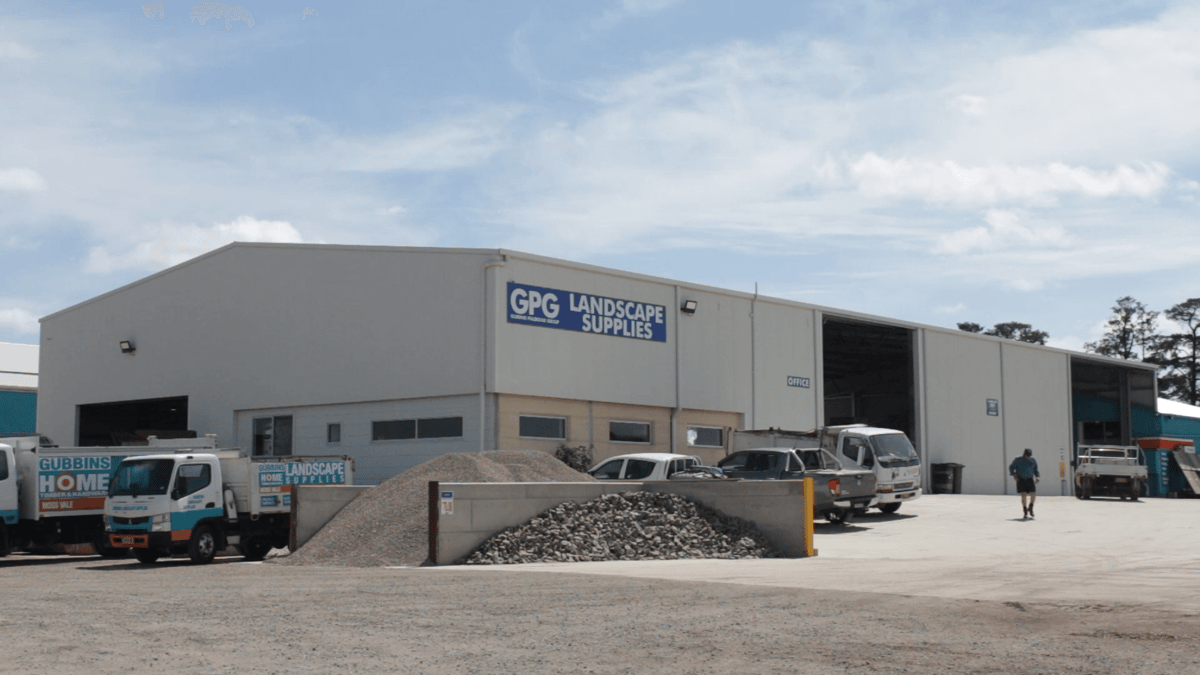 Many of our customers come to us in need of a custom building solution to meet a range of different requirements. Whether they require a commercial shed for extra storage or perhaps they've moved locations and require a new building to run operations out of, there are a wide range of commercial shed projects we end up working on.

Nick Gubbins from Gubbins Home, Timber & Hardware approached us as he was in need of a bespoke shed for his hardware store in Moss Vale. He needed something that allowed for greater storage while also incorporating an office area and loading dock. Read on to find out more about the work we did for Nick, and the custom solution we supplied.
The challenge
Nick needed to move two stores into one location. He already had a hardware store in Moss Vale and needed to move his landscape supplies business over to this store as well. There wasn't enough room for both businesses at the new site so a commercial shed was required so that there was enough space to accommodate both.

Due to how they would be using the new commercial shed, Nick required something that was bespoke and would allow for different levels, as well as a mezzanine. Nick was also busy running a successful business and didn't want to be handed a bunch of issues and reams of paperwork to add to his already hectic workload.
Why ABC Sheds
Due to the specific requirements of the shed, Nick needed something that was custom built to serve a range of different purposes. As he was expanding his business by getting a bigger store, he also needed a solution that would have minimal disruption on day-to-day operations. The shed design Nick required needed to be optimised for maximum serviceability however the site itself was challenging so they needed a company that could bring different ideas to the table, while also being open to different suggestions.

We were selected for the project as we are known to build good quality kit sheds that mean you don't need to alter the kitset, or shop around for missing bolts or extra pieces. The shed would also be built in stages so they needed a company that could provide flexibility. Because we handle the consents we were able to take a massive headache away leaving Nick and his team to focus on running their business.
The Solution
Nick needed a commercial shed solution that would meet all of his requirements while not disrupting the day-to-day running of the business. We provided a custom kitset shed that would make maximum use of the site, and could also be constructed at their leisure.

Nick was able to contract a builder to come and build the kitset shed, which suited him well as it could be done in stages, so suited his busy schedule. Instructions on how to build the shed were provided so the builder was also able to get started on constructing the shed, without having to call us at all.

The end result is that Nick has now easily joined his two stores together and with a commercial shed he now has much needed extra room for storage, as well as a loading dock and on-site office. Having the two stores in one also means he now saves on rent as well as travel expenses and the shift would no doubt have increased sales too.
Want to know more about this project? Check out our video with Nick below!
If you would like to know more about an ABC Commercial Sheds, or perhaps want some ideas for your next project, download a free copy of our commercial and industrial buildings brochure below. Our high quality commercial sheds are custom made to exactly what you want – the applications are endless!